Jesse Arnoldson
MBA, 2015 | Partner, MedMan
Living just outside the capital city, Jesse Arnoldson and his wife have made Kuna, Idaho their home. Stepping through the door, the house is alive with the sound of a toddler and baby bustling about as mom sings along to the music playing on the TV while she cleans up after lunch. After graduating from college, Jesse had the unique opportunity to work largely from home where he can be close to his family.
Growing up in Springfield, Idaho Jesse Arnoldson traveled 20 miles everyday to get to his high school. "After graduating, I spent two years in the Dominican Republic on a service mission. But, when I got back I didn't feel like I was ready to settle down or to go to school," so he embarked on a new journey, moving to Ketchikan, Alaska.
"I spent eight or nine months there working at the fishing docks," amazingly while he was there, Jesse met a girl from Pocatello, Idaho. "We dated for a while and I decided to return home with her. We got engaged and both started at Idaho State University in the same month that we got married."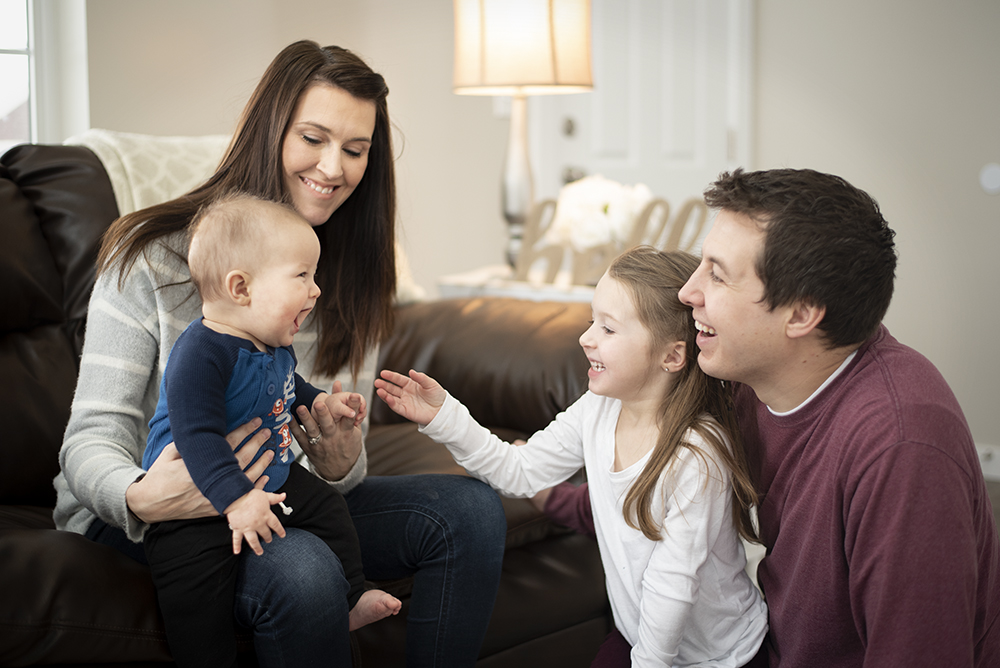 Eighteen months later, the couple had their first child. "It was tough, and perhaps their are better ways of doing it, but we chose to start our family early and that was our path." Despite the challenge of attending college, working, and raising a child, Jesse laughs at the memory of studying for finals with his baby in his lap.
Photo: Jesse with his wife (also an ISU grad) and two of their three children.
Both working and going to school full-time, Jesse and his wife were able to get by as he studied Spanish for Business Professions. "My major required me to get a minor in the College of Business, and I just loved it." Arnoldson said his marketing minor soon became more than just a minor as he found his niche in the business arena.
Once finishing his undergraduate degree, Jesse felt that he wanted to continue his education and decided to expand his business background, pursuing a Master of Business Administration (MBA) with an emphasis in healthcare administration.
For Jesse, his MBA opened up a world of opportunity that would shape his future. "At the same time, I was also accepted into the Bengal Solutions program as a Graduate Assistant." Through Bengal Solutions, Jesse worked as a business consultant while receiving free tuition in addition to a stipend. "It made it both financially possible to continue to do the MBA and gain experience that you can't get in a classroom."
"In the very beginning of my master's program, I did an internship with the Portneuf Quality Alliance at the Portneuf Medical Center. As part of the internship, I gave a final report on the work I had done for them." It was at this stage that HCA professor Dr. Tracy Farnsworth realized Jesse's potential in helping with another project for a Boise company called, Medical Management or MedMan.
From there, Jesse worked continuously with MedMan throughout his graduate program. "At the end of working on that initial report for MedMan, I was able to do a report on my very best work with the executives of this company and really show off what I could do. And that's the kind of introduction that I needed. Those are the types of opportunities you need as a student in the program to build up your network and experience before you graduate," Jesse explained.
"Growing up, I had the parents that always told me I was going to college. So, I had no doubt that I would. But, I didn't have the strongest desire to go, or the passion for a certain career path… or even a clue of what I was going to do. But, I knew I was going to go to college. It wasn't until I got into an environment with these kinds of people that I started to find my ambition and inspiration, that would then guide me toward wanting to do something more," Jesse explained that this realization would not have been possible without Idaho State University. "I wouldn't have found that without the sort of unconventional path that the College of Business takes in making sure that their students interact with the outside world well before they graduate."
Upon graduating, Jesse was offered a full-time position working with MedMan. After just a few years, Jesse and a few of his colleagues were able to finance the purchase of the company, where he now serves as Partner and Business Development Director.
"Had I gone to a bigger school, where I would have been average at best- the opportunities would have been less as well. Being at ISU, I'm not saying I was at the top of my class, but I was in a position to take advantage of a larger amount of opportunities." Jesse said "The opportunities that you'll gain at Idaho State University by being in, kind of, a smaller pond, by far, will be more productive for you in the long-run as you get into your career and advance that way."
Photo: Jesse speaking with former professor and colleague, Dr. Tracy Farnsworth.
---