Request for Proposals for CAL Undergraduate Student Travel
The College of Arts and Letters seeks proposals for travel funds from full-time undergraduate students in the college. Proposals will be accepted until funds are expended. Funds for travel MUST be expended by May 6, 2023 and all paperwork completed by June 2, 2023.
Purpose
Our goal is to facilitate student presentations across disciplines of the college by helping to support student travel expenses. Competitive funding is expected to be available for up to $500 per student for research or creative activity presentations at conferences, exhibits, or recitals (or similar dissemination of research or creative activity). Priority will be given to presentations of original student work at such venues.
Eligibility
Full-time undergraduate majors in the College of Arts and Letters are eligible to apply. Travel must occur during the period of time that the student is enrolled as an undergraduate student.The proposal for student travel must be endorsed by a faculty sponsor.
What to submit
Proposals are limited to two pages, single-spaced, and must include the following:
Identification – Please provide your name, Bengal ID, degree program (BA, BS, etc.) and major, expected date of graduation, and name of faculty sponsor.

Destination – Provide your destination and expected travel dates.

Purpose – What is the specific purpose of the proposed travel? Have you submitted a proposal for a conference presentation? If not, when do you expect to submit a conference proposal? When do you expect notification of acceptance for the conference presentation?

Rationale – What is the justification for the proposed travel? How will it enhance your educational training and professional record?

Budget – Provide an estimate of expected travel costs. Indicate what other sources of funding you have applied for (i.e., from ASISU) and amount received.

Proposals must be in Word or PDF formats and submitted as email attachments. Send proposals to Carrie Page (carriepage@isu.edu). Separately, a faculty sponsor will need to verify that they have reviewed and approved the proposal (no more than a brief paragraph is needed). Faculty sponsor approval may be sent to Carrie Page by email.

Review process

Proposals will be reviewed by the college leadership. Proposals will be evaluated according to the eligibility and purpose stated above.

Restrictions

Travel awards will be granted for the specific travel indicated in the proposal. Awards are not transferable to a different destination or different travel dates. All ISU travel guidelines must be followed. No blanket proposals are allowed. Proposals that do not include a specific destination and travel dates will be rejected.
The College of Arts and Letters was founded in 2010 with one goal in mind: students first.
We currently offer 24 undergraduate degree programs, and 13 advanced programs. These degrees prepare our students to excel in an ever­changing world. The academic possibilities we provide are endless! As the largest college at Idaho State University, the College of Arts and Letters offers a variety of classes from languages, to theatre, to criminal justice, to communication, to psychology and more. We pride ourselves on giving our students real world experiences and opportunities. From the social sciences, to the humanities and fine arts, each program offers valuable education to enhance our students' growth.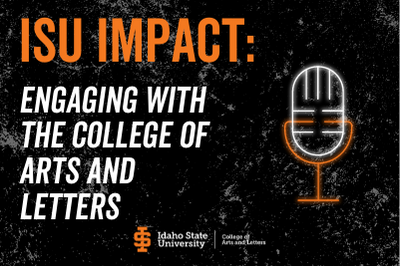 Listen in to KISU.org the third Wednesday of every month for new episodes about the exciting things happening at ISU within the College of Arts and Letters! ISU Impact explores the programs and initiatives in the College of Arts and Letters, and how the college is impacting students and our community at large.