"Being an artist is to be able to understand that exploring your dreams is possible and rewarding."
Kiara Saylor, class of '24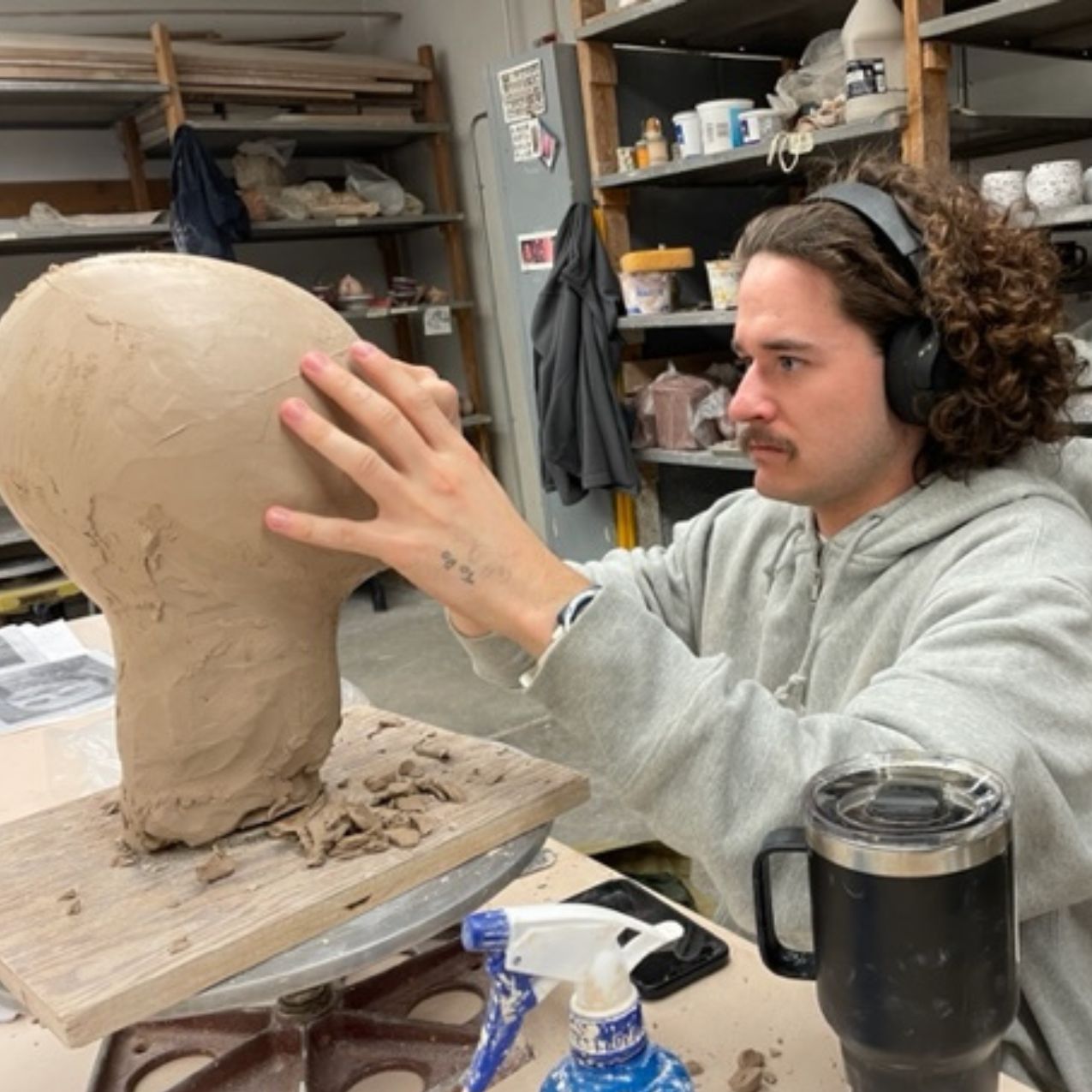 Explore Our Programs
Welcome to Idaho State University, where we nurture artistic talent and offer comprehensive fine arts degree programs. Our BA in Art provides a well-rounded education combining liberal arts with focused studio and art history courses. The BFA in Art specializes in developing skills for exhibiting and selling artwork, ideal for aspiring studio artists. Our BFA in Digital Media program offers an interdisciplinary approach, preparing graduates for careers in graphic design, animation, web design, and digital filmmaking. Explore our rich curriculum, including Art History, Ceramics, Fiber Media, Papermaking, Metals, Painting, Drawing, Printmaking, and Sculpture. Join us at Idaho State University for an artistic journey that shapes your future.
Meet Our Faculty
The Department of Art at ISU takes pride in its faculty, who are accomplished artists and scholars dedicated to guiding students in their artistic journey. With a focus on art history and cultural studies, the art department at Idaho State University offers a wide range of courses that allow for the exploration of various cultures, periods, and artistic practices. Developing your artistic skills is essential, and our studio art programs provide the perfect platform for that. Our curriculum encompasses art history, ceramics, fiber media and papermaking, metals, painting and drawing, printmaking, and sculpture, ensuring a well-rounded education in the visual arts.
Galleries and Community
The mission of the Idaho State University art galleries is to enrich the education of students and engage surrounding communities through exhibitions and related events. The galleries provide opportunity for critical looking and thinking with a focus on interdisciplinary and cross-cultural exchange.
Academic Excellence and Resources
Dedicated advisors and close relationships with professors to provide personalized guidance and support.

Diverse range of degree program options.

State-of-the-art studio facilities equipped with the latest tools and technologies, creating an inspiring environment for artistic exploration and creation.

Emphasis areas available, including digital media, painting and drawing, ceramics, fiber media, metals and jewelry, printmaking, papermaking, and sculpture.
Career Opportunities and Pathways
Graduates have excellent prospects in various creative fields, including graphic design, studio art, design, pattern design, art education, gallery and exhibition positions, and even tattoo artistry.

Alumni from our program have successfully secured positions as graphic designers, studio artists, designers, pattern designers, art educators, and professionals in gallery and exhibition settings.

Our curriculum and practical training prepare students for real-world challenges and industry demands, making them highly competitive in the job market upon graduation.
Industry Connections and Experiences
Strong connections with professionals in the art industry.

Opportunities for hands-on experiences and participation in exhibitions, fostering professional growth and showcasing students' work to a broader audience.

Access to resources and workshops that promote professional development, entrepreneurial skills, and portfolio building, empowering students to launch successful careers in the arts.