Curriculum
Idaho State University is a regional university with approximately 14,500 enrolled students.
The campus in Pocatello, Idaho is a few hours drive from many inspiring locations
Grand Teton National Park
Yellowstone National Park
Salt Lake City
Robert Smithson's Spiral Jetty
Nancy Holt's Sun Tunnels
Utah Museum of Contemporary Art
Boise Art Museum.
BA in Art
The Bachelor of Arts (BA) degree combines a liberal arts education with a strong concentration in studio areas and art history.
BFA in Art
A Bachelor of Fine Arts (BFA) degree in Art from Idaho State University will help you become a practicing artist exhibiting and selling works in galleries, shops, museums and art fairs. A Bachelor of Fine Arts degree is recommended for those students who plan to pursue graduate work in the visual arts or intend to enter into studio artist production. The art major may concentrate in one studio area or work in several areas.
BFA in Digital Media
New for Catalog 22-23
The interdisciplinary Bachelor of Fine Arts in Digital Media is an interdisciplinary degree that is served
by both the Department of Communication, Media and Persuasion and the Department of Art. The BFA
degree provides graduates with extensive art and design skills, as well as an understanding of the history, theories, and business
practices of a broad range of communication industries. This degree program prepares graduates for
jobs in fast-growing career areas and ensures that they possess the comprehensive range of creative
and critical thinking skills necessary to adapt to ever-changing digital media environments. Digital
Media encompasses career fields such as graphic design, typography, illustration, product design,
animation, advertising, public relations, web design, digital gaming, digital filmmaking, social media
development, jewelry design, fabric design.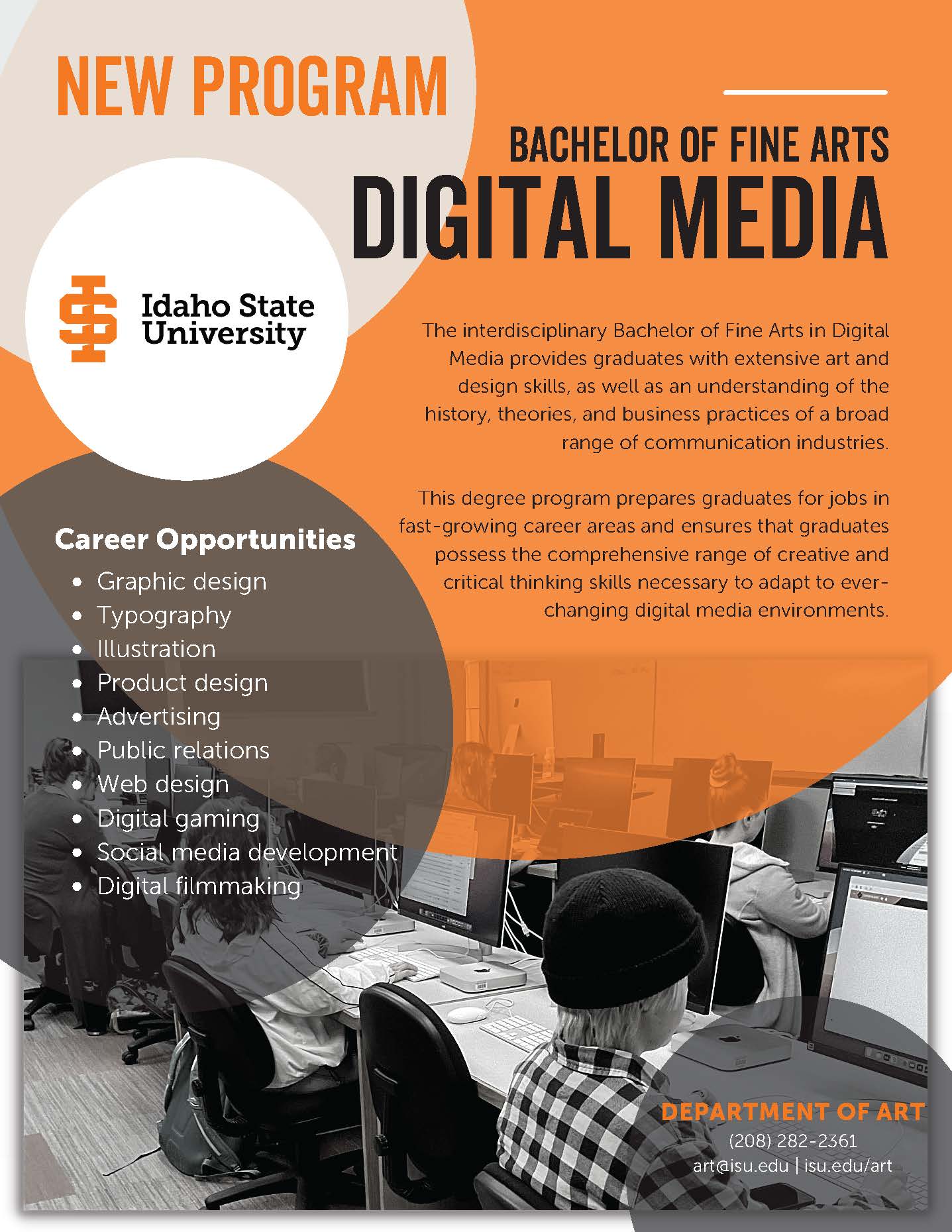 MINORS
Minor in Art History
The minor in art history, allows the university student to develop their interests in the art of various cultures and periods.
Minor in Studio
The minor in studio art allows the university student to develop their interests in studio art areas.
MFA
Admissions for the Master of Fine Arts in Art program are currently suspended (Effective Fall 2021).
The Masters of Fine Arts (MFA) degree in Art is the recognized terminal degree in the studio arts. This program is designed to refine the visual art skills of the graduate student in a particular area or areas of concentration by providing the instruction, facilities and time for the student both to develop a significant body of studio work and to expand their intellectual horizons in preparation for a rewarding professional career.