Business Student Organizations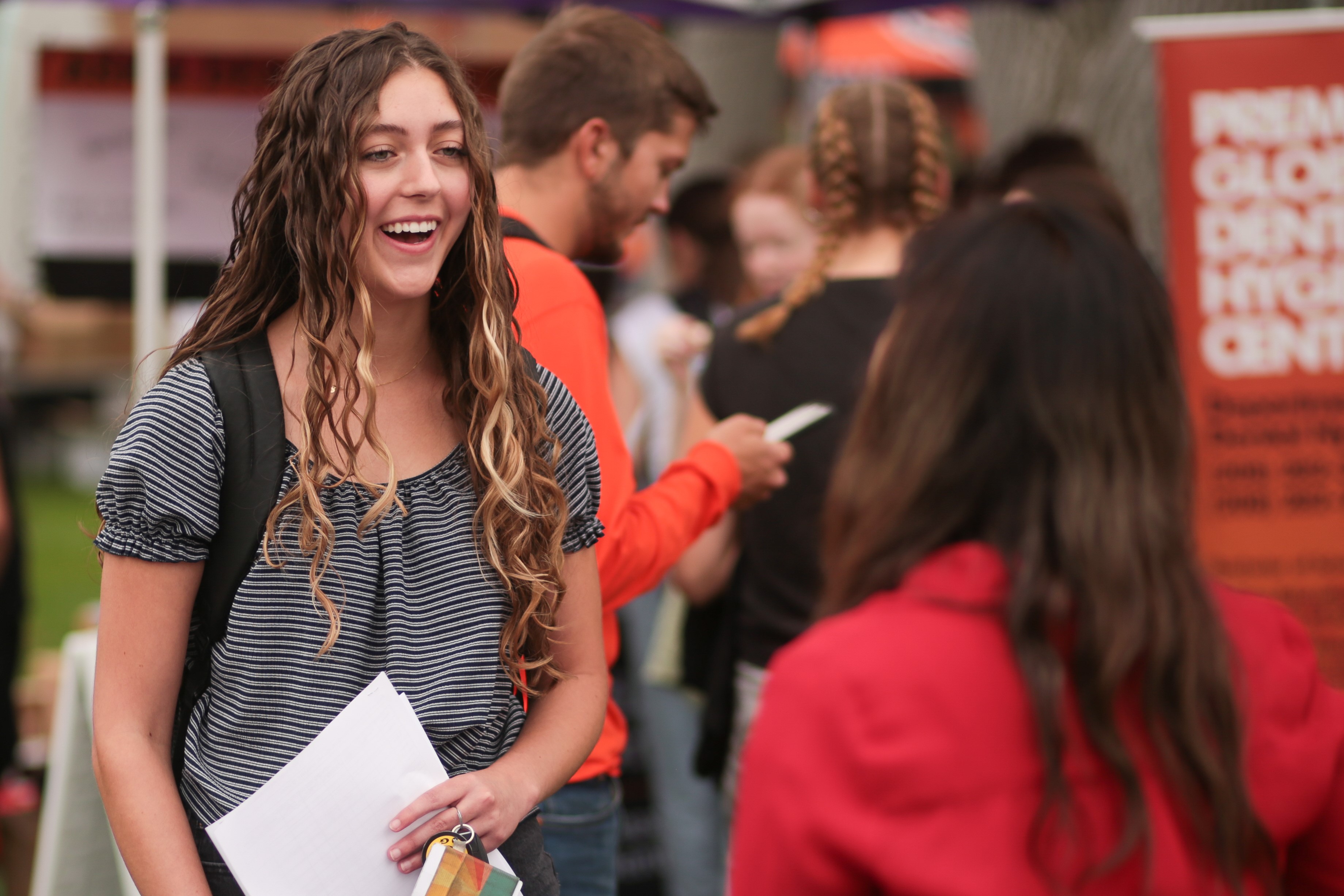 The College of Business's career-ready culture extends through our variety of student organizations. Each student-led group facilitates opportunities in networking with successful alumni, exploring career options, and experiential learning. As a member of these organizations, students build a college experience beyond their classroom education ⁠— creating lasting friendships while developing networking skills and connections with professionals, which all hold great value in the post-graduation job search.
Advertising Federation
ISU's Student Advertising Federation (AdFed) is a club that gives advertising, marketing, graphic design, public relations, and all other related majors an opportunity to expand their network and develop industry skills before graduation. The Student Advertising Federation at ISU represents the collegiate chapter of the American Advertising Federation (AAF). This group also competes annually in the National Student Advertising Competition (NSAC).
Great for students interested in:
Marketing
Graphic design
Consumer research
Competitive strategy
Learn More
Alpha Kappa Psi (Delta Upsilon Chapter)
Alpha Kappa Psi is a professional development fraternity recognized as the premier developer of principled business leaders. The Delta Upsilon Chapter hosts the Idaho Business Leader of the Year (IBLOY) every spring.
Open to undergraduate students.
Great for students interested in:
Networking
Lifelong learning
Community involvement
Forming connections
Learn more:
Association for Computing Machinery
The Association for Computing Machinery is devoted to all things related to computing, including business informatics, health informatics, data analytics, and computer science at Idaho State University. The goals of ACM include increasing knowledge of and greater interest in modern computing, informatics, and STEM, promoting greater interest in computing and its applications, and creating a positive means of communication between persons having an interest in computing. The ACM sponsors guest speakers and provides networking opportunities for students in the fields of informatics and computer science.
Open to undergraduate and graduate students. Any ISU student in a computing-related program or who has an interest in IT or STEM is welcome to join.
Great for students interested in:
STEM
Data Analytics
Computer Science
Information Systems
Technology
Learn more:
Beta Alpha Psi (Eta Lambda Chapter)
The primary objective of Beta Alpha Psi is to encourage and give recognition to scholastic and professional excellence in the business information field. This includes promoting the study and practice of accounting, finance, and information systems; providing opportunities for self-development, service, and association among members & practicing professionals; and encouraging a sense of ethical, social, and public responsibility. Hosts and participates in many events throughout the academic year, including Meet the Firms, the Accounting Symposium, and Volunteer Income Tax Assistance (VITA).
Open to undergraduate and graduate students studying Accounting and Finance.
Great for students interested in:
Accounting
Finance
Leadership training
Professional development
Learn more:
Business Professionals of America
Our mission at Business Professionals of America is to develop and empower student leaders to discover their passion and change the world by creating unmatched opportunities in learning, professional growth and service.
As a co-curricular organization, Business Professionals of America has the ability to enhance student participation in professional, civic, service and social endeavors. Business Professionals of America members participate in these activities to accomplish their goals of self-improvement, leadership development, professionalism, community service, career development, public relations, student cooperation, safety and health.
Students compete at the regional, state, and national levels in more than 50 Workplace Skills Assessment Program events, engage in community and leadership service activities, and meet business students across the state and country through participation in our programs.
Great for students interested in:
Business topics
Nationwide competition (bringing home the gold!)
Making friends
Having fun
Learning new things
Learn more:
Economics Club
Economics Club is a great way to get involved and learn about the more exciting applications of economics. Econ club provides students with opportunities to go on field trips, compete in events, explore non-traditional applications of econ, and learn from hosted alumni speakers. The club has hosted nationally recognized Stand-Up Economist Yoram Bauman, went on a private tour of the SLC Branch of the Federal Reserve Bank, and continuously hosts successful ISU Econ Alumni speakers sharing their tips for post-collegiate success. The club is open to all students (undergraduate and graduate) who would like to get involved!
Great for students interested in:
Economics
Political science
Law school
Current events
Learn more:
Financial Management Association
The Financial Management Association introduces students interested in finance to faculty members, peers, and local professionals. The ISU FMA's goal is to enhances knowledge of finance and develop a professional bond among members. Benefits include a stock picking contest (cash prize), guest speakers, and opportunities for extra credit in some classes.
Open to undergraduate and graduate students.
Great for students interested in:
International business
Corporate finance
Guest speakers
Networking
Learn more:
Graduate Association of Business Students (GABS)
The Association complements the College of Business's graduate programs by creating valuable networking opportunities both among the students in the programs and with the business community.
GABS is open to all CoB undergraduate upperclassmen interested in graduate programs, graduate students, and alumni.
Great for students interested in:
Graduate programs of study
Meeting professionals
Forming connections
Personal development
Learn more:
Marketing Association
The Marketing Association facilitates the opportunity to gain valuable networking experience for students who are passionate about marketing. The Marketing Association hosts guest speakers, job shadowing opportunities, and visits to companies and other organizations. In addition, the Marketing Association works with other clubs on campus and local companies to assist in their marketing efforts, providing members with hands-on experience in this industry. This club is open to all students.
Great for students interested in:
Marketing
Event planning
Graphic design
Touring businesses
Club trips
Learn more:
National Society of Leadership & Success
The NSLS is an organization that provides a life-changing leadership program that helps students achieve personal growth, career success, and empowers them to have a positive impact in their communities.
With 761 chapters, the NSLS currently has 1,654,246 members nationwide.
Not only does your NSLS membership serve as a great resume builder, but it also sets you apart as a leader in the eyes of admission counselors and employers. Here are just some of the benefits you'll experience as you expand your leadership education with dedicated support along the way.
Participate with your NSLS peers in goal setting, accountability, and commitment to action with your Success Networking Team.
Work with professional success coaches to improve your skills, refine focus, and shortcut your path to success.
A professionally administered communication assessment tool (DiSC) that will help you identify your own communication style, teach you to recognize and appreciate other styles, and prepare you to interact effectively with others.
After completion of the leadership training program, you'll receive a leadership training certificate.
Great for students interested in:
Leadership certification
Communication training
Interview practice
Exclusive scholarships
Learn more:
Student Association of Health Care Administration
SAHCA organizes students interested in Health Care Administration and related professions, engaging them in activities that encourage professional development, social interaction, and networking opportunities. SAHCA is open to all ISU students interested in health administration, health promotion, and health care. One opportunity SAHCA offers is monthly Brown Bag Luncheons. Students are able to learn, interact, and network with health care related speakers at these meetings.
Great for students interested in:
Health care
Health promotion
Management
Supply chain
Logistics
Guest speakers
Learn more: