DJ Mills
Healthcare Administration, 2012 | MBA, 2015 | COO, Snake River Long-Term Care Pharmacy
"I had started out my education ready to become a medical provider," DJ Mills explained. But, as his biology and organic chemistry classes hit, he realized that perhaps medical practice was not the right path for him. "At that point, I knew I still wanted to do something in healthcare, so I joined the Healthcare Administration (HCA) program."
"What really drew me into the HCA program at ISU was the fact that most of the professors had years of experience actually working in the field," DJ felt like he could really learn from someone who wasn't just teaching from the textbook, but was also relating his or her own experiences into the discussions.
After graduating from the HCA program in 2012, DJ entered the workforce a little unsure of where his career would take him. "I worked for a while, but still kept going back to the idea of becoming a medical provider."
"I decided that maybe I would give it another try and see if I really could make it through the science classes and later become a physician's assistant," by this time, DJ had begun to establish his family, having just had his first son.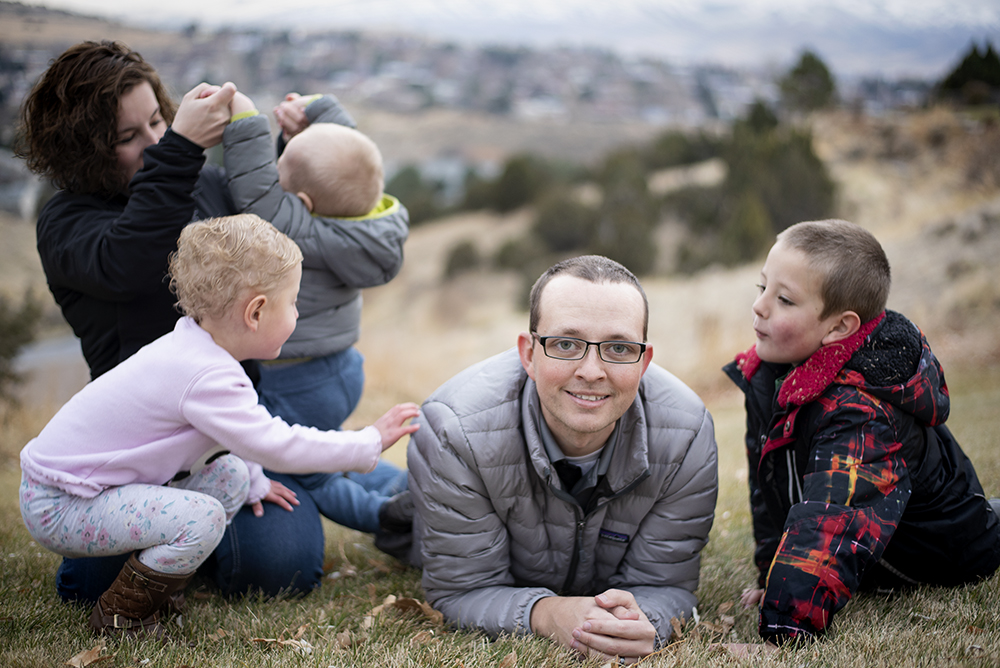 "It was kind of a difficult decision at first. As a father and husband, I still needed to provide for my family. So, I had to really decide if this is what I wanted to do or if I should just keep doing what I was doing." But, upon testing out more science courses, DJ realized that the medical field wasn't for him.
Photo: DJ began his studies in the MBA program shortly after his first son was born. Right before traveling to California for the International Collegiate Business Strategy Competition (ICBSC) his first daughter was born.
Small class sizes in his HCA program and the personable culture of the faculty gave DJ a connection he could turn to for some advice. So, he met with his former HCA professor, Tracy Farnsworth. "Dr. Farnsworth suggested that I dip my toes a little deeper into the business side of things, while still maintaining my healthcare background and track." Realizing that a Master of Business Administration (MBA) degree would give him the edge he needed to go further in his career, while still maintaining a broad perspective and career options- DJ decided it might be time to pursue his graduate degree.
Photo: DJ with former professors and advisors for the ICBSC (left to right) accounting professor Dawn Konicek, DJ Mills, and management professor Alex Bolinger.
For DJ, the MBA program was just what he needed. "The most impactful experience I had within the MBA program was being able to participate in the International Collegiate Business Strategy Competition (ICBSC)." This program allows competitively selected graduate students the opportunity to compete against their peers from around the world. Here, students work in executive roles for a fictitious company, using a software simulation to make expedited quarterly decisions in running the company.
"It was the one time that I got to spend the semester really applying the things that I had learned," DJ explained. "From a career standpoint, I never really knew what motivated me until I participated in the ICBSC." For DJ, this experience completely altered his career path, uncovering the next step he had been seeking. "My perspective was just different. I remember talking to my wife after that and saying 'I need to get into that type of setting somehow as quickly as possible, because I absolutely loved it."
Having the opportunity to be immersed into an intense, real-world setting like the ICBSC, allowed DJ to experience first-hand the type of career he wanted to be in. "One thing I learned through the College of Business was that I'm not afraid to take risks and to try new things. That's something I really didn't expect to obtain from my education. When I think of going to school, I think of learning the concepts through reading books and doing case studies. But, the College of Business helped me to realize that I am a hands-on learner through providing those experiential learning opportunities."
DJ completed his MBA in 2015. Today he is a part owner and operator of a long-term care pharmacy, serving hospice patients, skilled nursing facilities and assisted living facilities. "I truly believe that ISU helped open up this opportunity for me by providing the toolset for me to succeed in life and professionally so that I could be comfortable making big decisions and taking risks in a business."
Photo: DJ (right) and his partner at their long-term care pharmacy in Pocatello.
---