Abe Ortiz
Healthcare Administration, 2016 | Clinic Manager, iPH&R
Driving along I-84 west, the small town of Rupert invites the passersby to visit their historic town square. Once taking the exit, the road takes you deep into the farm fields that stretch as far as the eye can see along the Snake River. Sitting along the side of one of these long country roads is the Ortiz home.
It's a Sunday morning, the house is quiet now that Abe and his brother have grown up and moved out. But, today Abe has come to visit his mom and dad from Meridian and is helping to roll, flatten and pan fry fresh tortillas.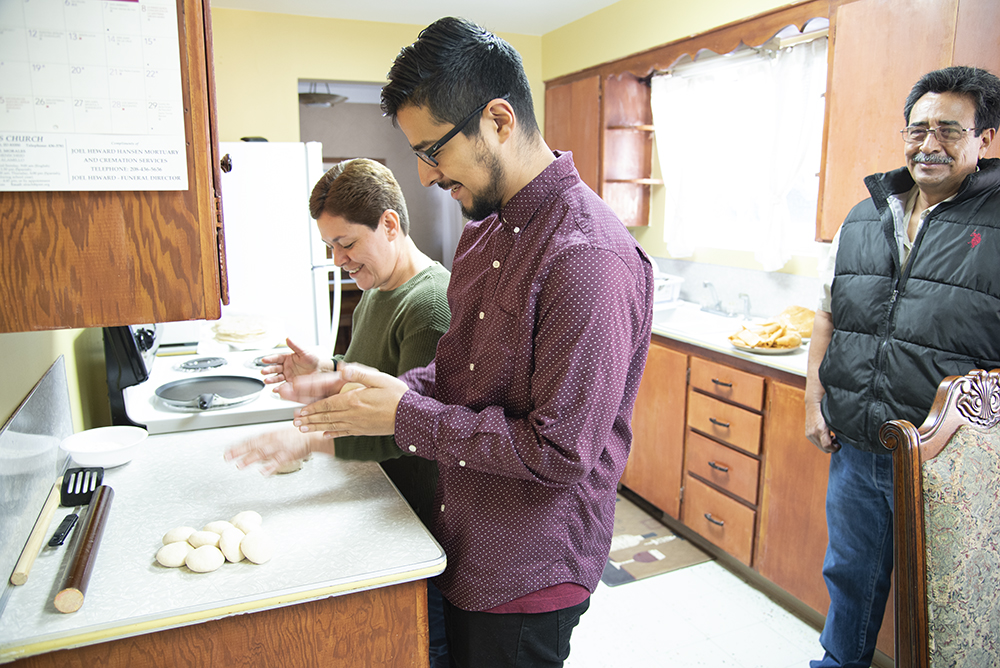 "For me, my parents are my biggest inspiration, they are my why" says Abe Ortiz. "They are the reason I get up everyday." Before Abe and his brother were born, their parents made the difficult journey to immigrate into the United States from Mexico. "Their main motivation for coming here was so that they could give their family a better future," Abe explained.
Photo: Abe helping his mother and father prepare tortillas at their home in Rupert.
As a boy, Abe's father left school to begin working and providing for his younger siblings as the eldest of his family. "During that time period in Mexico, women were also not encouraged to go to school. So, my grandfather pulled my mother out of classes to help maintain the home when she was only in fourth grade."
For Abe, hearing these stories was the only encouragement he needed to take advantage of every opportunity that came his way. "My parents were very adamant about ensuring we had a good education," said Abe. "Even when money was tight, they made sure we had the resources we needed to do our best. They would tell us, 'try everyday in school because you have the opportunities we didn't.'"
Abe took this to heart even in his high school years. As a senior, he spoke to his high school counselor about his options for college and a major that would be ideal for him. "We came to the conclusion that because of my role as a leader in student government and my desire to help others that a degree in healthcare administration (HCA) would be a great path for me." At that point, Abe was put into contact with the Chief Executive Officer of his local hospital where he had the chance to shadow him for a day. "I loved the day-to-day operations of the hospital," From there, Abe began looking into HCA programs.
"I was actually accepted into an out-of-state school when I began looking at the HCA program Idaho State University had to offer," said Abe. But he realized that the programs had very little difference. "The out-of-state school made me feel like just another number, there was no personal interaction. But, Idaho State actually had real people reaching out to me and I felt like they really wanted me to attend, personally." At this point, the choice was easy. Abe found that ISU not only had much lower tuition, especially compared to out-of-state tuition, but he also received more scholarships and benefits as a first-generation college student. "It was nice that Pocatello was just an hour away from Rupert, so it was easy to come back home for the weekend and I never felt homesick."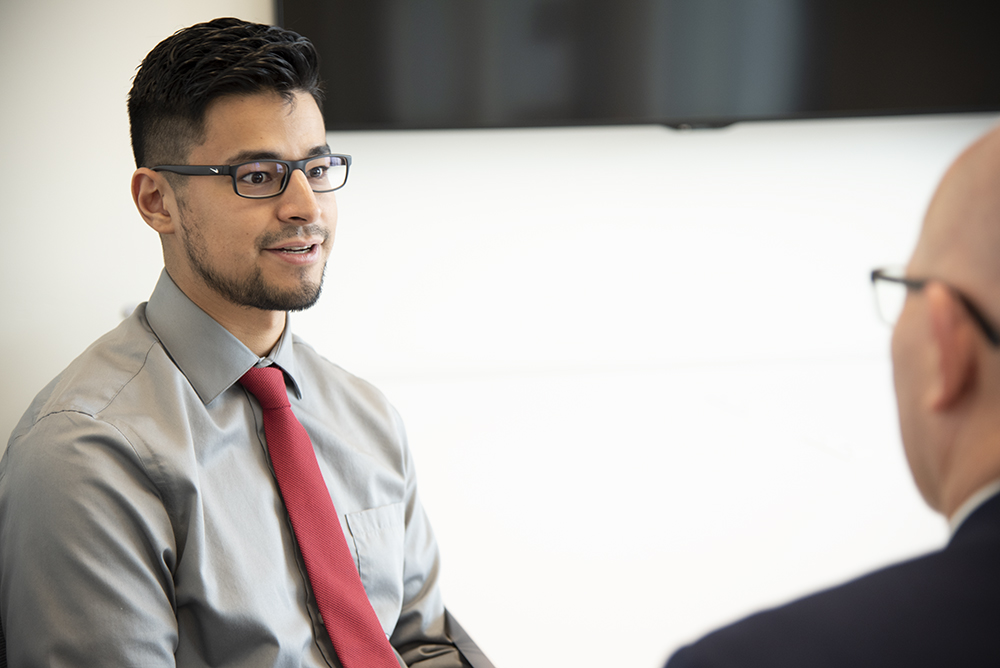 Photo: Abe meets with former professor, Dr. Tracy Farnsworth.
"Upon entering ISU, I was immediately treated with that same type of personal attention," within his first few interactions with faculty like Dr. Tracy Farnsworth, Abe was offered an internship intended for higher class level students. "Through my interactions with Dr. Farnsworth, I was able to partake in numerous internships within the HCA field and gain a lot of connections."
As a student, Abe worked very hard taking more than 18 credits in classes a semester while working his internships and participating on the ISU cheer team.
"It was definitely doable. I had a great system and I really enjoyed what I was doing, learning, and all of the opportunities I was taking advantage of." Abe said he developed a schedule for himself which he stuck to religiously. "I would allot a few hours to each course every single day at a designated time. Even if I didn't have homework that day in one of the classes, then I would work ahead on upcoming assignments. This would give me a leg up when that assignment was getting closer to being due."
Through his hard work, Abe was able to graduate from a typically four year program in just three years with a wide variety of real-world experience under his belt. Today, he works as the clinic manager at Idaho Physical Medicine & Rehabilitation in Meridian.
"I realize that if I didn't take advantage of this opportunity that my parents gave me by coming to the United States, then everything they did and all the work they have done would have been a waste of time."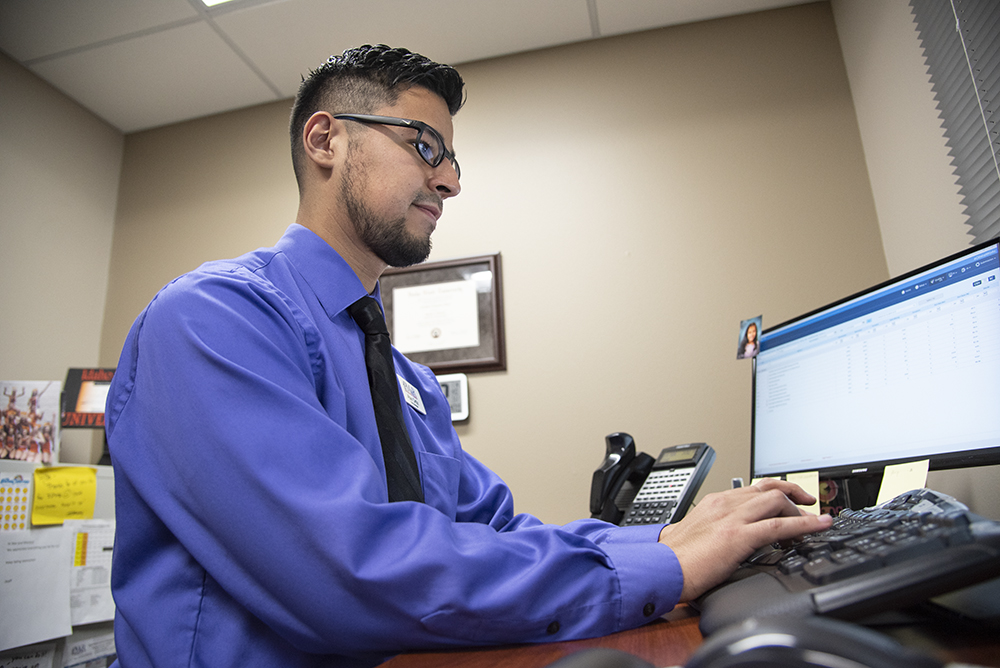 Photo: Abe working at his Meridian office where he is the Clinic Manager of Idaho Physical Medicine and Rehabilitation.
---