Bengals at Bechtel: A Legacy of Impactful Careers in Extraordinary Teams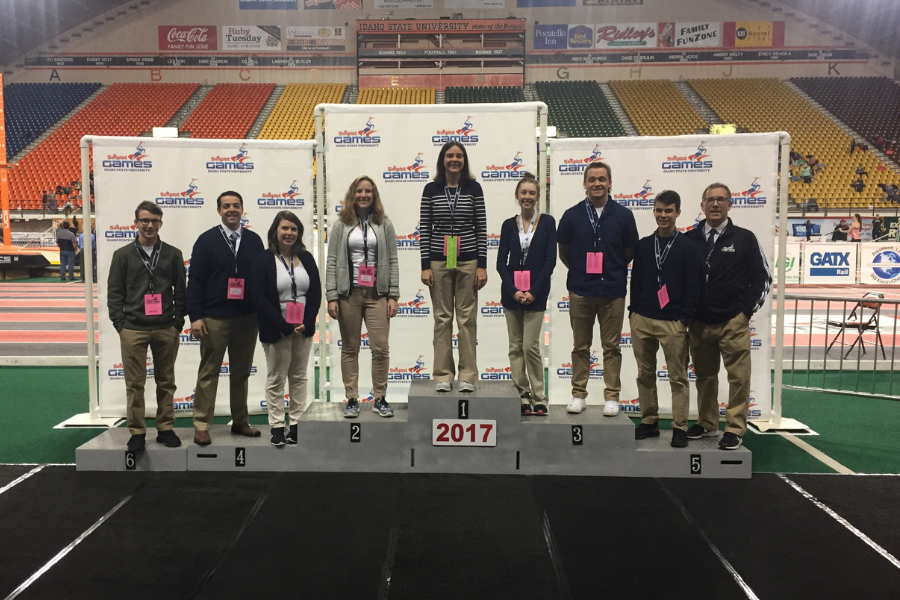 Elisabeth Curtis
August 23, 2023
"That internship led to an internship with Bechtel, which led to all the experiences I've had," Amanda says. "I owe a big chunk of that to my ISU experience."
The Bechtel Corporation describes its work around the world as "extraordinary teams building inspiring projects." Three alumni of ISU's College of Arts and Letters are important contributors to extraordinary teams that ensure national security, tackle critical environmental challenges, and expand emission-free power generation.
Even though they graduated in three different decades, their careers have intersected in meaningful and impactful ways.
Amanda Meixel, from Los Angeles, California, attended ISU on a volleyball scholarship. She earned a bachelor's degree in 2003 in mass communications with an emphasis in public relations and advertising, and minors in marketing and political science.
Amanda says she enjoyed her time at ISU and made a lot of good friends. She also met her husband, Kyle Kinghorn, a fellow communication and media major who is from Pocatello.
Amanda has been with Bechtel for 20 years. Bechtel is a trusted engineering, construction, and project management partner to industry and government that since 1898 has completed more than 25,000 projects in 160 countries.
Throughout its history, Bechtel has worked on projects such as the Hoover Dam, the San Francisco-Oakland Bay Bridge, the Bay Area Rapid Transit (BART) rail system, Channel Tunnel, Tacoma Narrows Bridge, Hurricane Katrina relief efforts, Dulles Corridor Metrorail extension, Ivanpah solar electric generating System, Chernobyl shelter and confinement, NASA Mobile Launcher 2, Lawrence Livermore National Laboratory, and Plant Vogtle Units 3&4. She is currently Communications Manager for the company's Nuclear, Security and Environmental global business line.
"One thing I love about Bechtel and why I've stayed with them for 20 years are the amazing missions we get to work on: constructing huge projects that make the world a better place, cleaning up the environment, building nuclear power plants to help meet our net zero goals. It's what drives me to go to work each day," she says.
Amanda's career path opened up for her when she was a student at ISU. One of the department faculty members recommended her to Jason Bohne, an ISU graduate who ran the media internship program for the Simplot Games event in Pocatello.
Amanda laughs as she remembers her mom telling her at the time that she couldn't just sit around waiting for an internship. Then the phone rang, she talked to Jason for a bit, and he offered her the internship.
"That internship led to an internship with Bechtel, which led to all the experiences I've had," Amanda says. "I owe a big chunk of that to my ISU experience."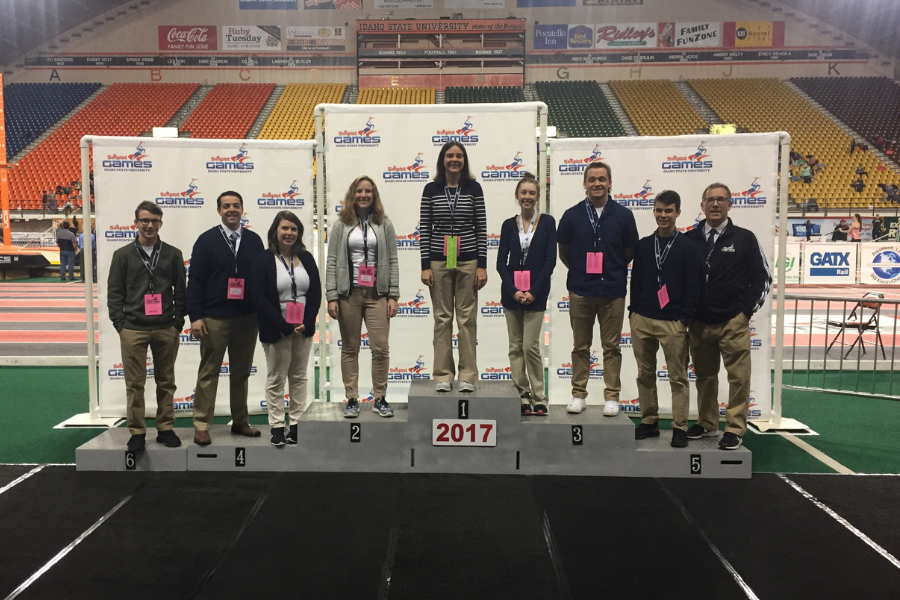 Photo: Simplot Games team in 2017, includes Jason, Melissa, and Amanda, along with other ISU interns and volunteers.
During her two-year internship with the Simplot Games in Pocatello, Amanda gained valuable experience in public relations and honed her writing skills. While still a student, she was able to experience various aspects of the communication career field, including media relations, print and web communications, social media, strategy, and project management and leadership stills. As a student athlete, the internship worked well with her schedule.
"The volleyball season was in the fall and I had a packed semester then," she says. "But Simplot Games happened in the winter, so we would start in December and wrap up around March. Then our spring volleyball season would start. The timing worked out where I could do it all."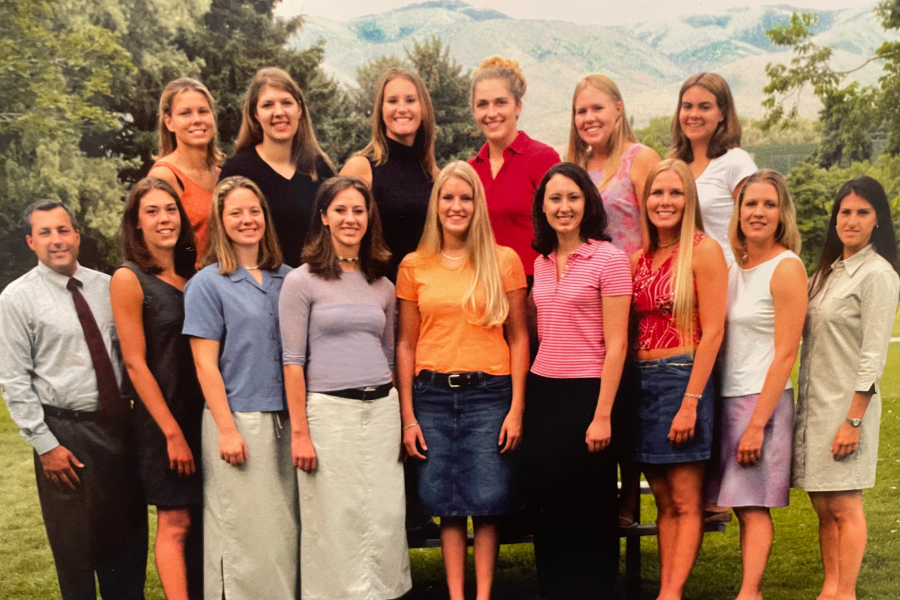 Photo: The ISU women's volleyball team while Amanda was part of the team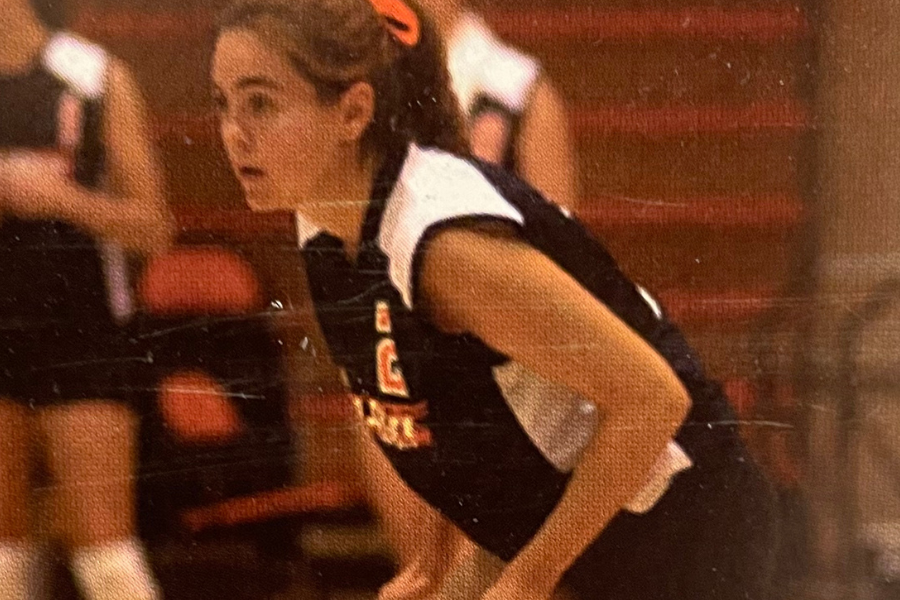 Amanda in her ISU volleyball days
After graduation she began an internship with Bechtel on the Yucca Mountain project in Las Vegas and after the summer she was hired permanently. From there she moved to Washington, D.C, where she was Bechtel's political action committee manager and learned the government side of the communication business. Then she worked in the corporate communications side of Bechtel in offices in Maryland and Virginia.
Her work in the corporate office led to roles at the Y-12 National Security Complex in Tennessee, first as external communications manager and then leading all site communications, including internal and external communications, events, and community and education outreach. Most recently, she led project communications for Plant Vogtle Units 3&4, a commercial nuclear power plant construction project outside Waynesboro, Georgia.
"I've had a great career at Bechtel, getting to do a variety of things," Amanda says. "I've lived in many places across the country and had opportunities to grow and try new things."
When Amanda was in college she said she didn't know much about corporate communication opportunities. "I thought you could do advertising or public relations for firms," she says. "But I had no idea there was this whole world of corporate communications with such a variety of roles and responsibilities both internally and externally."
"If you find a corporation that you're really passionate about you can have a great career," she added.
Jason, who was so instrumental in the start of Amanda's career, has worked for Bechtel for more than two decades. Along with the Simplot Games internship, Jason was Amanda's manager in a few different locations. After many years of working together, the tables have now turned and Amanda is now Jason's corporate manager.
"That's how it's supposed to work," Jason said. "Hire great people, give them opportunities to grow and advance, and hopefully get to work for them someday."
Jason now manages communications for the Y-12 National Security Complex and Pantex Plant under a national security contract that includes roughly 13,000 people, a $3B a year budget, and locations in Oak Ridge, Tennessee (where he is based) and Amarillo, Texas. Amanda oversees his project and several other projects across the United States.
A 1998 mass communications graduate, Jason remembers arriving at ISU because he was dissatisfied with his then career path. He decided to return to school and enter the field of public relations.
Bohne still returns to ISU a few times a year. He remains the volunteer media director for Simplot Games, where he first served as a public relations intern 25 years ago. Through Simplot Games, Bohne has been able to mentor today's communications students through internships like the one he completed.
Jason said he was surrounded by knowledgeable professors at ISU who cared, giving him the chance to find his career path and create his own opportunities.
Jason and Amanda are not the only former Simplot Games interns to join Bechtel.
Melissa Lee graduated in 2014 with a bachelor's degree in mass communications, with an emphasis in public relations. A high school softball player, she also volunteered at the annual track and field event for years, including formally as a media intern for two years. After graduation, she worked at ISU as Director of Marketing and Recruitment for the College of Arts and Letters, helping each of the college's departments with their communications needs, promoting various activities with local media, and working with the ISU Marketing and Communications office to develop and pitch stories.
She then pursued a career opportunity with Bechtel and was hired to work Plant Vogtle Units 3 and 4 in Georgia. Shortly after Melissa joined the project, Amanda became the project's Communications manager and the two worked together with Amanda mentoring Melissa in her new role. As construction neared completion in Georgia, Melissa transferred to the Uranium Processing Facility in Oak Ridge, Tennessee. She leads communications for Bechtel on the multi-billion-dollar construction project. The project is located on the same site where Jason works, so the two of them work together often. In her role, Melissa also reports to Amanda at the corporate level.
"Attending and working at ISU helped me understand how to navigate a complex, multi-level organization with varying individual perspectives, attitudes, and goals," Melissa said. "Bechtel provides me the opportunity to work on challenging and important projects. I enjoy being a part of a team that takes on challenges and delivers for our customers."
While Bechtel employs tens of thousands of people, and many other ISU graduates, these three Bengals are making a difference on important and inspiring projects while seeking to pave the way for others.
Amanda wants students to know that there are so many opportunities within the communications field and within corporate communications.
"I live by the motto that when an opportunity comes up, say yes," Amanda says, "Don't be afraid to make that jump and try something new. You never know where it will take you."