Idaho State University students are learning a new way to roar this year as the new administration led by President Kevin Satterlee, school officials, students and community leaders are introducing new ways to enhance school spirit.
Fans attending basketball and softball games this winter and spring may have noticed that there are now student crowd leaders to help create an "uproar" at ISU home games.
This program was hatched by Athletic Director Pauline Thiros, Assistant Director of Admissions Craig Joseph, Director of the Alumni Association Ryan Sargent and Associated Students of ISU President Logan Schmidt, who came together to discuss how student participation at athletic events could be increased.
Together, the four decided that "crowd leaders" who organize and recruit students to athletic events would help the student body learn how to roar.
Three students were chosen to be crowd leaders – Kyley Sweet, Trey Harmon and Gabrielle Jablonski – and together they decided to be called The Uproar.
"I chose to become a crowd leader to start a new tradition here at ISU that will last for as long as the University does," Harmon said. "Hopefully, this opportunity will bring the campus community together as a whole."
Schmidt's love for ISU and desire to increase spirit prompted him to get involved in The Uproar.
"Initially our goal was to get students to games," Schmidt said. "Now that students are coming to the games, we are working collectively to bring a new element of excitement to our student section."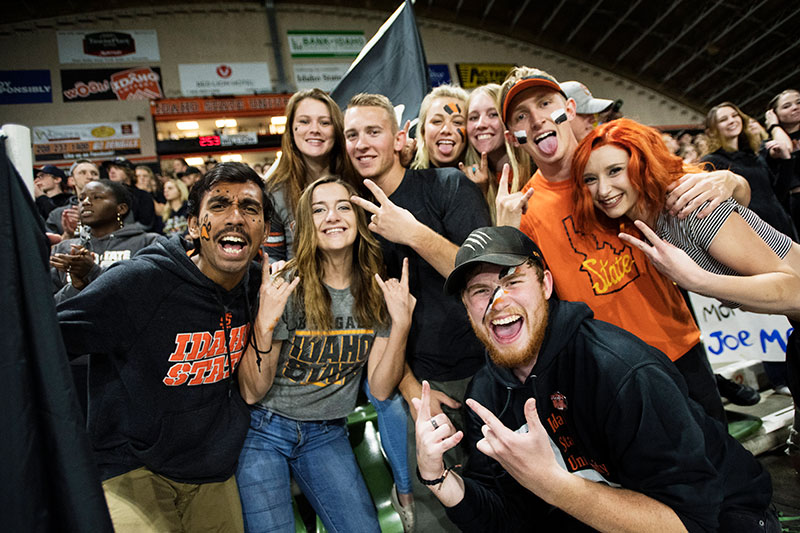 Schmidt met with Sweet, Harmon and Jablonski weekly to make their "game plan" for the games that week. At the meetings, they typed up the cheers they planned on doing at each specific game. They also discussed ways they could bridge the gap between student-athletes and the rest of the student body.
"From a non-student athlete perspective, there is quite a divide," Jablonski said. "I think having students become more involved in our athletic events is a great stepping stone to bridging that divide."
After getting started at basketball and softball games this spring, organizers plan to have a presence at as many sports as possible in the future.
"We plan on expanding to every sport that we can," Schmidt said.
Though Sweet, Harmon and Jablonski receive a scholarship for their efforts, their desire to be a part of The Uproar stems from their school spirit and love of ISU.
"Not only do we want to help students feel connected to ISU athletics, we also want our students to have the best experience here at ISU," Harmon said. "Our goal is to create an environment that will instill great lasting memories for the rest of our lives."