Measuring Progress
Chris Gabettas
Professors land major grant to help Idaho children with hearing loss
Inside the HATCH Lab at Idaho State University-Meridian, associate professors Kristina Blaiser and Gabe Bargen study a green pie chart on a computer screen.
The image tells the story of how a child with hearing loss is progressing in the real world. Is he using words to communicate or relying on gestures? Is he speaking in sentences? Is he using hearing technology?
"This shows he is using about 60 words—mostly nouns with very few descriptors," said Blaiser, pointing to the chart.
"There's some work that can be done here," added Bargen, noting the child's daily use of hearing technology—hearing aids or cochlear implants—is low. Boosting the use of technology can speed progress.
The beauty of the screen image is its simplicity. Gone is the complicated maze of numbers that would typically accompany a report of this type and overwhelm a parent. In its place is a one-page snapshot of the child's progress in clear, concise terms a layperson can understand.
"Our goal is to create a data system that can tell the story of how a child is performing and what variables predict the best outcomes," said Blaiser, a speech-language pathologist in the Department of Communication Sciences and Disorders.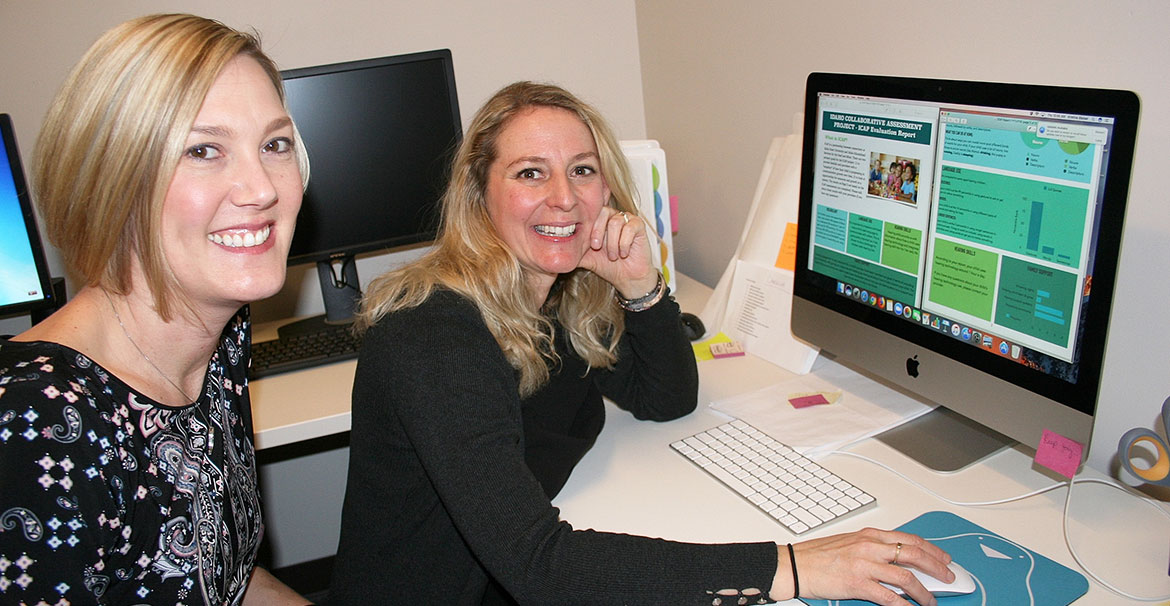 Associate professors and researchers Gabe Bargen and Kristina Blaiser reviewing assessments in the HATCH Lab at ISU-Meridian.
Thanks to a $290,000 grant from the Philadelphia-based Oberkotter Foundation awarded in November, the researchers will spend the next three years telling the stories of hundreds of children who are deaf and hard of hearing in the Gem State.
Using online assessments, Blaiser and Bargen are gathering vast amounts of data from the parents of the children and the providers who serve them.
The assessments measure a child's vocabulary and language development, use of hearing technology, how comfortable the parent and child are using that technology and the level of support from providers.
"We want to ensure that whatever could potentially hold a child back doesn't. That they're given every opportunity to succeed regardless of where they live in Idaho," said Bargen, an audiologist in the CSD department.
The ISU team is distributing the assessments electronically to parents through the Idaho Collaborative Assessment Project or ICAP—state and community organizations that have partnered with ISU to provide services for kids with hearing loss. More than 250 children from birth to 5 years old will have the opportunity to be assessed.
"This will give us a great look at how the little ones are doing," said Paula Mason, outreach director for the Idaho Educational Services for the Deaf and Blind, an ICAP member, serving more than 1,600 hearing-impaired children and young adults in Idaho.
Mason is excited about the study because it'll help providers and policy makers isolate the needs of children and families in Idaho's so-called frontier counties—where services are limited due to geography and population. "We'll be able to dive in and take a look at how providers can reach those areas," she said, noting early intervention is key to the communication and language development of a hearing-impaired child. Alternatives to in-person services include online speech therapy, interactive webinars or one-on-one sessions via the internet.
Behrenger's story
Behrenger Player is an energetic 2-½ year old who likes to help his mom in the kitchen when he's not tossing a ball around. Diagnosed with a hearing loss in both ears as an infant, he started wearing hearing aids at 10 months.
His mother, Valerie, says he's learning to speak in complete sentences, expanding his vocabulary and using American Sign Language.
"Our goal for him is to have access to language, spoken language as well as American Sign Language, so that he can do anything he wants to do," she said.
The Boise mother and special education teacher is completing the assessments provided by the ISU researchers and she's thrilled to chart his progress.
"When you are the parent of a kid with hearing loss, you spend a lot of time realizing what they can't do, but with the assessments you're like 'oh, he can do that now and he can do that.' It's kind of heart warming," she said.
She loves the ease of reading the reports and comparing his progress to the language and vocabulary development of his hearing peers. On that front, Behrenger is doing well, even a little ahead of them.
"Apparently that's because I never stop talking to him," laughed his mom.
Conducting the research
Back at ISU-Meridian, student researchers Rachel Reiber, Kaitlyn Counts and Cassandra Arias will help Blaiser and Bargen compile the assessment data and prepare the "data visualization" reports for parents and providers for the duration of the grant.
"It's really cool to be a part of a project that can impact people's lives," said Reiber, a first-year master's student working on her degree in speech language pathology.
Blaiser says it's about setting the bar high for kids with hearing loss and providing families with the tools to soar over it.
"If we can give support early on, they can do anything they want," Blaiser said.