Idaho State's "Old Man of Track" Still Truckin'
Andrew Taylor
Lifelong Caribbean Percussionist Discovers Track Still Gives Him a Jolt Past Age 65
If they thought he was old then, what would they think now?
Glynn Osborne was christened and teased as, "the old man of track" during the four years he sprinted for Idaho State University from 1979-83 because he was 28 years old when he arrived in Pocatello and 33 when he graduated. When he competed, he was about 6 to 12 years older than his teammates.
Osborne is a native of St. Kitts, one of two islands of the tiny nation of St. Kitts and Nevis — Alexander Hamilton's birthplace — in the Caribbean.
After arriving at ISU, he was pretty fast for an old guy. The ISU Athletic Department still lists him in a three-way tie at seventh place on the all-time ISU track records in the 200-meter dash with time of 21.1 seconds.
But that mark isn't what Osborne remembers most from his ISU track days.
"The highlight was the 1982 Big Sky indoor championships, our 4x400-meter relay team that qualified to compete in the Indoor NCAA Championships in the Pontiac Silver Dome in Detroit," he said.
Osborne then took about a 33-year hiatus from track after earning a degree in business administration, majoring in finance and minoring in management and organization from the College of Business. He stayed in Pocatello for six years after graduating as a "professional student," moved to Seattle 1990 and then to Hawaii in 1995, before returning to Pocatello in 2015.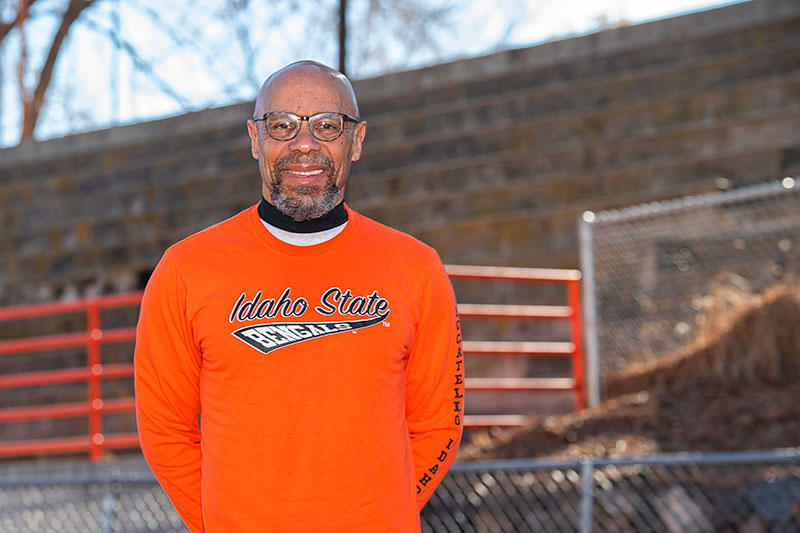 In 2016, Osborne attended a barbecue at the home of James "Byrd" Yizar, a former ISU track athlete who is now assistant director of the ISU Student Success Center. At the time, Osborne was considering competing in the Southeast Idaho Senior Games track and field meet hosted in Pocatello, but didn't think he was in good enough shape to try it. However, Ivan Moody, a guest at the barbeque and another ISU track alumnus, encouraged him.
"Ivan told me 'just do it,' Glynn, and you'll get hooked on competing," Osborne said.
Ivan's words were prescience. Osborne competed in that meet and has competed in many seniors-level events since.
"Most, if not all of us seniors and masters athletes, happily proclaim that to be competing again at our 'advanced ages' is happily addicting," said Osborne, who is now 68. "I'm joyfully intoxicated by the friendly competition and the incredible camaraderie at these meets."
The Bengal alum has had success at the masters level. Among his top accomplishments are:
He holds the Idaho senior track records set in 2018 for the 65-69 age group in the 50-, 200- and 400-meter runs and in 2018 won four gold medals, in these three events plus the 100-meter dash.
In the 2018 Huntsman World Senior Games held in St. George, Utah, he finished second in 200-meter sprint with a time of 27.5 seconds in the 65-69 age group.
At the 2018 USA Track and Field American Masters Meet in Spokane he was on a 4x100-meter "non-club" relay team that set the outdoor record for the 65-plus age-group for the meet with a time of 50.63, running with Max Siu, Charles Allie and Damien Leake. He also won the bronze in the 400-meter race at this meet, and was coached by Dave Nielsen, former ISU head track coach.
ISU's "Old Man of Track" just wants to stay healthy – while setting some new age-group world records. The latter is a possibility, if he can stay injury free in 2019 – in 2018 he was ranked as high as No. 3 in the world in 400 meters and in the top-10 in the 200 and 50 meters. He will compete in the USA Senior National Championships in June in Albuquerque, New Mexico.
"I think I can do it," Osborne said.
Beginning in high school, Osborne has played congas and percussion professionally in bands and managed them.
Before coming to ISU, he was a science and physical education teacher, a banker and player/manager of the bands Ellie Matt & The GI's Brass (GI's is short for Group Impressions) and the Earth Tones in St. Kitts.
In Pocatello, he played in the Center Street Reggae and Blues Band, which included in its members Anthony Stocks, ISU professor emeritus of anthropology.
In Seattle, he also played congas and percussions for Jumbalassy, a "world-beat, soca-reggae-dancehall" band that was the winner of the Northwest Area Music Association best world/ethnic recording in 1992.
While in Hawaii working as a massage therapist, in 2001 he created a worldbeat band Shaka Jambé, "weaving global rhythms and beats to produce music rooted in its motto: 'We put a smile on your face and a wiggle in your waist!'"
Among his many other pursuits, Osborne is working on a book with the title "The Ultimate Frontier – Maximizing the Incredible Potential of our Human Minds."