Giving Back
Chris Gabettas
Student Raises Funds to Build Ticket Booth for Southwest Idaho High School
Angela Pierce is the kind of person who gets things done.
Just ask her professors at Idaho State University and the residents of the southwest Idaho community of Marsing where construction began this spring on a ticket booth at the entrance to the high school football field. Pierce spearheaded the drive to complete the project.
"This means so much to us. It's the kind of project that can build pride in a community," said Marsing High School principal and athletic director, Tim Little.
Little and Pierce came up with the idea for the ticket booth last spring. Pierce had contacted him by email, explaining she was a student enrolled in ISU's athletic administration program and wanted to work on a project to benefit the school and complete her master's degree. Her professors had given her the green light to move forward.
Why Marsing High? Well, Pierce's brother Danny played football there years earlier and she wanted to give back to a program that had given her family so much.
"Our family has a lot of memories and attachment to the high school. Every Friday night we knew we'd go to a football game and even travel to the out-of-town games," Pierce said. The family moved from central California to Idaho in 2006.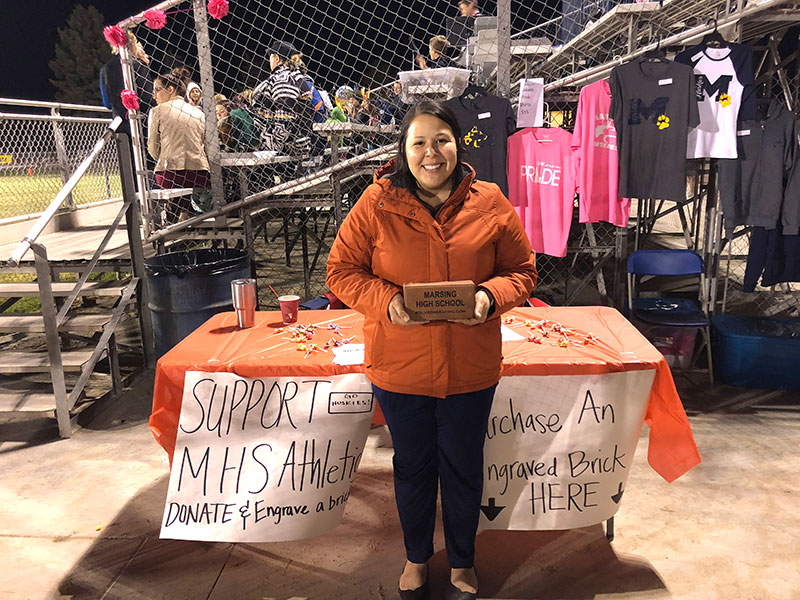 Angela Pierce spent fall 2018 raising money for the ticket booth by selling engraved bricks.
Photo courtesy of Danny Pierce
After Pierce and Little decided on the booth, Pierce tackled the project head on. She designed a booth prototype, handled publicity, raised funds and secured vendors, including a Marsing steel business whose owner agree to donate some of the construction materials.
Pierce sold 65 engraved bricks at $100 each — engraved with the donor's name and a brief message of support for the Marsing Huskies. She exceeded the number needed to finance the $5,000 project. The bricks will line the walking path to the ticket booth, which will measure 6 feet by 8 feet.
Little admits he wasn't certain Pierce could pull off the project when she first approached him, but his doubts quickly evaporated as she met her goals. "She is a true professional," he said.
Her professors agree. "This is an incredible example of how our students are giving back to the community," said Caroline Faure, professor of sports science, who with associate professor, Howard Gauthier, approved Pierce's project for graduate credit.
The community of 1,000 residents will celebrate the booth's completion in August with a ribbon cutting, just in time for football season.
As for Pierce, who completed her Master of Physical Education degree in athletic administration in December, she'd like to serve as an athletic director at the collegiate level someday.
"I've seen what athletics can do for students. The perseverance behind it and all of the life skills a student athlete develops," she said.
There's no doubt she can achieve her goal, says Gauthier, who taught Pierce in his research, leadership and sports marketing classes at ISU.
"I've never met a student more organized. She has a high deal of integrity and will undoubtedly have an outstanding career," he said.
Pierce is well on her way. This spring, she accepted the position of athletic department operations coordinator at College of Southern Idaho in Twin Falls.