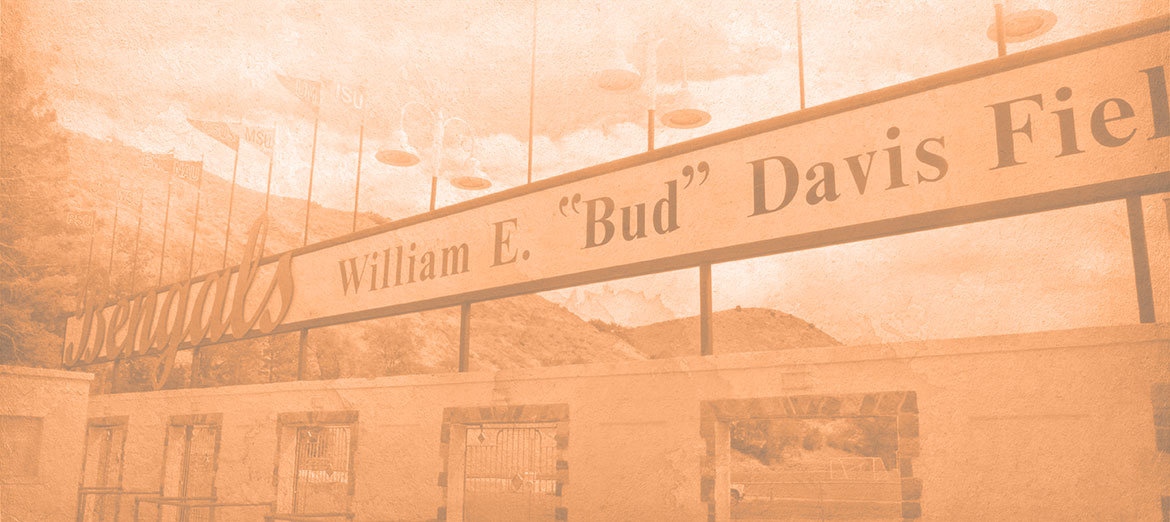 In 1933, teams of horses and men worked for months moving dirt, flattening the earth and building walls with rock mined from nearby Red Hill. The goal was to create an athletic venue fit for a Bengal.
Since then, Davis Field has been the training ground for countless athletes, including Olympians.
Davis Field will finally be getting much-needed renovations so its functionality as an athletics venue can better match its tremendous aesthetics.
"Davis Field is historic, it is significant and it is an important part of our history to restore," said Pauline Thiros, ISU athletic director. "The President and the administration supported this project enthusiastically, recognizing that it is important to the community, as well as to the student experience and athletic team performance. Restoring Davis Field is simply the right thing to do."
In recent years, however, the two biggest problems for athletics posed by the current Davis Field facilities are that the soccer field is too narrow and the track and field facilities, including the running track itself, no longer meet NCAA standards. This means, ISU soccer and track and field are not able to host conference championships. Furthermore, ISU soccer was having trouble scheduling non-conference games on the field because it isn't regulation width, and track and field has not been able to host any outdoor meets at Davis Field since 2007.

Davis Field on Dedication Day, 1933
Now there are solid plans in place, backed by $4 million in funding, to restore and improve the soccer field, running track and field-events area, fix the bleacher problem on the east side and add lights.
"I am absolutely ecstatic. It will elevate the entire game-day experience for both the players and the fans," said Debs Brereton, ISU women's soccer coach. "We are very fortunate to call Davis Field home. It is such an iconic location, and the players are thrilled about being able to play on a new surface, under lights in front of our awesome fans."
Davis Field renovations include:
Taking out the condemned bleachers on the east (Red Hill) side of the field, putting in a retaining wall and landscaping a grass hill that will extend back toward Red Hill.
Removing the condemned bleachers will allow the soccer field to be widened to regulation width and for the track to be widened. The soccer field will then be regulation size and eligible to host championships and non-conference teams.
The track will be replaced and drainage for the track and the field will be improved. ISU track and field will then be able to host outdoor track meets, including conference championships, at Davis Field.
The field events area – for events such as long jump, pole vault, discus and high jump – will be moved from inside the oval of the track to a newly developed area on the south side of Davis field. This will help address safety a issue.
Lights will be added, which will greatly help both athletic programs, adding flexibility for scheduling games and practices.
"The new design includes lights, which extends useful time in the venue," Thiros said. "Soccer games can be played at 7 in the evening, rather than 4 in the afternoon when it is difficult for the community to come out and show their support and enjoy the game. Track and field will host collegiate events in a beautiful venue, and we have the opportunity of hosting high school meets at Davis. The longer days also mean that teams have fewer conflicts training in the venue. It's absolutely necessary to provide our student athletes, coaches and our community with the type of experience to which we are committed."
The project will begin as soon as this summer. While Davis Field is being renovated, alternate arrangements will be made for soccer and track and field practices and competitions. The project is slated to be completed by the end of the year.
"I am really excited about this one, just as much as any project I have done at ISU, because I've been working on this since 2014," said Jason Adams, director of design and construction for the ISU Facilities Services Administration. "It's a great project that solves a lot of problems for Athletics and also addresses long-standing deferred maintenance issues at the facility."
Hillary Merkley, ISU head track coach, said this project has been a long time in coming.
" I was an athlete here at ISU and graduated in 2001 and loved practicing and competing at Davis Field. It carries some fond memories for so many people who have been a part of the University history," Merkley said. "We look forward to this project being completed and then we can't wait to showcase Idaho State University once again. We hope it will open up more opportunities to bring people to our campus and community."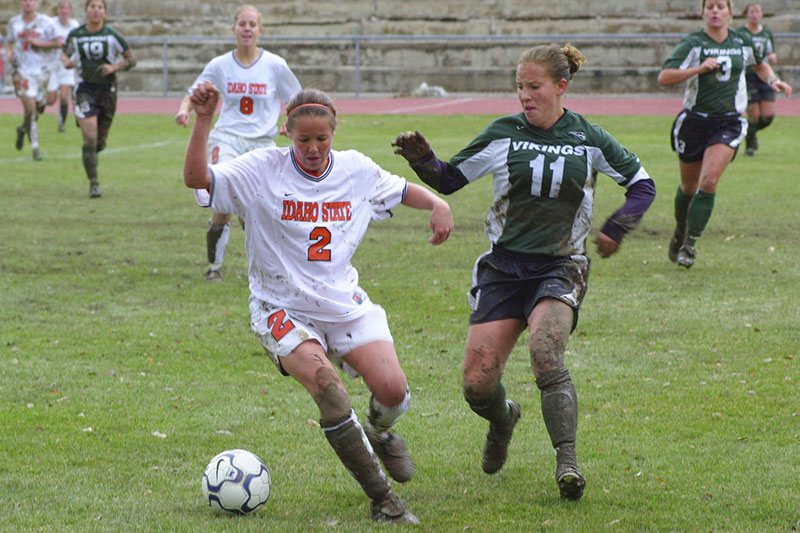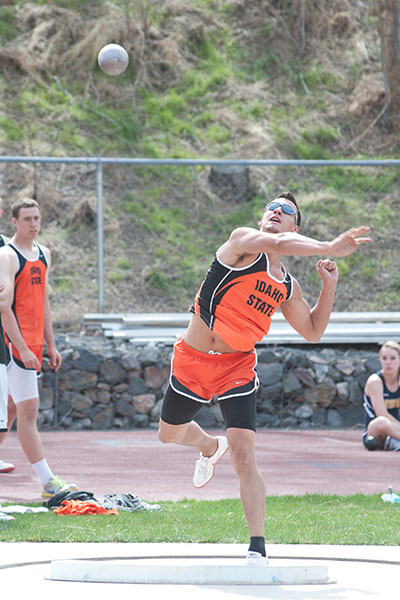 Dates of Note
• 1933: Construction begins on the Spud Bowl, one of the first federally-funded projects at ISU (then Idaho Technical College). Teams of men and horses built the rock walls, using mostly rock from nearby Red Hill. The iron gates were designed by Abe Lillibridge, an instructor at the school.
Prior to this, football games were played at Hutchinson Field, now known as the Hutchinson Quad.
• Nov. 11, 1936: Idaho State plays its first football game in the Spud Bowl, against Montana State.
• September 1941: Electronics instructor William H. Shiflett, Jr., and his students design and build a television transmission and receiving system, and, during a home football game, pull off the first live television broadcast on a college campus.
• Homecoming, 1961: A surprise snowstorm buries the Spud Bowl, so much that spectators had to sit six rows up to see over the snow piles. The field is plowed, the game goes on and ISU beat Montana State, 14-12.
• 1965: William "Bud" Davis becomes ISU's president. He begins a series of improvements to campus worth more than $25 million, including Bartz Field, the Minidome (now Holt Arena) and many of the current buildings on campus. The Spud Bowl is converted into a track facility. It is also used for special occasions, such as commencement.
For many track athletes, the Spud Bowl also served as home. Up to 12 athletes at a time stayed in a converted concession stand-turned dorm.
• 1974: With many other changes on campus, including the removal of Swanson Hall, administration discussed leveling the Spud Bowl and turning it into a parking lot. The track is saved, and is used for not only track, but intramural sports as well.
• 1981: A Department of Public Works report calls for the demolition of three buildings on campus, including Davis Field House, because of extensive repairs that were needed. The Field House is spared.
• 1998: ISU Soccer is born, playing at Davis Field.
• 2000: Thousands come to Davis Field to send off Olympian and ISU pole vaulter and coach Stacy Dragila to the Melbourne Olympics.
• 2002: A new soccer field is installed for the 2003 season.
• 2006: ISU Soccer hosts the Big Sky tournament, winning the title in front of a record-breaking 1,540 fans.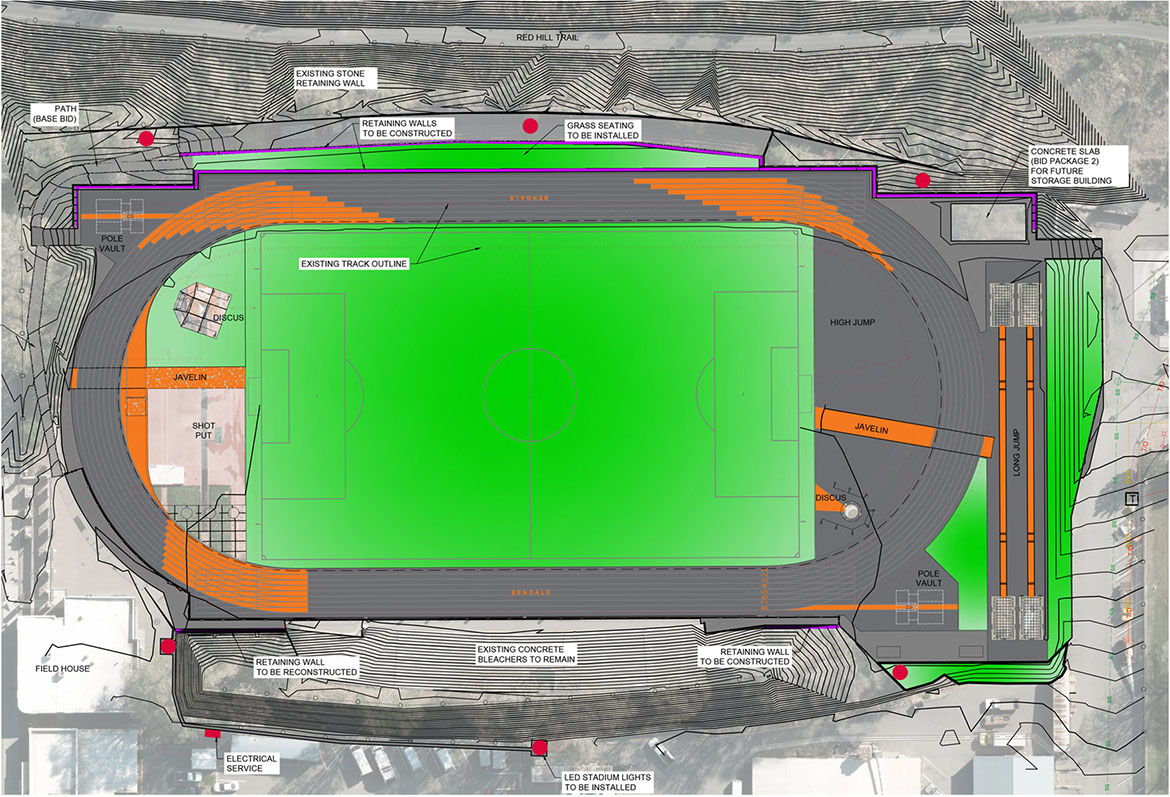 Rendering of Davis Field after upgrades are complete