Steve Cannon's 42-year career as a newscaster and weatherman for KIDK Eyewitness News 3 in East Idaho began even before he graduated from Idaho State University.
"My career started in the hallway of the communication department at ISU," said Cannon, an ISU alum who retired March 1. "I was walking down the hall in March of 1977 and my advisor comes out of his office and asks 'how fast can you get to Idaho Falls?'"
KIDK had called looking for recommendations for a newscaster. Cannon had to call his wife to come down from Idaho Falls to pick him up and drive him back up to Idaho Falls for the interview.
"I interviewed on a Wednesday and that Saturday I was on Channel 3," said Cannon, who graduated later that spring.
He began as a weekend anchor, became a weekday anchor and then did news and features stories. Then, in August 1978, the station's meteorologist left for another job. Because Cannon had taken some meteorology and other science classes, his boss asked him to give weather and meteorology reporting a try.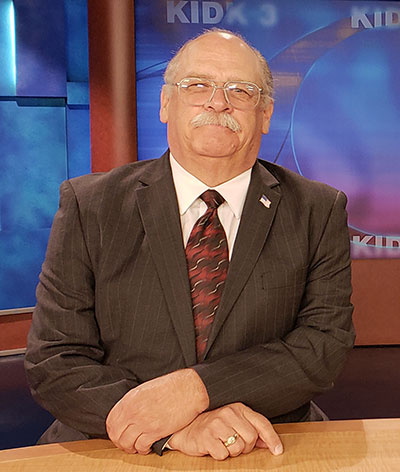 "It was supposed to be temporary, but it turned into a little longer than temporary," Cannon said.
The newly retired journalist is an East Idaho native who graduated from Idaho Falls High School and also attended what was then Ricks College and is now Brigham Young University–Idaho. His family has deep, multi-generational roots in this area. Attending ISU accentuated his love for the region.
"I again reiterate how fortunate I was to spend my entire career in on place, especially a place as good and with as many good people as Eastern Idaho," he said. "I'll always be indebted to Idaho State University. I wear orange every chance I get and I'm extremely proud of my connection with the University."
Overall, he said he "had a ball" during his career at KIDK.
"There were tough days, when I interviewed convicted murderers or did other stories that were not much fun, but overall it was great and I owe this part of the world a lot."
As meteorologist, he spent hours daily gathering all the weather information, not only current, but any information relevant to forecast. For example, his challenge was to figure out if a storm was gaining or losing strength, and when and where storms would arrive. Weather forecasting has changed much since the late 1970s.
"Weather forecasting has taken quantum leaps," Cannon said. "One of the big things is when there was a weather office in town. When I started there was only a forecast office in Boise. When we got a weather office here it was the difference between a skate board and a Rolls Royce."
As for those who scoff at weathermen's abilities to accurately predict to weather, Cannon has some replies.
"Ted Williams (the legendary, hall-of-fame baseball player of the Boston Red Sox known "as the greatest hitter to ever live") had a lifetime average of .300 so every 10 times at bat he was successful for three of them and every major league manager would sell their soul for one .300 hitter," Cannon said. "Meteorologically speaking, our batting average is .875 to .900, so we get about 8-3/4 days out of 10 days right."
Cannon has spent most of the last 42 years working a swing shift, from about 1:30 to 10:30 p.m. Thus, one of the biggest benefits of retiring will be getting to spend evenings with his wife and other family members and friends.
"I had to work when most of the rest of the world could watch," he said.
Cannon plans to travel a lot and he loves to read, particularly history, and more specifically, the history of the American West.
"Going to ISU was kind of a spur-of-the-moment decision, but I am glad I did," he said.