In Memoriam
James Rupp
Longtime Idaho State University supporter James M. Rupp, 83, passed away on Dec. 28, 2018, in Minnesota.
Over the years, Rupp donated to the ISU Scholarship Fund, the library and the debate team. He and his wife Sharon were also the main sponsors of the James M. and Sharon E. Rupp Debate Society. The debate society is made of students from ISU who compete in intercollegiate debate and speech communications. Rupp received the Distinguished Alumnus Award from the ISU Alumni Association in 1995, and the Professional Achievement Award in 1988.
"Because of Mr. Rupp's kindness and passion for ISU, in particular the debate program, he changed the path for our debate team and helped them become competitive on a national level," said Kent Tingey, ISU vice president for university advancement.
Jim was a television and broadcasting industry pioneer who was born on Nov. 7, 1935, in Pocatello to Mahlon Earl and Ila Grace Rupp and was the eldest of four children.
Rupp received his bachelor's degree from ISU in 1957 and a master's degree from Ohio State University in 1959. He began his career in broadcasting in 1959 at Arbitron in Maryland, which was one of the first TV/Radio ratings companies. He also worked as the general manager at Cox Communications, Broadcast Division in Atlanta, and president and CEO of Midwest Communications in Minneapolis. Under Rupp's leadership, WCCO TV and Radio won events for being one of the best stations in the nation. He also initiated one of the first United States satellite teleports through Midwest Cable and was a pioneer in Satellite Music Network.
Rupp also served on the boards of King World Productions, United Video, American Women in Radio and TV, Science Museum of Minnesota and First Trust Company of St. Paul.
According to his daughter, Sandra Rupp, her father began selling newspapers at the age of 9. He was very entrepreneurial, and went on to have his own newspaper subscription business that employed people from three states.
While at ISU he had his own radio show and called himself Jim Sapphire. He also won a national debate title and majored in debate and oratory studies.
Jim is survived by his wife, Sharon Elaine; daughters, Julene Adell Rupp Dasher (husband Thomas Thomson) of Chapel Hill, North Carolina and Sandra Kay Rupp of Naples, Florida; son, Steven James Rupp (wife Catherine Mary Witt) of Minnetonka, Minnesota; grandchildren, Grant Woodson and Lily Sharon Dasher and Anna Mae, David Steven and Jonathan William Rupp; brother, Douglas Burnham Rupp; sisters, Ila Gail Fogg and Brenda Lee Busacker. Jim was preceded in death by his parents.
A memorial service was held on Saturday, January 19, at Wayzata Country Club in Wayzata, Minnesota.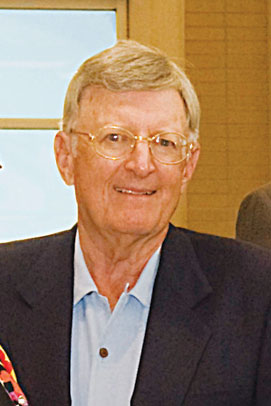 Bill Ryan
Bill Ryan, Idaho State University's first full-time alumni director, passed away March 3 in Arlington, Texas. He was 89.
Although Ryan lived in Texas for the past 41 years, he never forgot his Pocatello roots.
"If you talked with him long enough … eventually the conversation would go back to Pocatello," said his son, Jim Ryan, adding that his dad often reminisced about growing up there and the people he knew there.
Ryan earned his bachelor's degree from Idaho State University, where he later served as an assistant professor in the journalism department.
He also spent many years working in the media industry. Among other positions, he served as the news director at KSEI radio in Pocatello and as a broadcast reporter-editor for United Press International.
The 1947 Pocatello High School graduate's career actually began his senior year when he served as a writer and announcer for the weekly "Poky Highlights" on KEYY Radio.
While living in Texas, Bill wrote hundreds of columns for the Idaho State Journal, many of which focused on Pocatello's history.