On-Campus Dual Enrollment
The On-Campus Dual Enrollment program has been created in conjunction with campus departments to set aside a certain number of seats per approved course for Early College Program students. This program has allowed students to come on the campus of Idaho State University and take courses for $75 per credit. Courses are available on both the Pocatello and Idaho Falls campus, see list below for available courses and registration information.
Students need to meet all course prerequisites and may be subject to course fees, textbooks, and parking fees. Students are also limited to 7 credits of general education objective courses a semester. Before a student can register for classes they must be admitted to the Early College Program, submit an On Campus Liability Waiver, and register at least two-weeks prior to the start of the course.
Student must also complete an ECP Student Orientation. The orientation for Fall 2022 semester is schedule for Wednesday, August 17, 2022 from 1:00 pm - 4:00 pm in the Salmon River Suites inside the Pond Student Union. Please register here for the student orientation.
ECP On-Campus Course List Spring 2024 - Pocatello docx.
ECP On-Campus Course List Spring 2024 - Idaho Falls docx.
On-Campus Schedule Type and Class Instruction Definitions
Registration Deadlines can be found on the registrar's website at https://www.isu.edu/academiccalendar/
On-Campus Requirements
To participate in On-Campus Courses you must complete the following steps:
1) Be an admitted ECP student. If you have not applied please follow the steps below on how to apply to our Early College Program.
2) Turn in a completed Assumption of Risk Form. You can find a DocuSign and printable version on our forms page. Assumption of Risk Waiver
3) Complete ECP Orientation. In the Fall there is an Online and In-Person option. For Spring there is only an Online option. Please RSVP for the Orientation and have completed no later than the Friday before classes begin. Spring 2024 - Online Orientation RSVP Link
Admission to the Early College Program
All high school students who are interested in taking dual credit courses through Idaho State University must be admitted to the Early College Program before they can register for classes. In order to be admitted students must submit an online application and a permission form. Students only need to apply and submit a permission form the first time they take dual credit courses from ISU.
How to Apply to the Early College Program
Go to www.isu.edu/apply and select the "Early College" Apply button

Profile: First time users will click on Create an account and complete a student profile. Tip: Write down your log-in information! Returning users will Log into their student profile from this page. Students MUST complete an application after creating their profile! Everyone will click on "View or Submit Application" and "Start a New Early College Program Application for High School Students"

Application

(all items marked with a red asterisk are required):

Entry Term: Select the term that your dual enrollment course begins (NOT when you plan to enroll after high school). Choose "FALL" if your course starts at the beginning of the school year (including Trimester 2), choose "SPRING" if your course begins spring semester or Trimester 3.

Student Type: "Early College-Taking college courses while in high school"

Academic Program: Early College Academic or PTE Advanced Opportunities (PTE is for students taking Technical Dual Credit only, when in doubt use Early College)

Personal Section: Note: if your mail is delivered to a P.O. Box, please enter this instead of a street address

Academic Plans: Should already show Early College, click Save & Continue

Demographics: You will need your SSN (or LPN & Visa Type) if you correctly know them, Click Save & Continue

Family: Please select which best applies to you

Education: Please complete by selecting Country: United States, State/Providence: Idaho, and typing the city of your high school and click search. Select your high school from the select organization drop down menu and click select and enter your graduation month and year. If you know your counselor's name please complete, but not required.

Certification & Signature You will select yes to the certification questions, select your security questions and sign your application. Your security questions are important to remember, as you will be asked these by the IT Service Desk if you call for your username and password Click "Submit Application"

Submit Dual Credit Student-Parent/Guardian Consent Form (Required) This is found on the Early College Program website under forms. It can be submitted electronically using DocuSign. If you are 18 or your parents do not have an email, please use the print version and send to the Early College Program Office.
At any point during this process you may choose to save application at the bottom of the page and return at a later time to complete. You can find the incomplete application in your profile by going to https://www.isu.edu/apply/, click on the Early College button, Log In, and choose "View or Submit applications."
For assistance with the application process please call the Early College Program office at 208-282-6067.
Registration Process
After being admitted to the Early College Program, Please do the following to register for your course.
Obtain your username and Password - Check your email for acceptance to the Early College Program with a link to claim your BengalWeb account. For additional assistance on obtaining your username and password call the IT Service Desk at 208-282-4357.
Register for classes
Login to BengalWeb
Enter your username and password (see step 3) and click login
Click on the Academic Tools tab
In the Registration Tools channel click on Add or Drop Classes.
Chose the desired term for your class from the drop down menu and click submit. If this is your first time registering for classes in BengalWeb, you will be prompted to add an emergency contact and be asked to agree to the financial terms and conditions of taking a course. Please enter required information and click update.
Type the CRNs for your on campus dual credit course(s) and click submit changes.
After submitting CRNs return to the Academic Tools tab and click "My Registration and Schedule Information" to verify your schedule
Apply for Advanced opportunities funding - For additional information visit Idaho Advanced Opportunities
Benefits
Courses count for both high school and college general education credits
Idaho's Advanced Opportunities money can be used for on-campus dual enrollment courses
Variety of courses to choose from
Allows students to get a head start on college credits
Get to interact with ISU faculty, staff, and students on a regular basis
Access to ISU library
Free tutoring from Student Success Center
Access to on-campus activities
Access to Reed Gym for $47/ISU Semester
Using Moodle for Online Courses
If If you have registered for an Online course, your course work will be done through Moodle ISU which is the university's online learning system. To access Moodle you will login to Bengal web and click on the Moodle icon on the upper left. Here are some tutorial videos to help learn the basics of Moodle.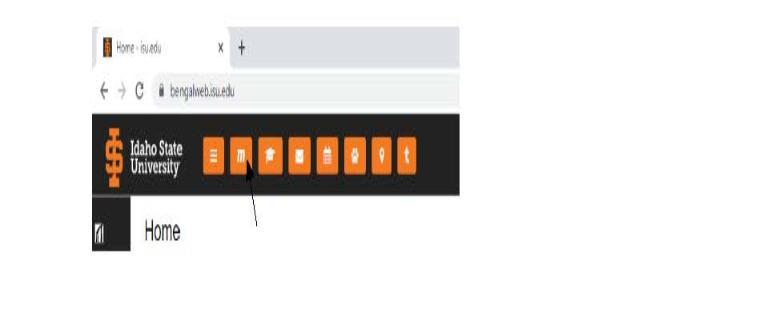 Learning Moodle: Video Tutorials