Major Goals and Valuable Times
It is the beginning of a new academic year at Idaho State University, and a time of exciting change.
Our campus is filled with new students who have chosen to become Bengals. It's an honor to see them beginning the next stage of their academic journeys, learning from our faculty and bringing new ideas to the forefront.
In this issue of ISU Magazine, you will see how we are enhancing our recruiting efforts with personal tours from our student leaders. Through programs like Liberal Arts High, our faculty members are visiting high school classrooms to show future Bengals what they can learn here with us.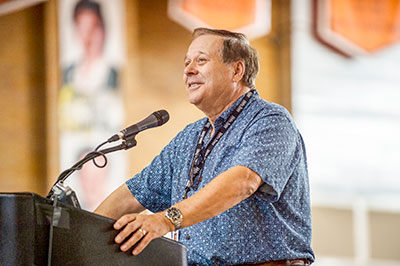 Our students are learning not only in the classrooms, but in the field. On page 24, you'll see how students are benefiting from one of ISU's largest laboratories—the Frank Church Wilderness Area. Students and faculty are taking advantage of the tremendous amount of data available to study climate change and the effects of wildfire. At Craters of the Moon National Monument, researchers are using the harsh landscape to help NASA build plans for astronauts to visit and study Mars.
Every day, our faculty, students and alumni change the world around us with their leadership and discoveries. The breadth of the accomplishments of our alumni is evident in the Homecoming award winners, whose stories you will find on page 30. Also in this issue, you will learn about student-led initiatives to encourage peace and understanding on campus, and students who are bringing back traditions you, as alumni and friends of the University, know and love.
If you haven't visited campus recently, I would encourage you to return. With the help of a generous gift from the Jack and Mary Lois Wheatley family, we have planted more than 400 trees since 2010, and added beautiful gathering places for students throughout campus in Pocatello. In Idaho Falls, we've renovated more than 10,000 square feet of space, adding classrooms and office space for resident faculty. In Meridian, officials from the Idaho College of Osteopathic Medicine are planning to break ground in 2017 to build Idaho's first medical school on the campus of ISU-Meridian. The private medical school will offer a partnership with our Kasiska Division of Health Sciences that will allow our students access to a myriad of learning opportunities.
It's an exciting time to be a Bengal. Thank you for all you do to make our Bengal family strong.
Go Bengals!
Arthur C. Vailas, Ph.D.
President, Idaho State University
Community Says 'May Peace Prevail'
Alma Jam, '15, moved to Pocatello from Cameroon at the age of 10 when her father came to Idaho State University to earn a Ph.D. in political science.
She had plenty to get used to – from a new school system to different languages and food.
"Americans definitely have a sweet tooth," Jam said with a laugh.
What she didn't struggle with in Pocatello, however, was making friends.
"We moved to a street where there were lots of kids," she said. "We actually grew a larger extended family."
After high school, Jam went to the College of Southern Idaho, then returned to Pocatello to attend ISU.
"When I came to Idaho State, people kept saying there is no diversity," she said. "Idaho State is more diverse than people realize."
ISU students hail from 58 countries and 41 states. Although many international students share their cultures with campus and the community through several events throughout the year, such as the annual International Night dinner and evening of entertainment, Jam saw a need for more. She worked on the committee to organize Diversity Week, a weeklong series of events designed to celebrate diversity on campus. Jam also wanted students to have a more permanent reminder of how important it is to celebrate all students, and the idea for a peace pole was born.
Peace poles, first built in Japan in 1955, are now found in more than 180 countries around the world. The poles carry the inscription "May peace prevail on earth."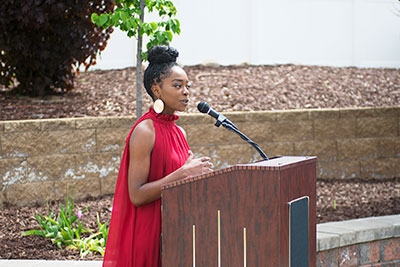 On ISU's pole, Jam thought it was important to recognize the diversity on campus, so she began a six-month long process to determine which languages to include on the pole. After learning where ISU students come from, she polled the student body, asking what languages should be included on the pole. She worked with various entities on campus, including Ram Eddings at the Diversity Center, to gather support for the pole.
At the peace pole's unveiling in May, Eddings said he was proud of what Jam had accomplished.
"We have really great students who really want to make this university the best it can be," he said.
Jam said she was appreciative of all of the help she received from her fellow students, University officials and Eddings.
"He gave me the tools and the resources and the voice," Jam said.
The 8-foot tall white pole was erected near the Rendezvous Complex, and carries the words "May peace prevail on earth" in 16 different languages. The area is landscaped to make it an inviting place to stop and think.
"I just wanted people to remember we are all of the human race. That fact alone is enough to love one another," she said. "I don't want people to be color-blind, but appreciative. All the different colors make a beautiful picture."
Jam, who graduated with a bachelor's degree in sociology and is currently working toward a master's degree, hopes to someday start a non-profit organization that will make a difference in the world, possibly to help combat human trafficking.
"Right now, there are so many things I want to do," she said.
At ISU, she has considered creating more reminders of diversity, such as a Walk of Fame, but for now, she is happy to have helped create a gathering place for students.
"I really want people to be able to at least stand and admire the different languages," she said. "It's a place where we can encourage one another. People can just relax."
Attracting Future Bengals
A Focus on Enrollment
Stuart Summers, '10
Kitanna Belnap, an Idaho State University senior studying health care informatics, can't help but beam with pride when she stops to talk about Swanson Arch during a recent campus tour. Belnap, a third-year student ambassador, is one of a dozen top-notch students assigned with rolling out the orange carpet to campus visitors.
"I remember when I visited campus for the first time," Belnap said. "The ambassador who gave me my tour had a tangible enthusiasm for ISU, and I immediately knew this was where I wanted to be. I'm now sharing my enthusiasm for Idaho State with others."
Nicole Roseberg, director of ISU Admissions, says Belnap's campus visit, as a prospective student, is not unique.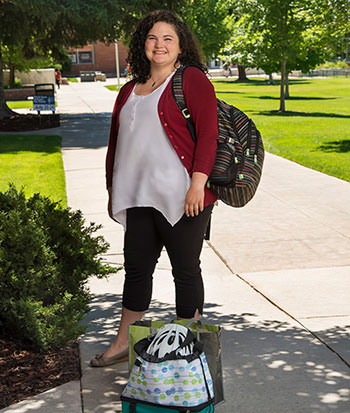 "We place an emphasis on providing personalized campus tours for all prospective students," Roseberg said. "Our campus visit program consistently yields the best recruitment results. If we can get them to campus for a visit, our data shows that they will enroll."
According to Roseberg, 89 percent of students who took a campus tour last year enrolled at ISU.
"At a time when our competitors are doing cookie-cutter, large group tours, we are focused on the individual experience. Our campus visitors see what relates to their interests, and I believe that attributes to the large return we see," Roseberg said.
During the 2015-2016 school year, ISU ambassadors facilitated more than 1,200 individual campus tours. The annual increase in campus tours is only one aspect of ISU's plans to bolster enrollment.
"Attracting quality students remains a top priority for ISU," Scott Scholes, associate vice president for enrollment management, said. "We are investing in new enrollment efforts that will help us to better attract prospective students, and I feel confident that we'll turn the corner on statewide decreases in low enrollment at colleges and universities."
According to the Idaho State Board of Education, about 53 percent of Idaho high school seniors immediately went to college in 2015 following graduation. Compared to the rest of the U.S., Idaho's go-on rate is the lowest in the nation, and in particular, Southeast Idaho—ISU's main service region—fares the worst.
"Despite facing statewide difficulties, we remain optimistic," said Roseberg. "We have an opportunity to positively impact students who do not currently have college on their radar."
For ISU, Idaho's last place go-on rate has played a significant role in enrollment efforts over the past few years.
In July, ISU launched a new tool called a Constituent Relationship Management system to help recruit students. The new tool allows the University to directly and consistently communicate with prospective students starting in middle school. Additionally, relevant messages will also be sent to parents, high school counselors and teachers.
The CRM system will help ISU to evaluate when and how students enter the "funnel" of recruitment efforts and allow staff to adjust a communication plan to fit individual needs.
"This tremendously magnifies our current efforts," Scholes said. "Consistently communicating with our prospective students will prepare them for a successful transition after high school."
The CRM system will allow recruiters at ISU to acquire master lists of all Idaho high school juniors who have completed college entrance testing, like the ACT and SAT, and then begin direct correspondence. The system is designed to focus and refine ISU's recruitment efforts to achieve the best results for time and money invested.
The system also helps ISU to track the progress of prospective students as they complete the admissions process, and it automatically schedules e-mails, text messages and print pieces to be sent at relevant times.
In total, ISU has 55 individual points of contact and communication that will go out to prospective students and others identified as a person of influence in the college-making decision process.
"The CRM is only a tool for us to evaluate and track our existing efforts. We will continue to consistently visit every high school in the state and plan a number of open house events," Roseberg said.
Last year, an Experience Idaho State event for area high school seniors and their parents attracted more than 300 students. It was the largest attended recruitment event in more than 10 years at ISU. Additionally, for the past several years, ISU has held a pizza lunch party for graduating seniors at Century, Pocatello and Highland high schools. That program will be expanded to 32 Idaho high schools this year, including most of the schools in Southeast Idaho.
Despite statewide challenges related to Idaho high school seniors attending college after graduation, ISU remains committed to strategically growing its enrollment. From 2006 to 2015, enrollment increased about 2.8 percent at ISU and remains close to 13,000 students.
"It all comes down to the individual experience," Roseberg said. "We are affective at recruiting students when we personally connect with them and help them not only see the benefits of a college education, but the wonderful opportunities that exist at Idaho State."
Where Green Meets Orange
Thanks to generous gifts from the Jack and Mary Lois Wheatley family, partnerships with the community and a hard-working landscaping crew, the Idaho State University campus has transformed in recent years with the addition of hundreds of new trees, beautifully designed flower beds and new gathering places for students and the community.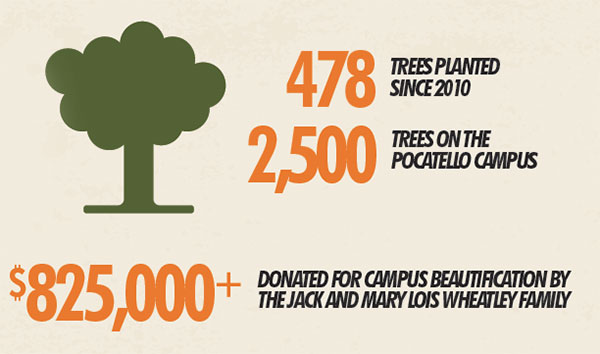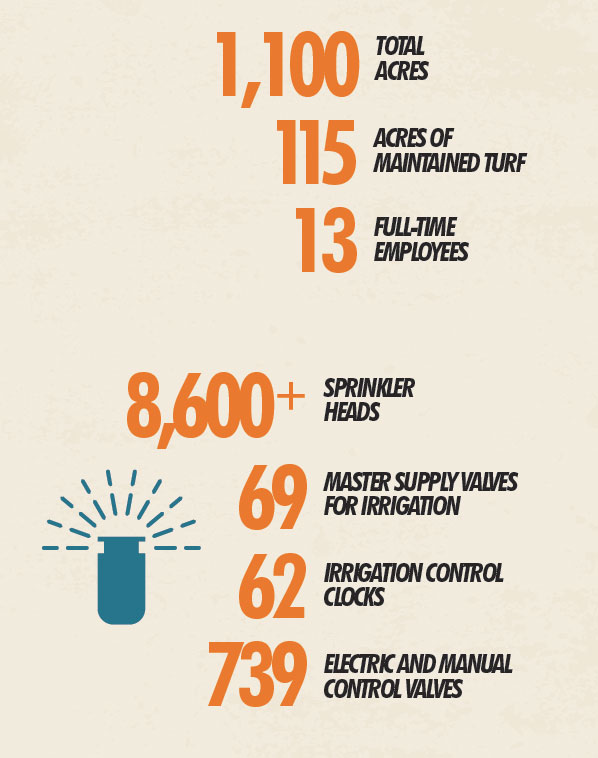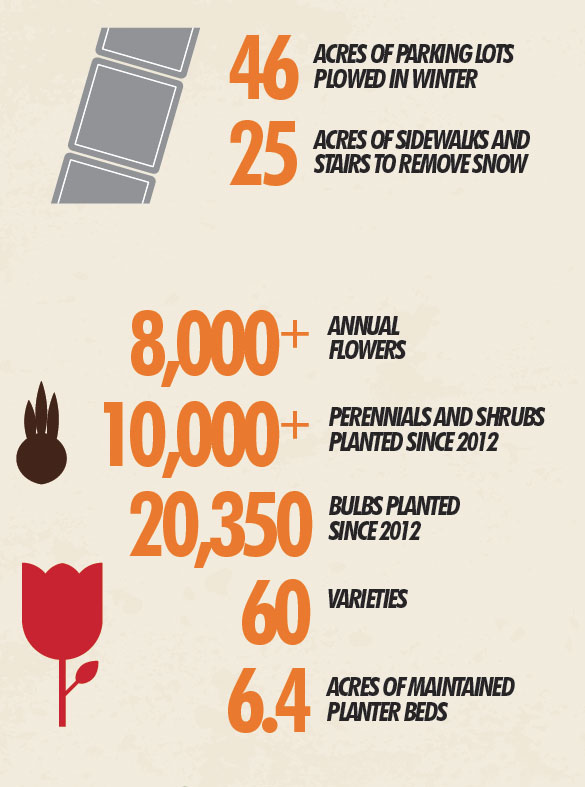 SPECIES OF TREES ON THE IDAHO STATE UNIVERSITY CAMPUS
Alder, Black - Alnus nigra
Apple - Malus
Ash, Green - Fraxinus americana and Fraxinus pennsylvanica
Aspen, Quaking - Populus deltoids
Beech, American, European- Fagus sylvatica
Beech, Weeping - Fagus grandifolia
Birch, European White - Betula pendula
Birch, Paper - Betula papyrfera
Birch, River - Betula nigra
Boxelder - Acer negundo
Catalpa, Northern - Catalpa speciosa
Cedar, Atlas - Cedrus atlantica
Chokecherry, Common - Prunus virginiana
Coffeetree, Kentucky - Gymnocladus dioica
Crabapple, Flowering - Malus floribunda
Elm, American - Ulmus americana
Elm, Lacebark - Ulmus parvifolia
Elm, Siberian - Ulmus pumila
Filbert, Turkish - Corylus colurna
Fir, White - Abies concolor
Ginkgo - Ginkgo biloba
Goldenrain Tree, Panicled - Koelreuteria paniculata
Hackberry, Common - Celtus occidentalis
Hawthorn, English - Crataegus laevigata
Hawthorn, Washington - Crataegus phaenopyrum
Honeylocust - Gleditsia triacanthos var. inermis
Hornbeam, American - Carpinus caroliniana
Horsechestnut, Common - Aesculus hippocastanum
Juniper, Rocky Mountain - Juniperus scopulorum
Linden, American - Tillia americana
Maple, Norway - Acer platanoides
Maple, Shantung - Acer truncatum
Maple, Sycamore - Acer pseudoplatanus
Maple, Tatarian - Acer tataricum
Mulberry, White - Morus alba
Oak, Bur - Quercus macrocarpa
Oak, Chinkapin - Quercus muehlenbergii
Oak, English - Quercus rowbur
Oak, Swamp - Quercus bicolor
Olive, Russian - Elaeagnus angustifolia
Pagodatree, Japanese - Sophora japonica
Pear, Callery - Pyrus calleryana
Pine, Austrian - Pinus nigra
Pine, Balkan - Pinus peuce
Pine, Bristlecone - Pinus aristata
Pine, Limber - Pinus flexilis
Pine, Scotch - Pinus sylvestris
Plum, Flowering - Prunus triloba
Poplar, Black - Populus nigra 'Italica'
Redbud, Eastern - Cercis canadensis
Redwood, Dawn - Metasequoia glyptostroboides
Spruce, Blue - Picea pungens
Spruce, Norway - Picea abies
Spruce, Serbian - Picea omorika
Spruce, White - Picea glauca
Sweetgum - Liquidambar styraciflua
Walnut, Black - Jeglans nigra
Walnut, English - Jeglans regia
Willow, Weeping - Salix alba
Zelkova - Zelkova serrata