ISU Offers New Master's Degree in Health Informatics
Students and working professionals pursuing degrees in health informatics—one of the fastest growing job sectors of the health care industry— can now choose a master's option at Idaho State University.
This fall, the College of Business began offering the Master of Science degree in health informatics, the science of storing, retrieving and analyzing data in a meaningful way.
The Idaho State Board of Education approved the degree last year and it's the only health informatics master's program in the state, according to Dr. Thomas Ottaway, the dean of ISU's College of Business.
The U.S. Department of Labor projects employment of computer and information system managers to grow 15 percent through 2022—many landing informatics positions in the health care industry and holding titles like chief medical information officer, clinical data analyst and information technology consultant, according to the American Medical Informatics Association.
Why the demand?
The demand for health informatics professionals is driven by the federally mandated conversion to electronic medical records to improve health care quality, safety and efficiency. Since Jan. 1, 2014, the federal government has required public and private health care providers to use electronic records to maintain their existing Medicaid and Medicare reimbursement levels.
"Computer technology has made it easy to capture huge amounts of data, but then the question becomes what do you do with that data?" Ottaway said. And that's the beauty of informatics.
Let's say you're a doctor with a sick patient and you know of a half dozen medications to treat the illness, but which one is the most effective?
By crunching the electronic medical records of patients treated for that very same illness, informatics experts can isolate the medications used, how they worked, and forward the results to the attending physician. It's this type of information, say industry experts, which can help health care providers deliver the most effective treatments while simultaneously driving down health care costs.
Why a master's degree?
ISU's College of Business currently offers a bachelor's degree in health informatics, but the master's degree will prepare graduates to fill the top informatics jobs in hospitals, medical practices, insurance companies and government health agencies. Many of those organizations are already requiring an advanced degree, says Ottaway.
The master's program—delivered in cooperation with the School of Health Professions—requires 36 credit hours of coursework, including a clinical practicum that will give students hands-on experience in the health industry.
The College of Business has hired three new faculty members for the program. Coursework is offered face-to-face and via distance learning in Pocatello and Meridian.
Students will develop an understanding of the specialized and complex needs of the health care industry. They'll learn to create, integrate, manage and leverage health-related software systems and data while ensuring patient confidentiality.
Salaries for graduates can range from $60,000 a year to well over six figures depending on experience, geographical location and level of education. According to the Health Information Management and Systems Society, the average salary for health IT professionals was $113,269 in 2013, and the median salary was $95,000.
But the profession is about more than crunching numbers and collecting a good paycheck. Pocatellan Angela Winder, a student in the inaugural class, says it's an opportunity to improve medical care and services.
"I've always loved numbers and analyzing information. I'd like to be able to use that information to help people," said Winder, who wants to work at a hospital after she completes ISU's master's program.
Technology Brings Audience Closer to Teton Artifacts
Idaho State University researchers are working with Grand Teton National Park and various tribes to better document about 50 Native American artifacts from the park's David T. Vernon Collection and create digital 3-D visualizations of them.
The Vernon Collection consists of more than 1,400 Native American social and cultural objects that were gifted to Grand Teton National Park in 1972 by Laurance S. Rockefeller. ISU researchers Dr. Yolonda Youngs, from the global studies department, and Dr. Donna Delparte, geosciences, are working with Grand Teton National Park Museum Curator Bridgette Guild on this project funded through the National Center for Preservation Technology and Training.
"These ethnographic objects, some in a fragile state, need a lot of care and conservation, and a lot don't have much display information," Youngs said. "Some have basic information, but we want to work with tribes that are represented in this collection and find out what the objects are, what meaning they have and how they are made."
Exhibits of these visualizations are planned for future display at the Craig Thomas Discovery and Visitor Center in Grand Teton National Park. The 3-D displays of these objects—such as moccasins, saddle blankets, cradles or shirts—will allow visitors using electronic notebooks or tablets set up by displays to virtually zoom-in, rotate and closely examine them. The ISU researchers have taken hundreds of photos of these objects to create the visualizations.
Youngs and other ISU researchers are also working with Grand Teton National Park on two other grants to document historic river guides and National Park Service river and mountaineering rangers in the park.
"We're looking at the recreation history in the park and helping the National Park Service to create a new archival collection that will eventually be opened to the public, and we're collecting oral history of pioneer river guides and National Park Service river and mountaineering rangers," Youngs said. "We'll create a huge digital collection of documents and photos of historic outdoor recreation in the park."
"This year is the 100th anniversary of the National Park Service," Youngs said. "It is a great opportunity for ISU to collaborate with the National Park Service on this research during its big centennial celebration."
Program Exposes East Idaho High Schoolers to ISU
Melissa Lee, '14
East Idaho high school students are getting a taste of a college classroom through a new Liberal Arts High program. In February, the College of Arts and Letters sent its first professor into a high school classroom. The program sends faculty across the humanities and social sciences to East Idaho high schools to share their expertise with future Bengals.
The goal of the program is to show students in eastern Idaho that they can earn a quality education in their own backyard at ISU. It also helps alleviate the fear students may have about college by giving them a taste of a classroom before stepping foot on campus.
"Sometimes all it takes to change a student's life and future is to have a positive relationship with someone on campus," said College of Arts and Letters Dean Kandi Turley-Ames. "If a student has already made a connection with a professor through Liberal Arts High, it makes the transition to college that much easier."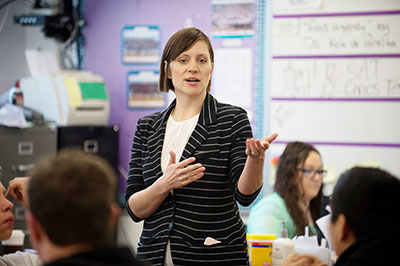 The program was also designed to help battle Idaho's high school go-on rate, which was only 41.82 percent in 2015, according to the Idaho State Board of Education. The state's go-on rate reflects students who enroll at a postsecondary institution within 12 months of graduating from high school.
To date, more than 800 students in eastern Idaho have been introduced to professors from ISU. Professors have been to all of Pocatello's high schools and to Rigby (30.86 percent go-on rate), Jerome (34.20 percent), and American Falls (41.88 percent). Professors in English, psychology, art, political science and history traveled to share interactive presentations to students so far.
After each presentation, the students complete a survey asking about their thoughts on the professor, topic and general impression of ISU, among others.
The survey asked students if they were planning to attend ISU upon graduation. Twenty-two percent of the students answered "yes," but 48 percent said they were still unsure.
"If we can help students who are uncertain about college or ISU to consider our programs, then we are one step closer to improving the state's go-on rate," Turley-Ames said. "Liberal Arts High is giving the students just another example of what ISU can offer them."
The data collected also showed that 72 percent of the students who attended a presentation in their classroom thought that ISU did a good job connecting with middle and high school students, another important factor in improving students' decision to go on to ISU.
Professor Studies Food Insecurity and Obesity
Idaho State University psychology professor Erin Rasmussen has received a grant for $402,000 to study food insecurity and obesity in women.
She received the grant from the National Institute of Health's National Center for Complementary and Integrative Health.
Dr. Rasmussen and her team working on the grant titled "Food Insecurity, Obesity, and Impulsivity" will look at the special conditions that might lead or influence impulse food choice.
Rasmussen described food insecure individuals as those who are concerned or uncertain about where their next meal might come from, and impulsivity as a pattern of choosing immediately available outcomes without thought to long-term consequences. She has studied impulsivity in both rats and humans and has found that both obese rats and obese humans are impulsive when it comes to food, compared to leaner controls.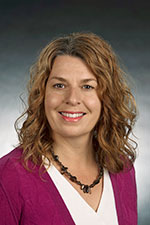 Rasmussen and her team point to literature that shows that women who are food insecure are more likely to be obese. When a people are food insecure, they are more likely to purchase cheaper foods that are often higher in refined carbohydrates, sugar and fat, instead of fruits, vegetables and high protein foods. This type of diet can blunt their sensitivity to food reward.
"We are proposing also that people who are food insecure are more likely to be impulsive for food because they are unsure when they will have the option to eat again," Rasmussen said.
To combat food impulsivity, Rasmussen's team is going to test the strategy of mindful eating in study participants – something that already has been shown in her lab to at least temporarily reduce impulsive food choices in adults and adolescents. Mindful eating is paying close attention to your food and the act of eating.
"Mindful eating is looking at the color and shape of a strawberry as well as the dimples it has," she said. "After taking a bite of the strawberry you reflect on how it tastes, how it feels in your mouth and how your body reacts to it. This simple act is a cheap and easy strategy that could help control impulsivity and possibly obesity."
Woodworth-Ney Becomes Executive Vice President
Dr. Laura Woodworth-Ney, provost, was named Idaho State University's first executive vice president at the Idaho State Board of Education's August meeting.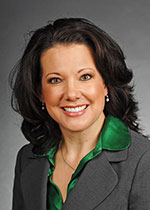 Like the University of Idaho and many other universities around the country, this reorganization of ISU's executive leadership allows President Arthur C. Vailas to focus on the University's strategic goals while Woodworth-Ney will manage the day-to-day academic operations of the University.
As Idaho State University is unique, with campuses in other communities, Vailas will also focus on growing partnerships with the INL, medical education opportunities with the Idaho College of Osteopathic Medicine (ICOM), expansion of other University programs and initiatives, and working closely with government, community and business leaders to achieve ISU's strategic objectives and mission fulfillment goals. This model is designed to integrate further the various areas of the university that impact academic programs and operations. Woodworth-Ney will also continue to serve as ISU's provost and senior academic advisor to the president.
Woodworth-Ney began at ISU in 1999 in the Department of History. She later served as the chair of the Department of History, the co-director of Women's Studies, ISU's associate vice president for academic affairs, and has successfully served as the provost and vice president for academic affairs since June 24, 2013.
Force Named New VP for Health Sciences
Idaho State University has named Rex Force, Pharm.D., the new vice president for health sciences.
Dr. Force, who joined the ISU faculty in 1993, assumed his new duties July 1 after serving as the associate dean for clinical research in the Kasiska Division of Health Sciences. He also directed the Idaho Center for Health Research and the Family Medicine Clinical Research Center at ISU.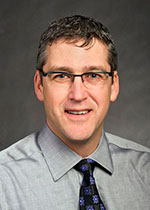 "I'm very excited about this opportunity to serve ISU and our Kasiska Division of Health Sciences and look forward to working with our many partners around the state to enhance our education and research enterprises," said Force.
Force has received numerous honors and recognition for his teaching, research, clinical practice and professional service. He has been instrumental in developing the telepharmacy program with Bengal Pharmacy at ISU.
Force holds a Bachelor of Science degree in pharmacy from Oregon State University and a Doctor of Pharmacy degree from the University of Texas and the University of Texas Health Science Center in San Antonio.
He completed a clinical research fellowship at Ohio State University before joining ISU. Force is also a board trustee of the Research Institute of the American College of Clinical Pharmacy and a member of the steering committee of the WWAMI region Practice and Research Network.
Force is the ISU liaison to the Mountain West Clinical Translational Research Infrastructure Network, a board-certified pharmacotherapy specialist and a fellow of the American College of Clinical Pharmacy.
Science and Engineering Looks to Build with Castle
Dr. Lyle Castle, who most recently has served as Idaho State University vice provost, has been appointed the interim dean for the ISU College of Science and Engineering.
Since 2007, Castle has served as the dean of academic programs at ISU-Idaho Falls and served the last year as an associate vice president. He served the University as the chair of Faculty Senate in 2002 and served as the chair of the Promotion and Tenure Committee for the former ISU College of Arts and Sciences.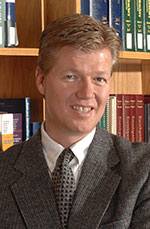 Castle received his Ph.D. in chemistry from the University of South Florida in 1992. He joined the chemistry faculty at ISU as an assistant professor in 1994, and advanced to full professor in 2003.
His research has centered on the synthesis or aromatic heterocyclic coordination compounds for testing as photosensitizers in photovoltaic cells for solar energy production. He has authored a number of scientific publications on the synthesis of aromatic heterocyclic compounds, the photochemical properties of their coordination complexes with ruthenium, and the use of Nuclear Magnetic Resonance spectroscopy in compound characterization. He has been the editor for the Journal of Heterocyclic Chemistry from 1999 to the present.
Castle has taught courses for the ISU Department of Chemistry at both the undergraduate and graduate levels, and for several years taught many of the department's offerings in Idaho Falls.