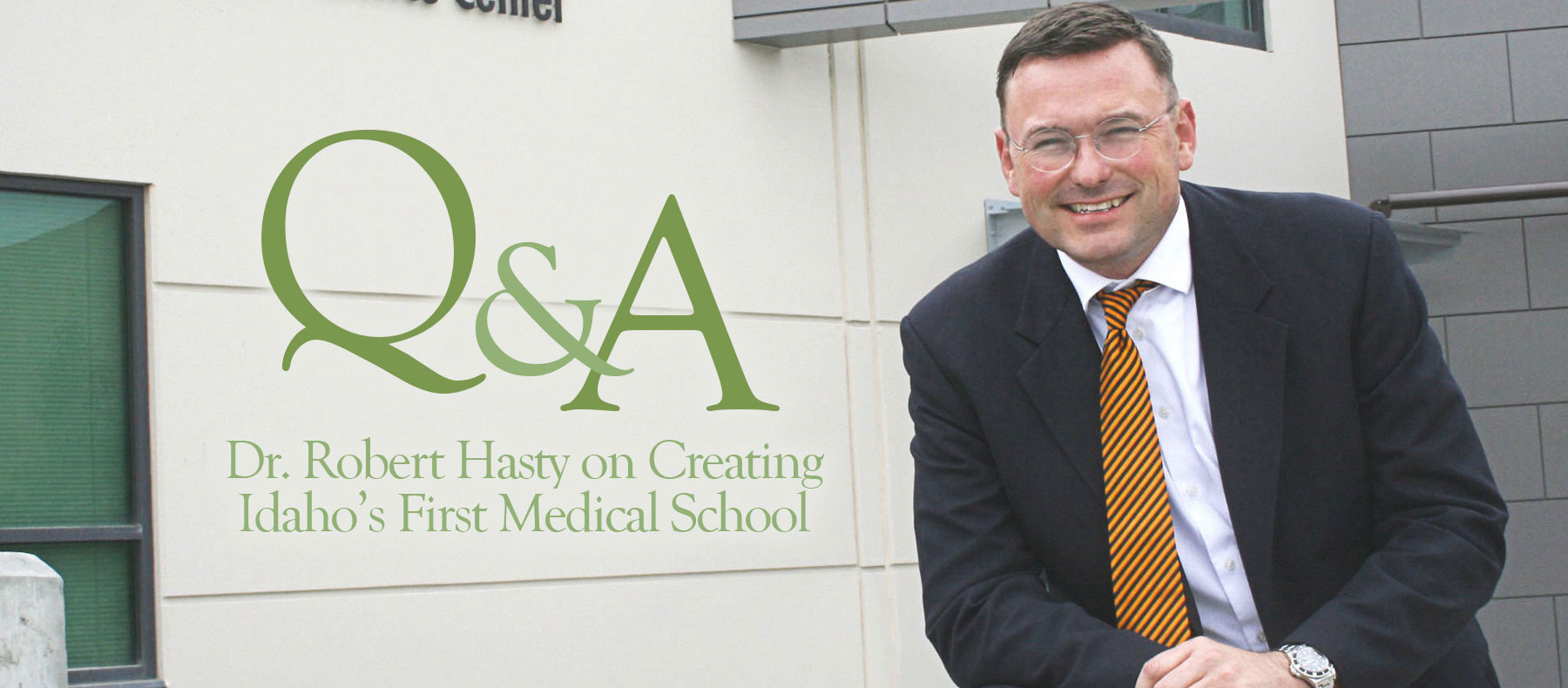 Q & A
Chris Gabettas
Dr. Robert Hasty on Creating Idaho's First Medical School
When Dr. Robert Hasty – the founding dean of the proposed Idaho College of Osteopathic Medicine – was a boy, his mom moved him and his siblings from Indiana to Boca Raton, Florida.
She thought the coastal community 46 miles north of Miami would be the perfect place to raise a family.
Hasty excelled in school and relished hard work. At age 14, he was bagging groceries and stocking shelves at the local Publix grocery store. By age 19, he was vested in the company and eligible for retirement benefits.
"I'm probably the only founding dean of a medical school who is a grocery store retiree," he said with a laugh.
When it was time to head to college, Hasty thought he'd study business, but discovered his "true calling" was science and medicine. He enrolled in the University of Miami, graduating with honors and a triple major in biochemistry and molecular biology, chemistry and biology in 1996. In 2000, he earned a Doctor of Osteopathic Medicine or D.O. degree at Nova Southeastern University and completed his residency at Miami's prestigious Mount Sinai Medical Center where he was top resident for three years.
Hasty began his career as an internist for Cogent Healthcare at Lee Memorial Health Systems in Fort Myers, Florida and became an associate lead physician for Cogent Healthcare.
In 2013, he became regional associate dean and associate dean for postgraduate affairs for Campbell University Jerry M. Wallace School of Osteopathic Medicine in North Carolina. Hasty led an award-winning team that created 383 residency positions in North Carolina and cemented medical education opportunities for the state's next generation of osteopathic physicians.
Last year, investors – including The Burrell Group and Rice Management Company – tapped Hasty to help create the private, for-profit Idaho College of Osteopathic Medicine or ICOM on the campus of the Idaho State University-Meridian Health Science Center.
In a recent interview with ISU Magazine, Hasty talked about ICOM's affiliation with ISU and how the proposed medical school—which is seeking accreditation through the Commission on Osteopathic College Accreditation—will benefit the state.
Why were you drawn to Idaho?
I was drawn to Idaho because Idaho and the surrounding region (Montana, Wyoming, South Dakota, North Dakota) are facing a dire physician shortage. Idaho is 49th in the nation for physicians per capita and baby boomers are aging and requiring more care every day.
I live my life with a purpose, to make a difference in the world by creating ICOM. The impact we're going to make here is going to be far-reaching. It's going to provide opportunities for folks to go to medical school, improve access for patients by having physicians, help reduce costs, and improve health care quality. I have a 6-year-old daughter, Sammie, and I want to leave the world a better place for her one day. ICOM is my opportunity.
What attracted ICOM investors to Idaho State University and the Treasure Valley?
We were exploring several sites before deciding on ISU-Meridian and the Treasure Valley. The finalists were Great Falls, Montana and South Dakota. We considered a number of different factors including the need for physicians in the state (probably the most important factor), transportation opportunities for the medical school, university affiliation, desire of the state, and other factors. Locating in Idaho made sense because it is the nucleus for the five-state region, and the Treasure Valley is growing with alarming speed. It was a natural fit for ICOM to be here. Idaho State University was also a natural partner because of its leadership in health professional and medical education. It is a great match.
ICOM is the trifecta. We will help to address a much needed gap in Idaho's physician workforce. We're a private, independently operating business, which means there is no burden on tax payers for construction or operation. And, we're providing an additional education opportunity for folks in Idaho and beyond who want to achieve great things and become physicians.
Some critics have claimed Idaho and the region do not have the residency positions to support ICOM graduates. What steps are you taking to ensure residency slots and encourage ICOM graduates to practice in Idaho?
Currently, graduates of osteopathic medical school successfully achieve graduate medical education placement 99.61 percent of the time. The U.S. currently doesn't graduate enough physicians for our current residency programs. In fact, we have to import 24 percent of our physicians from medical schools abroad to fill the residency programs that we have nationally. To help with the societal needs and to create additional opportunities for our planned graduates, ICOM is committed to developing residencies in Idaho and surrounding states. During the matriculation process, ICOM will be building strong relationships in communities and health systems to create new residency opportunities for ICOM graduates.
ICOM currently has affiliation agreements with several hospital systems and has registered approximately 350 preceptors. Additionally, Doctors of Osteopathic medicine are more likely to go into primary care and rural areas. We expect 50 percent of our graduates will practice in Idaho.
ICOM is seeking "B Corporation" status? Why is that a big deal?
A "B Corporation" is called a benefit corporation and is an organization that focuses on its social impact. There is no tax advantage to becoming a B Corporation. In fact, there are additional expenses, but we feel that it is an important external validation of ICOM's social mission. As far as we know, we will be the first medical school to seek B corporation certification.
By the Numbers
ICOM expects to break ground on an 80,000-square-foot, $32 million building on the ISU-Meridian campus in February 2017. The medical school will lease the land from ISU.
ICOM is scheduled to admit its first class of 150 students – with preference given to qualified Idaho applicants – in fall 2018.
Annual tuition is expected to range in the mid-$40,000 range with scholarships available.
The first class will graduate in 2022.
ICOM will pay ISU for medical students to use shared campus space and services.
To read more about ICOM, its mission and affiliation with ISU, go to http://idahocom.org/