Physical Therapy Program
ISU DPT PROGRAM
Idaho State University's Doctor of Physical Therapy (DPT) is a professional entry level degree program preparing students for licensure to practice as physical therapists. The program emphasizes student interaction with patients and clients during classroom, practicum and affiliation experiences, interprofessional education activities, and an emphasis on service and advocacy. In 2018, we enrolled our first class of 24 students at our new campus in Meridian, Idaho. Successful applicants can request a preference to study in either Pocatello or Meridian, Idaho. The ISU DPT program offers an affordable 34-month program with an excellent student to faculty ratio!
Future Is Bright
Physical therapy has been named as one of the nation's 150 best recession-proof jobs and Forbes Magazine and US News consistently rank physical therapists high in job satisfaction and employment. The Bureau of Labor Statistics shows a high rate of growth and demand for physical therapists over the next 10 years.
More information can be found at the American Physical Therapy Association (APTA) for prospective students. You can also find information from a consumer's point of view regarding the many benefits of physical therapy at the APTA Move Forward site.
Join us for a
Meet & Greet
Friday, November 8
3:00-6:00p.m.
---
'March thru the Arch' Tradition
Join the many who have marched through the arch.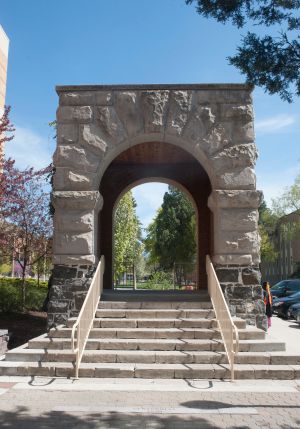 Accreditation
The Doctor of Physical Therapy Program at Idaho State University is accredited by the Commission on Accreditation in Physical Therapy Education (CAPTE)
Address: 1111 North Fairfax Street, Alexandria, Virginia, 22314;
Telephone:703-706-3245
Email: accreditation@apta.org; website: http://www.capteonline.org.
If you need to contact the program/institution directly, please call 208-373-1733 or email dpot@isu.edu.
Employment Opportunities
The Doctor of Physical Therapy program uses Handshake to connect student and alumni job seekers to employers with open positions. In Handshake, employers are able to specifically indicate their interest in Idaho State University graduates. Employers and job seekers can log in using the links below. We hope this service promoted by ISU's Career Center helps you make a great connection.
Handshake for Students and Alumni
If you don't remember your BengalWorks username or password, please call ISU's HelpDesk at 208-282-4357.
Contact Us
(208) 373-1733
(800) 797-4781
Idaho State University
921 South 8th Avenue Stop 8045
Pocatello, ID 83209