ISU Physical Therapy Clinic, Meridian
CONTACT US:
Phone: (208) 373-1734
Fax: (833) 499-1813
Address:
ISU Meridian Health Science Center
1311 E. Central Dr.
Meridian, ID 83642
Directions:
HOURS:
Monday - Thursday

2:00 PM - 5:00 PM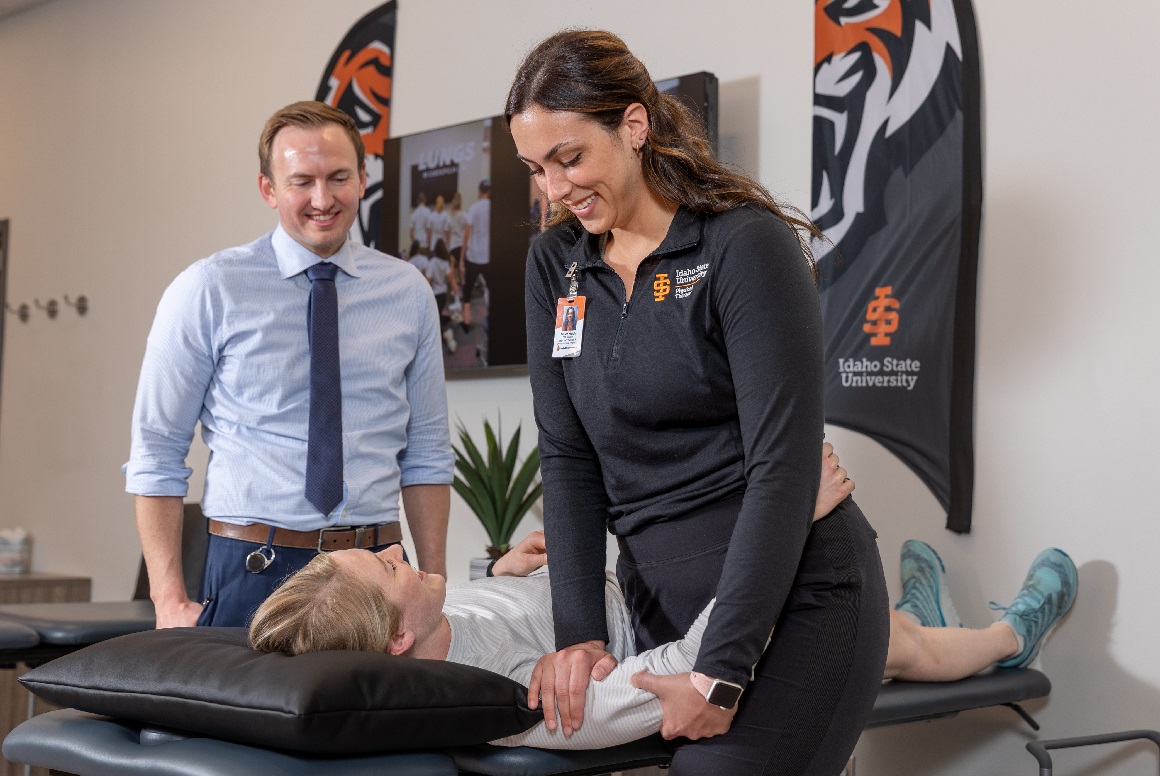 ISU's Physical Therapy Clinic provides high-quality individualized therapy services to ISU faculty/staff, students, and local community patrons within the Treasure Valley. Clinical therapists provide a wide variety of physical therapy evaluation and treatment services.
The clinic functions as a teaching arm for doctoral students within the physical and occupational therapy programs and is supervised by licensed faculty clinicians.
Services
Our clinicians specialize in the evaluation and treatment of all orthopedic conditions in both the pediatric and adult populations. This includes assessment and management of both non-operative and post-operative musculoskeletal conditions. We offer a variety of treatment methods to help assist in reaching your individual performance goals.
Comprehensive treatment and rehabilitation of injuries or dysfunctions of bones, joints, muscles, tendons, and ligaments such as sprains, and surgical rehabilitation. Treatment includes manual techniques and therapeutic exercises.
Spinal and extremity joint mobilization and manipulation, soft tissue mobilization, and muscle retraining techniques designed to eliminate pain and improve movement.
Designed to eliminate muscle pain, improve muscle performance, and stimulate healing in painful musculoskeletal conditions.
Efficient and effective exercise programs are tailored to your mobility strength power, and balance needs and are an integral part of your recovery.
Blood flow restriction (BFR) therapy is a way to increase strength or endurance with lightweight or slow movement. If you are injured, you may not be able to load your injured area sufficiently to stimulate muscle growth. Using BFR can help increase strength or endurance without stressing the injured area with heavy loads or prolonged movement.
Make an Appointment
Call (208) 373-1734 to schedule an appointment:
Clinic Hours: Monday - Thursday: 3:00 PM - 6:00 PM
Patient Referrals
The ISU Physical Therapy Clinic accepts physician referrals via phone or fax:
Phone: (208) 373-1734
Fax: (833) 499-1813
Physician referrals are required for all Medicare and Medicaid patients.
Consent Forms
Consent forms are traditionally sent via DocuSign to your email account. If you are unable to sign consent forms electronically, paper copies are also available for your covenience. Please print and return with you on the day of your appointment.
Parking
ISU provides free parking for clinic patients/clients:
Clinic parking is outlined in yellow directly in front of the ISU Meridian Clinics' entrance.
The parking area is located on the southwest side of the building facing I-84.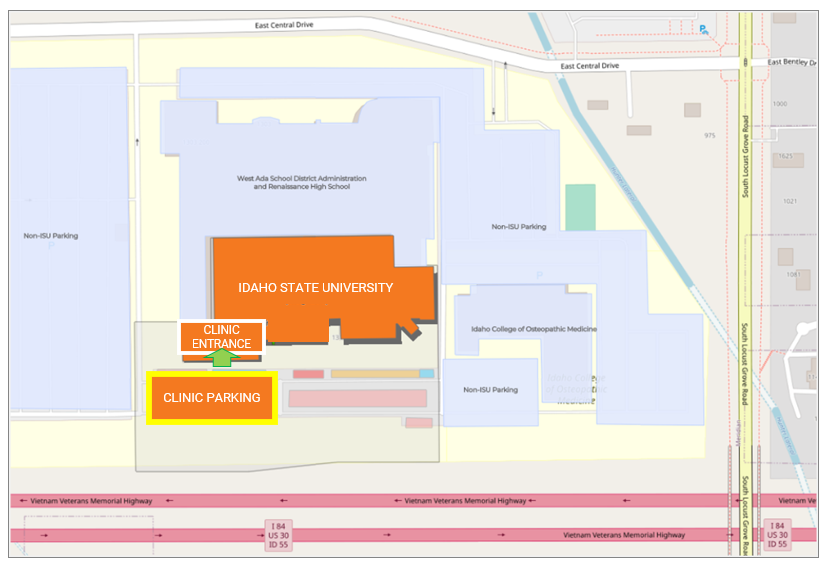 Michael Clarke, PT, DPT, OCS, FAAOMPT
Clinic Director & Clinical Assistant Professor
(833) 499-1813
Dr. Michael Clarke has been a practicing physical therapist in the Meridian, ID area for the past several years. Following graduation from Rocky Mountain University of Health Professions, Dr. Clarke completed an orthopedic residency program through Evidence in Motion, achieved his board certification in Orthopedics (OCS), and completed fellowship training through Bellin College, now holding fellow status with the American Academy of Orthopedic and Manual Physical Therapists (FAAOMPT). Dr. Clarke is currently a clinical assistant professor and clinic director within Idaho State University's Doctor of Physical Therapy Program. He specializes in managing all orthopedic related conditions with a special interest and passion in managing spinal conditions, temporomandibular dysfunction (TMD), and sports-related injuries.
Billing
If you have insurance, please bring your insurance card with you to every appointment. Our clinic accepts and bills the following insurance plans:
Aetna
Blue Cross of Idaho
Cigna
Medicare
Medicaid
Pacific Source
Regence Blue Shield of Idaho
Select Health
Tricare
TriWest (with VA authorization)
United Healthcare
UMR
Payment
Physical therapy is a specialty service and most likely will not be covered under your typical office visit co-payment. Many insurance plans require that you meet a deductible prior to receiving benefits which usually have a visit limit and may be combined with other therapy services. Medicare and Medicaid patients must have a physician's order on file in order to obtain services.
Payment, including co-pays, is expected at the time of service.
We accept cash, check, and visa/debit payments.
Ask about our income-based sliding scale.
Click here to make an online payment:

Pay Online
Records Request
All patients will have the ability to review, inspect and/or obtain a copy of the PHI in the Medical Health Record.
Patients may request to review and inspect their Medical Records at any time. A patient does not have the right to immediate access to his or her medical/dental record under the HIPAA Privacy Rule.
Patients may request a paper copy and/or electronic file, of their Medical Record by completing and signing an Authorization to Release Protected Health Information (PHI) Form. All patient requests will be completed within 10 business days.