ISU Pocatello Counseling Clinic
CONTACT US:
Phone: (208) 240-1609
Billing: (208) 373-1734
Fax: (208) 282-2583
Address:
1400 E. Terry Dr., Bldg. 63
Pocatello, ID 83209
7th Floor, Garrison Hall
Directions:
HOURS:
Monday - 5:00 PM - 8:00 PM
Tuesday - 11:00 AM - 1:00 PM; 6:00 PM - 8:00 PM
Wednesday - 4:00 PM - 8:00 PM
Thursday - 9:00 AM - 12:00 PM; 2:00 PM - 8:00 PM
Friday - Closed

ISU's Pocatello Counseling Clinic provides individual, couple, and family counseling at minimal costs to community members and Idaho State University faculty, staff, students. Please note: If you are an ISU student, you are eligible for free individual, couples, and group counseling through the ISU Counseling and Testing Service on campus.
Services
Counseling services at the ISU Pocatello Counseling Clinic are provided by graduate level Master of Counseling students under the supervision of faculty and doctoral students in the Department of Counseling.
For the purposes of training and supervision, counseling student interns record their counseling sessions. To ensure clients' privacy, these recordings are kept on a secure cloud-based system. Recordings are kept only briefly for the purposes of supervision, and are erased after supervision has been completed. All client sessions are confidential within the limits of the law.
Individual counseling is a process through which clients work one-on-one with a student counselor to explore their feelings, beliefs, or behaviors; work through challenging or influential memories; identify aspects of their lives that they would like to change; better understand themselves and others; set personal goals; and work toward a desired change.
Therapy can help people overcome obstacles to their well-being. It can increase positive feelings, such as compassion and self-esteem. Participants seek to learn skills for handling difficult situations, making healthy decisions, and reaching goals.
Couples counseling is a private session between a student counselor and two persons seeking therapy. Counseling sessions can help couples involved in a romantic relationship gain insight into their relationship, resolve conflict, and improve relationship satisfaction. Sessions focus on a specific problems or issues and strive to find solutions to improve the relationship.
Family counseling is a process through which families work with a student counselor to help family members communicate more effectively and/or resolve conflicts. Family counseling can teach you skills to deepen family connections and get through difficult life challenges.
The ISU Pocatello Counseling Clinic provides Tele-Counseling services via Confidential Zoom Video Conferencing. The Zoom video conferencing platform is HIPAA compliant and encrypted to maintain client confidentiality and privacy. It is easily accessible and downloaded through https://zoom.us/ and requires a PC/Laptop and internet. It can also be downloaded on IPhone/Smartphone via the Zoom App.
Make an Appointment
Call (208) 240-1609 to schedule an appointment. If you are unable to speak with someone, you can leave a message on our confidential voice mail system. Calls are typically returned on Mondays and Thursdays.
Clinic Hours: Monday - Thursday, 12:00 PM - 8:00 PM
Parking
Patient parking is available in a parking lot east of Garrison Hall (Building 63). There are spaces marked specifically for clinic visitors. If needed, parking passes can be obtained from clinic staff at the time of your appointment.
Consent Forms
We prefer that you complete your intake forms online prior to your first session here:

Online Intake Forms
Paper Forms
Español
Other forms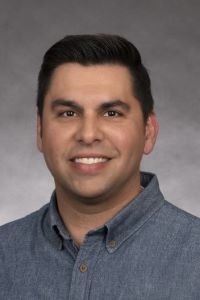 Shawn P. Parmanand, Ph.D., LCPC, NCC
Clinical Assistant Professor
Shawn has been a full time Counselor Educator for over ten years, working full time in a Marriage, Couple, and Family program along with a new faculty appointment in an online Mental Health Counseling program. He derives a lot of personal meaning in being both an educator and practicing clinician. In additional to the above roles, he enjoys most being a father and husband. Many of my self-care activities revolve around engaging in family activities including camping, attending concerts, and less structured time together spent playing and watching movies.
Supervising Doctoral Students
Hannah Brinser, M.S.
Caroline Brown, M.S.
Kateryna Kuzyszyn, M.S.
Kimberly Leishman, M.S.
ShaRhonda Stevenson, M.S.
Shantelle Tjaden, M.S.
Conner Vrba, M.S.
Minna Yoo, M.S.
Zhaoxuan (Daisy) Zhou, M.S.
Billing
We currently do not accept or bill private insurance. Our clinic is a cash pay clinic. If you have questions about your bill, please contact the billing office at (208) 373-1734.
Payment
Payment is accepted at the time of service. We accept cash, checks, and online payments at the link below
Fees (Community Clients)
Occasionally we offer services that have different fees associated with them than the ones listed below. Please contact our office for more information.
| | |
| --- | --- |
| Individual Counseling | $15 |
| Family Counseling | $20 |
| Couples Counseling | $20 |
Fees (ISU Students)*
*ISU Counseling and Testing offers free services to ISU students and is located in Gravely Hall on the 3rd floor. To contact their office for an appointment, call 208-282-2130.
| | |
| --- | --- |
| Individual Counseling | $5 |
| Family Counseling | $10 |
| Couples Counseling | $10 |
The principle mission of the Department of Counseling is to prepare quality counselors for various settings in Idaho and the nation. More specifically, we seek to prepare quality School Counselors for public schools in K-12 settings, Marriage, Couple and Family Counselors and Clinical Mental Health Counselors for community agencies and other mental health settings, and Student Affairs Counselors for working in college settings such as advising, residence halls, and career centers.
We prepare doctoral level counselor educators and supervisors to serve as faculty members in counselor education programs, counselor supervisors in various settings, doctoral level counselors, leaders in higher education and counseling organizations, and scholars.
Community Mental Health Resources
2-1-1 Idaho CareLine: a free statewide community Information and Referral service, is a program of the Idaho Department of Health and Welfare. Our comprehensive database includes programs that offer free or low cost health and human services or social services, such as rental assistance, energy assistance, medical assistance, food and clothing, child care resources, emergency shelter, and more.
Idaho Suicide Prevention Hotline: This hotline provides crisis intervention, emotional support, resource referrals, linkages to local services, and follow-up for all Idahoans, including those at risk for suicide and their families and loved ones.
South East Idaho Behavioral Crisis Center: The South East Idaho Behavioral Crisis Center is an adult 24 hour crisis center designed to assess, support, and refer individuals enduring a mental health and/or substance use related crisis. Services are available via walk-ins or referrals through family, friends, mental health agencies, medical clinics, or law enforcement 24 hours a day, 7 days a week, 365 days a year.
Behavioral Health Crisis Center of East Idaho: Program geared toward adults (18+) who need support for their mental health challenges and/or substance abuse issues. The clinic is open 24 hours a day, 7 days a week, 365 days a year. We provide: Integrated strengths-based mental health and substance abuse assessments; 24-hour stabilization services; Case management assistance and referral and connection to appropriate community services.
State Hospital South: State Hospital South in Blackfoot provides psychiatric inpatient treatment and skilled nursing care for Idaho's adult and adolescent citizens with the most serious and persistent mental illnesses. The hospital works in partnership with families and communities to enable clients to return to community living. The facility is accredited by the Joint Commission on Accreditation of Health Care Organizations, and is certified by the Center for Medicare and Medicaid Services. State Hospital South includes 90 psychiatric adult beds, 29 skilled nursing beds, and 16 beds for adolescents. It also maintains a statewide program to restore competency of criminal justice patients.