ISU Meridian Health Care
CONTACT US:
Phone: (208) 373-1734
Fax: (833) 390-1293
Address:
ISU Meridian Health Science Center
1311 E. Central Dr.
Meridian, ID 83642
Directions:
HOURS:
Now Offering free office visits to ISU Students

Tuesday & Thursday
8:30 AM - 5:00 PM
Wednesday (Providers Fluent in both English and Spanish)
9:00 AM - 1:00 PM
ISU Meridian Health Care is a Nurse Practitioner / Physician Assistant Faculty run clinic that offers preventative healthcare for all ages serving the Treasure Valley area. The clinic utilizes trained providers, new equipment, sound medical training, a referral system, and nearby health care facilities in order to maximize the care for each patient. The care by an NP and/or PA involves a partnership with the patient, something more and more patients are seeking.
Services
ISU Meridian Health Care maintains privacy according to HIPAA rules and requirements. All patients are welcome for preventative care, including the ones without insurance. No one will be turned down for medical care. The clinic holds no prejudice against race, creed, color, or socioeconomic status. Everyone is welcome for great medical care.
ISU Meridian Health Care is now offering acute and preventative care to community members and ISU faculty, staff, and students. We offer private, clean, and comfortable exam rooms with care from board-certified nurse practitioners. Your quality health care services are conveniently provided on campus with short wait times. People are kept healthy through immunizations, blood tests, annual exams, and treatment of ongoing medical issues such as diabetes or blood pressure.
ISU Students are now eligible for free office visits at our clinic.
Preventive and Routine Services
Annual Wellness Exams
Newborn Wellness Care
Infant Wellness Care
Child Wellness Exams
Sports Physicals
Acute Care: Ear infections, sore throat, and joint pain
PAP tests
Annual Well-Woman Exam
Family Planning
Acute Gynecology Problems
Removal of minor lesions, skin tags, moles and warts
Biopsies of suspicious dermatological lesions and/or referral
Allergy Testing via lab work
Referral to ISU Clinics Pharmacology vaccine program. Days and times as well as vaccine availability varies. Typical vaccines include:
COVID-19 (Moderna and Pfizer)
Enhanced Flu (65 and Older)
Flu
Hepatitis A
Hepatitis B
HPV
Pneumoccocal
Tdap (Tetnus and Pertussis)
Shingles
Meningitis
Appointments are available by appointment only at the link below:
Walk-Ins welcome based on availability!
Make an Appointment
Call (208) 373-1734 to schedule an appointment:
Clinic Hours: Tuesday and Thursday, 8:30 AM - 5:00 PM
Patient Referrals
The ISU Meridian Health Care Clinic accepts referrals for both in-person and telehealth appointments via phone or fax:
Phone: (208) 373-1734
Fax: (833) 390-1293
Consent Forms
Consent forms are traditionally sent via DocuSign to your email account. If you are unable to sign consent forms electronically, paper copies are also available for your covenience. Please print and return with you on the day of your appointment.
Parking
ISU provides free parking for clinic patients/clients:
Clinic parking is outlined in yellow directly in front of the ISU Meridian Clinics' entrance.
The parking area is located on the southwest side of the building facing I-84.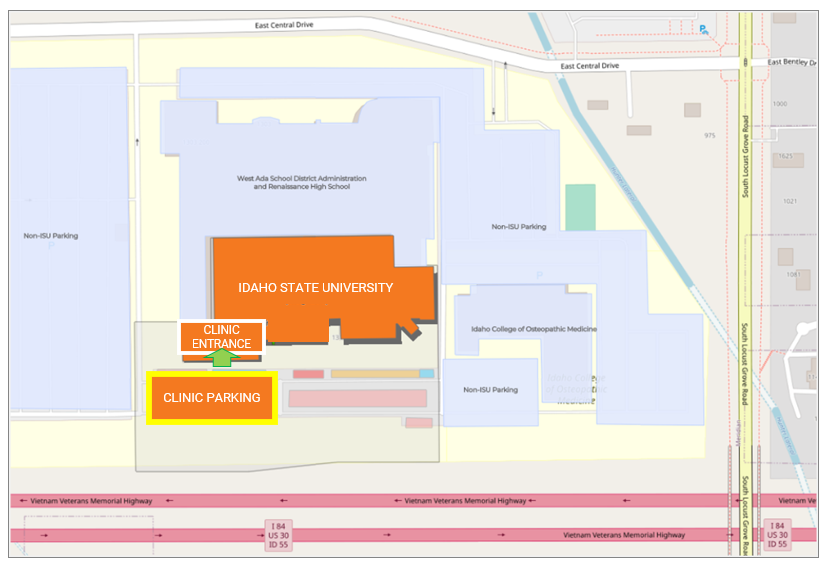 Clinic

Office Visit Charge

Services Offered

Hours

Staffing

Location

Other

Unity Health Center

Varies

Family health and urgent care

Mon-Sun.
7 am-7 pm

NPs

1130 E Fairview Ave.
Meridian, ID
208-895-6729

Bills insurance with card.

Saltzer Health Urgent Care

Varies

Urgent care – seasonal illnesses, orthopedic injuries, cuts/sutures, nausea/vomiting, diarrhea, etc.

Mon-Sun.
8 am- 8 pm

MDs, NPs, PAs

2840 S Meridian Rd.
Meridian, ID
208-960-0680

Bills insurance with card.

Primary Health

Pediatric Urgent Care

Cash discount on some services

Fever, cold, cough, flu,

lacerations requiring stitches,

pink eye, ear infections, skin infections, rashes,

respiratory and urinary infections,

nausea and diarrhea,

sports injuries, sprains, broken bones

Mon-Sun.
8 am- 8 pm

MDs, NPs, PAs

3280 E Lanark St.
Garden City, ID
208-377-4400

Bills insurance with card.

St. Luke's

Emergency Department

Varies

Emergency medical care for all situations, Lab, X-ray, and Pharmacy

Mon-Sun.
24 Hours

MD, NP, PA

520 S Eagle Rd.
Meridian, ID
208-706-1140

Bills insurance with card.

St. Alphonsus Regional Medical Center Emergency Department

Varies

Emergency medical care for all situations, Lab, X-ray, and Pharmacy

Mon-Sun.
24 Hours

MD, NP, PA

1055 N Curtis Rd
Boise, ID
208-367-3221

Bills insurance with card.
Billing
If you have insurance, please bring your insurance card with you to every appointment. Our clinic accepts and bills the following insurance plans:
Aetna
Blue Cross of Idaho
Cigna
Medicare
Medicaid
Pacific Source
Regence Blue Shield of Idaho
Select Health
Tricare
TriWest (with VA authorization)
United Healthcare
UMR
Payment
Some services are non-covered or may be subject to your deductible.
Payment, including co-pays, is expected at the time of service.
We accept cash, check, and visa/debit payments.
Ask about our income-based sliding scale.
Click here to make an online payment:

Pay Online
Lab Fees
Lab fees are billed directly to your insurance by Quest Diagnostics. You will receive a bill from them for any remaining balance for lab services. To receive an estimate for cash prices offered by Quest, check out this link to receive a Good Faith Estimate:
General ISU Meridian Health Care Questions
Who can receive care at the ISU Meridian Health Care?
Anyone in the Treasure Valley community seeking care.
ISU faculty and staff. The clinic accepts private insurances.
Students are welcome, however, we will have to bill your insurance for the visit. Unity Health is still the contracted Provider for the student community.
What are the advantages of using the Patient Portal?
Patients can view their lab results and communicate with healthcare providers by sending secure messages. Appointment reminders can be sent via text or email.
Where should I go after hours?
Urgent care may be obtained at a local hospital or care center. In case of an emergency—poisoning, severe injuries, burns, etc.—take immediate action. See the After Hours Care section for more specific details.
General Provider Questions
What is a Nurse Practitioner?
A nurse practitioner (NP) is an advanced practice registered nurse who provides a wide range of health care services to patients of all ages. They often focus on disease prevention and promote the health and well-being of the whole person. An NP maintains patient records, develops treatment plans, and treats both acute and chronic illnesses, including injuries that fall under primary care. NPS practices in a variety of settings from community health centers, private practice, health care systems, and universities (AANP, 2019).
Will I see a student or a provider?
This is an academic clinic and there is the possibility that you will see a healthcare student during your visit. Students at this stage in their education are trained to take your complete history, and in some cases complete an exam. They then will confer with their supervising Nurse Practitioner, who reviews the information. Together, they come up with a plan for you.
There are several advantages to being seen by a student:
You get more time and will likely feel less rushed.
You're getting the most up-to-date care as students are constantly preparing for the completion of their degree, are regularly attending lectures, and have the latest information on evidence-based care to benefit patient health and wellness.
You get two sets of eyes on you, the students and the supervising Nurse Practitioner. Although it is a safeguard in your care, it also is an enhancement to have two providers reviewing your concerns.
You can help shape a career. By allowing students to participate in your care, you are helping them develop their assessment skills, interpersonal skills, and healthcare knowledge to carry through to the remainder of their careers.