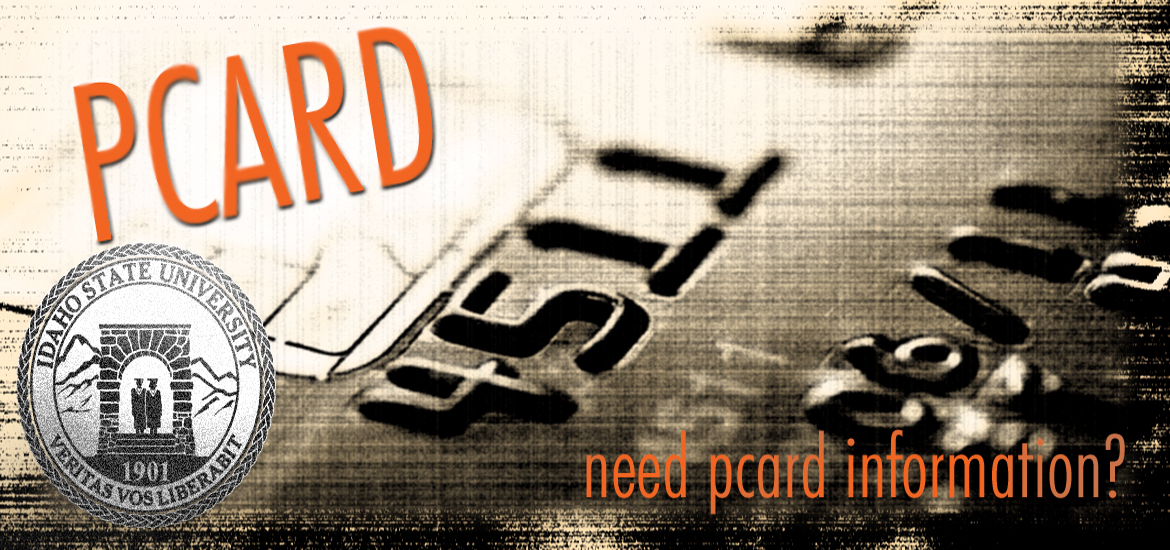 Announcement
As of April 10, 2023, all Amazon and ODP purchases will be made through the University's new procurement system, Jaggaer, using ghost purchasing cards. To buy from Amazon and ODP you will click on the punch out tiles on the Jaggaer shopping dashboard page. You will not use your assigned ISU PCard when buying from Amazon or ODP through the Jaggaer System. All purchases made within Jaggaer will be automatically applied to an ISU ghost card. Transactions using the ghost card will be automatically reconciled and approved. No individual card holder reconciliation will be required within the Bank of America system. Charges will be assigned to the correct indexes by the ISU Finance Department.
All PCard users are:
Required to abide by all ISU purchasing policies when purchasing with the ISU PCard.
Subject to the PCard Policy in addition to the mandatory PCard Training Course.
Eligible to apply for a PCard, if you are an ISU faculty or staff member and with department/unit approval.
Oversight for the PCard program is provided by the University PCard Administrator and designated individuals administering the program in each department. The Purchasing Department monitors compliance with the PCard program policies and procedures.
How Do I Get A New PCard?
Fill out a Cardholder Application
Send completed application to Jenny Stilling (stiljenn@isu.edu).
When Purchasing receives the PCard application, an invitation will be sent with instructions on how to take mandatory Moodle training.
After training has been completed, call 282-3112 to set up a time to obtain your new ISU PCard.
Purchasing will process your application as quickly as possible. PCards are normally received within 10 business days.
PCards are intended for small dollar purchases of products and supplies needed during the course of business. The following examples are not all inclusive but are given to help the cardholder determine appropriateness:
Advertising Expense (such as: newspapers, magazines, web, and other media)
Automotive Parts
Books
Building Supplies
Chartwells (excluding Events with Alcohol Consumed)
Classroom Audio and Visual Aids
Classroom Teaching Models
Computer Repair Parts
Computer Supplies, ie. CD's, DVD's, Flash Keys, Toner, etc.
Electrical Material
Field Supplies
Hardware
Lab Supplies
Non-Employee and Student Recruitment Expenses for Job or Recruiting Candidate Airfare and Lodging
Office/Class Supplies (use state contracts)
Petty Cash Items
Photography Supplies
Plumbing
Repair/Spare Parts
Short-Term Equipment Rentals
Subscriptions - Magazine, Professional Periodicals, Excluding Software
Tools
Training/Conference Registration Held at an Employee Workstation
Travel of Non-Employees (not receiving payment for fees)
Work-Related Licenses
Work-Related Membership
Work-Related Organizational Fees
Any purchase not approved by your department in advance, above account limits, or not allowed by University policy is considered unauthorized. The following examples are not all inclusive but are given to help the cardholder determine appropriateness:
Alcoholic Beverages

Ammunition

Capital Expenditures $2,000 or more

Cash Advances

Cellular Phones, Monthly Contract Fees

Computers

Controlled Substances

Donations

Firearms

Fuel for Personal or Rented Vehicles

Gift Cards

Gifts

Laptops

Live Animals

Payment to ISU Departments

Personal Expenses

Photocopiers and Printers with Hard Drives

Prepaid Phone Card

Prizes

Radioactive Materials

Salaries

Scholarships

Software and Software Subscriptions (contact the purchasing department for direction)

Stipends

Travel -Employee Related (Refer to the Travel Card)

Tuition and Fees

Wages
It is very important that you review PCard charges frequently to ensure there are no fraudulent charges on the account.
Call Bank of America – Fraud Department at 1-866-500-8262, Lost or Stolen at 888-449-2273, within 24 hours of discovering loss, theft, or fraudulent use.
Review the last charge that you made with your PCard, so that the bank can give you credit for any fraudulent usage.
Contact purchasing and your department immediately via e-mail. In the e-mail be sure to reference the last four digits of your current card #. Provide a brief summary of what has occurred, listing transaction details for the fraudulent charge(s).
After reporting the card to Bank of America, the card should be destroyed if present.
Data Compromised PCards
As a reminder, cardholders potentially impacted by third-party data compromises will have a new card issued but will be able to safely continue using the current card while waiting for the replacement card to arrive. While it is not always convenient to replace cards, one new benefit your cardholders may enjoy is the ability to personalize their PINs. Every replacement card is enabled with PIN selection capability.
If a card needs to be replaced, card holders will receive an email notification explaining why the card was reissued and the date the current card will deactivate.
Frequently Asked Questions
How long will cardholders have to receive and activate the new card? The current card will deactivate 30 days after Bank of America replaces the card.
Do cardholders need to re-register for Global Card Access with the new card? No, cardholders can simply sign in to the existing account to view their PIN and manage alerts online through Global Card Access. PCard Guidelines
Registration and new card verification will require the cardholder's Verification ID and other account information. Every new chip card we issue within our U.S. and Canada portfolios will allow the cardholder the opportunity to customize their own 4-digit pin.
Will the PIN number change? No, the PIN will remain the same. However, your cardholders may choose to personalize their PIN. Instructions for creating a custom PIN are included in the card mailer you will receive when you pick up your new card.
Does the new card require activation? Yes, the cardholder will need to activate the card by calling 888-233-8855 once it's received. Activation may require a Verification ID. Purchasing can assist with this process.
When will the replacement card be visible in Works and/or Payment Center? You will be able to view the replacement card prior to receiving it.
Can this process be used when fraudulent transactions occur? No, this process is only used for proactive replacement of third-party compromised cards. Any cards with fraudulent transactions must be closed immediately.
Your PCard maybe declined for the following:
You have exceeded your single, daily, or monthly limit.
The vendor you are using could be restricted from use by its Merchant Category Code.
The bank has a security concern (you haven't used your card for awhile). A "fraud alert" may be placed on the card and will not be removed until the cardholder contacts the bank to verify that the transactions are legitimate charges.
Verify the phone number is 208-282-3111 and the address is 638 E. Dunn.
It is important to update profile information as changes occur. Use the PCard Account Maintenance Form to make changes to your cardholder profile (e.g., changes to your name, approvers, reconciler, address, or email).
Request changes to your credit limit. If you need to increase or decrease your limit, use the PCard Account Maintenance Form to request changes. Requests must include a clear business purpose for an increase, along with a detailed justification from the PCard holder. The form must be signed by the unit administrator or the expense approver. Limit increases require approval from Procurement Services. Increases will be approved for a temporary period, rather than permanent increases in credit limits.
The form must be signed by your supervisor, and when applicable, Vice President or Dean.
Temporary one-time single transaction increases require approval from Procurement Department. Please send an email to holdwend@isu.edu with a detailed justification.
If you have lost your pin for your PCard, you will need to login to Global Card Access to obtain it.
Any transaction involving a non-U.S./international vendor should be cleared by the Export Control Office. While the majority of international vendors are cleared, some are barred from receiving funds from ISU and the United States. Send your vendor information to orexpctr@isu.edu, or call ECO at (208) 282-1336. See Foreign Supplier Purchasing under "Purchase Orders/Reqmasters, Plan & Buy" for more details. Complying with this requirement maintains ISU's qualification to receive sponsored funds from federal sources.
Wendy Holder
Senior Buyer
PCARD Administrator
Office: Purchasing Office
208-282-3111
Jenny Stilling
Technical Records Specialist 1
PCARD Support
Office: Purchasing Office
208-282-3112
Bonnie Liston
Technical Records Specialist 2
(Backup) PCARD
Support
Office: Purchasing Office
208-282-3923