About the Program
The Physician Assistant (PA) Program at Idaho State University awards the Master's of Physician Assistant Studies (MPAS) degree and a PA certificate upon successful completion of its 24 month graduate curriculum.
Idaho State University Department of Physician Assistant Studies is the preferred educational destination for individuals who desire to be trained in a student-centered, service oriented environment. The program trains PAs using a modular and systems based curriculum that is delivered through telepresence technology across three campuses.
The Master of Physician Assistant Studies program at ISU is distinguished by: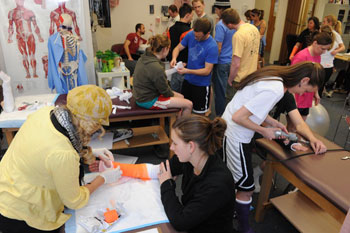 Opportunities to learn and practice the Spanish language through international rotations and Spanish-speaking clinical rotations.
A high tech and high touch environment. The program is offered simultaneously on three campuses. All faculty have open door policies to facilitate more contact between students and faculty.
All PA faculty are licensed professionals who remain clinically active.
95% five year first time taker pass rate on the PANCE licensure exam.
In 1995, the ISU PA program matriculated the first class of 19 students and graduated this class in 1997. Graduates received a Bachelor's of Science in Physician Assistant Studies degree. In 2004, the program graduated its first Master's level class, awarding the first ISU Master's of Physician Assistant Studies degree to 29 graduates. The program expanded to the Boise area in 2007. In 2009 the program moved to the ISU-Meridian Health Science Center. In 2013 the program entered into a partnership with The College of Idaho and opened a new location at the West Hall Center for PA Studies.
Thirty-six seats are offered at the Meridian campus and 24 seats are offered at the Pocatello campus. The partnership with The College of Idaho located in Caldwell, Idaho, adds an additional 12 seats for a total class size of 72.
Application to the program is through the Central Application Service for Physician Assistants (CASPA).
The program maintains continued accreditation by the Accreditation Review Commission on Education for the Physician Assistant, Inc., (ARC-PA).
Graduates of the program are eligible to take the Physician Assistant National Certification Examination (PANCE) which is administered by the National Commission for Certification of Physician Assistants (NCCPA). Over the past five years 332 out of 348 students or 95% of ISU PA Program graduates have passed the NCCPA examination on their first attempt. During this time ISU's first time pass rate has exceeded the national first time pass rate. The first-time pass rate was 96% for the Class of 2010, 97% for the Class of 2011, 97% for the Class of 2012, 98% for the Class of 2013, 93% for the Class of 2014, and 93% for the Class of 2015. These statistics are available through the Pass Rate Report.