News
ISU Named Among America's Best Employers
Forbes ranked Idaho State University one of "America's Best Midsize Employers 2017," a list that annually ranks the top U.S. employers.
Of U.S.-based employers with at least 1,000 employees, ISU was ranked No. 103 on the list. Only 35 educational institutions made the list, and ISU was ranked 17th overall in the education category.
"This recognition solidifies what many of us already knew about Idaho State," said ISU President Arthur Vailas. "Our University is a great place to work, and our faculty and staff are our most valuable resource in accomplishing our mission, which focuses on student success."
The list, compiled by Statista Inc. in partnership with Forbes, includes the best 300 midsized employers across 25 industry sectors. More than 30,000 employees were asked to rate their employers based on 30 work-related attributes, including atmosphere for development, working conditions, diversity, image and compensation.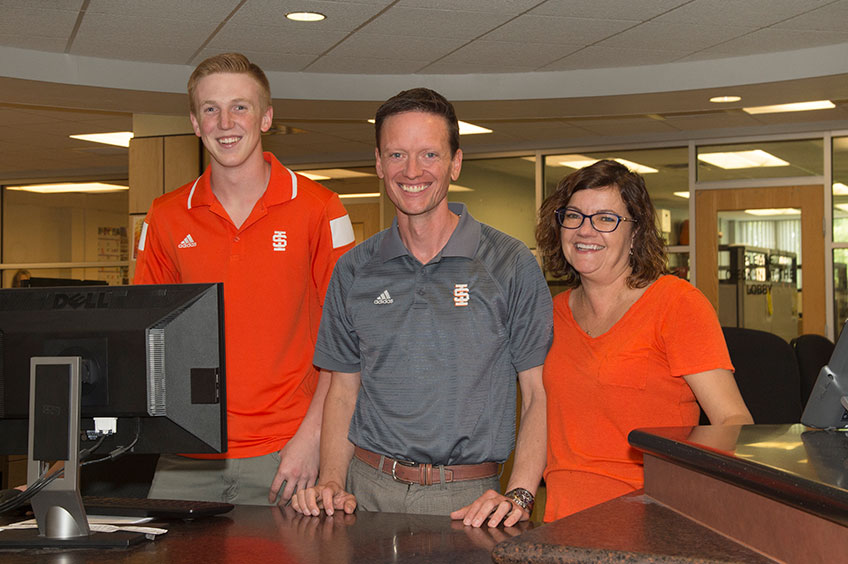 Admissions staff Zane McClish, Ross Knight and Stephanie Prokschl
The most weighted question asked of survey respondents was whether they would recommend their employer to others, on a scale of zero to 10. Respondents were also asked to divulge which other companies they either would or would not recommend.
Participation in the survey was voluntary and anonymous, and respondents were recruited from thousands of sources to maximize reach and representation. According to Forbes, to ensure credibility, respondents were not contacted through their employers, and participants were unaware of the survey's intent.
"I'm excited to see ISU stand out as one of the best employers of its size in the country. This recognition reflects on all of those in the University community who strive to make ISU an excellent place to work," said Brian Sagendorf, director of Human Resources.
---
Holt Arena Receives Lighting Upgrade
Idaho State University's Holt Arena received a $536,000 lighting upgrade, replacing two older lighting systems with 85 LED lighting fixtures.
"The new lights will reduce electricity and maintenance costs and improve the quality of lighting for athletics and spectators," said George Casper, ISU director of events. "It's a win-win situation."
The new Euphasus LED Stadium Pro Sports Lighter fixtures will require 62 percent less electricity than the old metal halide fixtures. The estimated return on investment is roughly five years.
These new fixtures will increase the light quality to achieve lumen output levels required to meet NCAA requirements for televising football. The lighting will also be more even throughout the facility.
"There is more light and more even lighting," Casper said. "Lighting adjustments will be instantaneous and we can better adjust lighting for different areas of the facility. The lights are dimmable and we can have multiple light settings."
With the new system, ISU will be eligible for an estimated $183,000 Idaho Power Incentive Rebate.
Funding for the new system is coming from parking and facilities fee money and from University Funds.
There are many other pluses with the new system, including:
The new lights will produce less heat than the previous metal halide fixtures. The heat from the old fixtures caused electrical maintenance issues such as burned up wiring and faulty breakers.
The estimated maintenance cycle of the new fixtures is more than 30 years. This will significantly reduce annual maintenance replacement costs.
The new system will bring Holt Arena lighting up to current electrical codes. The project includes replacing old electrical panels to meet code requirements.
---
Teaming Up to Strengthen Hockey Equipment
Researchers at Idaho State University are building a machine to fire hockey pucks at 100 miles per hour at hockey skate protective gear to test a product designed by Fi-Ber Sports, Inc. in Boise.
Fi-Ber Sports has created a product called HOPlite Skate Armor™ that incorporates a patented design to protect amateur and professional hockey players from catastrophic injury.
The research is funded by an Idaho Global Entrepreneurial Mission grant from the Idaho Department of Commerce, a program designed to facilitate research partnerships between Idaho higher education institutions and the technology-based startup companies in the state.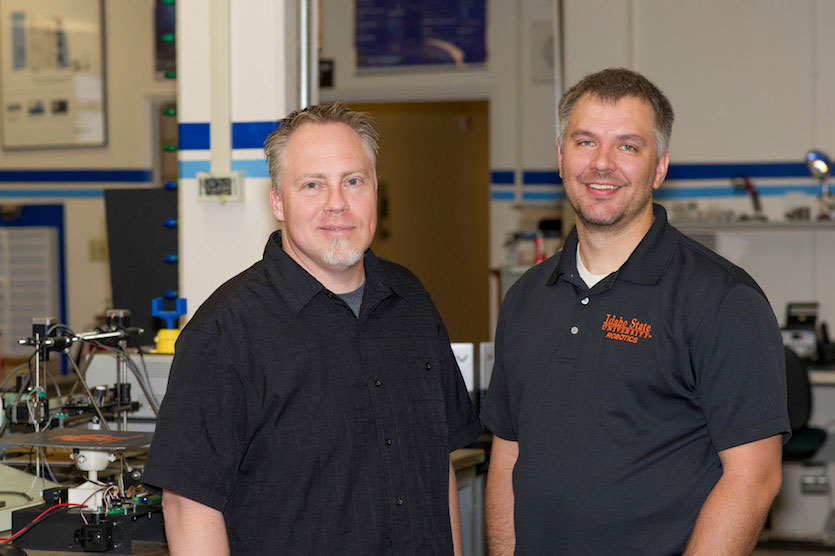 Shane Slack and Geran Call
"Idaho State University is pleased and proud to be working in collaboration with the Department of Commerce and Fi-Ber Sports on this unique project," said Dr. Cornelis Van Der Schyf, ISU vice president for research. "This type of collaboration between a public research institution, a state department and the private sector is essential in growing Idaho's economy. The really exciting part of this particular project is that College of Technology investigators are leading this research, contributing to the generation of new knowledge in the discipline of sports dynamics."
Researchers and engineers from the ISU Department of Robotics and Communications Systems Engineering Technology will build the advanced testing apparatus and sensors that accurately replicate and measure the impact of a fast-moving hockey puck and evaluate exactly how the HOPlite Skate Armor™ system functions.
"We are going to be measuring these forces on the hockey skate with and without the new HOPlite Skate Armor™ gear as well as complete comparative testing on other similar products in the market," said Shane Slack, director of the ISU robotics department and principal investigator.
The testing will be completed in the research area of the ISU Eames Advanced Technical Education and Innovations Complex.
ISU researchers hope to build the machine to fire and test the hockey pucks by mid-September and then run tests through the remainder of the fiscal year ending June 2018. Geran Call, ISU robotics instructor, is the co-principal investigator on the project.
---
Using the Seafloor to Represent a Jupiter Moon
Idaho State University geosciences Assistant Professor Shannon Kobs Nawotniak is joining a NASA and NOAA study of underwater volcanoes that has implications for searching for life on a distant moon.
She joins as a co-investigator and will be working as the geologist and volcanologist on the three-year study.
"We are studying volcanoes on the Pacific Ocean seafloor using unmanned submersibles as an analog for other planets in the solar system, actually moons in the solar system," Nawotniak said. "In particular, the one we are targeting is Enceladus, one of Saturn's moons that right now is NASA's top pick for hosting other life in solar system."
The title of the study is "Systematic Underwater Biogeochemical Science and Exploration Analog (SUBSEA)." Its focus is to understand the habitability potential of ocean worlds in our solar system.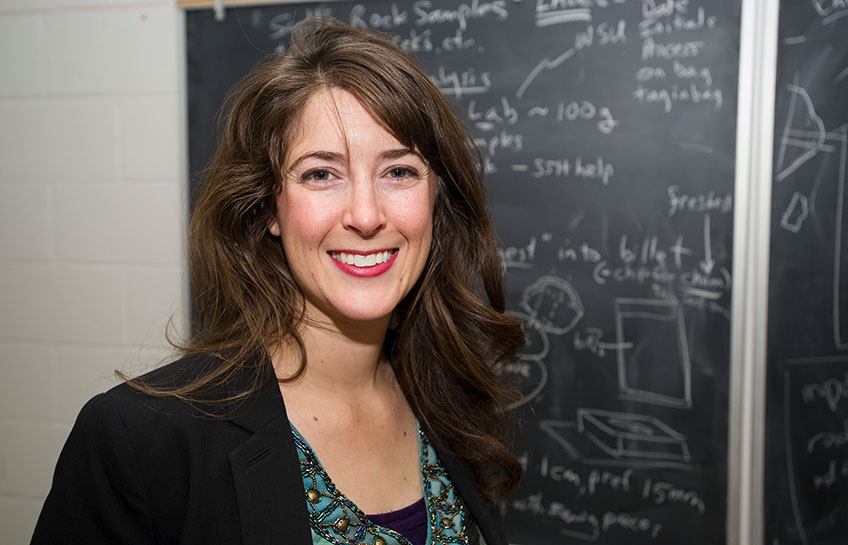 Shannon Kobs Nawotniak
Enceladus is entirely covered in ice and there is a liquid ocean of water under that ice. There is also evidence that inside of these two layers it has a rocky interior, she said. Similarly earth is layered with a crust of rock, then its mantle and core.
"It could have hotspot volcanoes there underneath the water, which means it could feature heat and water, two really critical things in our understanding of what it takes to support life," Nawotniak said. "We are interested in looking at similar situations on the Pacific sea floor in which we have isolated hotspot volcanoes interacting with water."
The study will focus on the chemical reactions going on between the rock and water, to examine how they facilitate microbial communities and are building blocks for them. Samples collected from the ocean floor will be sent to Nawotniak's ISU lab for preparation and analyses.
The study will focus on two volcanoes, Lo`ihi near Hawaii and Teahitia near Tahiti, because they are a better possible match for the type of underwater volcanoes that could be present on Enceladus.
But Nawotniak and ISU students active on the study won't be packing their scientific equipment and swimsuits to head to either Hawaii or Tahiti to complete their investigations.
"We are not even on the boat," Nawotniak said. "Part of what we are doing is practicing this type of mission that might be conducted in space, as if we were a science team back on Earth stuck in mission control."
---
Vice President for Student Affairs Terrell Retires
Idaho State University Vice President for Student Affairs Patricia S. Terrell retired in June.
Terrell came to ISU in 2011. A native of Kentucky, she earned an Ed.D. at the University of Kentucky, where she also served as Vice President for Student Affairs.
"I had a wonderful career at five universities and ISU has been an amazing capstone," Terrell said. "President Vailas' understanding of, appreciation for and unwavering support of our students has made my job enviable among my colleagues."
In her role, Terrell was responsible for most out-of-class and co-curricular activities including Housing, Veteran Student Services, Counseling and Testing, Career Center, Student Unions, Early Learning Center, Disability Services, Campus Recreation and Student Clubs and Organizations.
During Terrell's service at ISU, the Career Path Internship Program, which provides students with paid work experience in their fields, grew, today benefitting more than 900 students. Veteran Student Services, Counseling and Testing, and Disability Services departments were expanded in outreach and scope. Terrell was also instrumental in creating a special Student Support fund to help students with needs that might be barriers to continuing their education. During her tenure, the Student Global Leadership Program was launched and Benny's Pantry opened on the Pocatello and Idaho Falls campuses.
"Dr. Terrell was a great asset to our University," said President Arthur Vailas. "Her focus has always been the well-being of our students, and she has touched thousands through the services she and her staff provide. She will be missed."
Terrell said she appreciated her time at ISU.
"I want to thank President Vailas and Executive Vice President and Provost Laura Woodworth-Ney for their confidence in me and the opportunity to serve this institution. It has truly been an honor and a privilege. I leave with great memories of my colleagues and our students," she said.
Following Terrell's retirement, ISU Associate Vice President Lowell Richards was made interim vice president while a national search is conducted for the position.
---
The Legacy of ISU Research Professor Howard Schmidt
Internationally, Howard Schmidt was a superhero in the world of cybersecurity, serving as a special assistant to two U.S. presidents. But friend and peer Corey Schou remembers him not only as an expert in the field, but as a devoted mentor to his students at Idaho State University's Informatics Research Institute.
More than 100 students had Schmidt's cell phone number, Schou said. As he traveled around the world sharing his expertise, he always took the time to conference with his students, who he referred to as "our kids."
"He would talk with students and instill them with a desire to serve and grow," Schou said. "We would enter long discussions with the students about best practice and the business realities of the world. He was modest about his role, but he made a real difference to hundreds of cyber security students in the National Information Assurance Training and Education Center (NIATEC) here at ISU."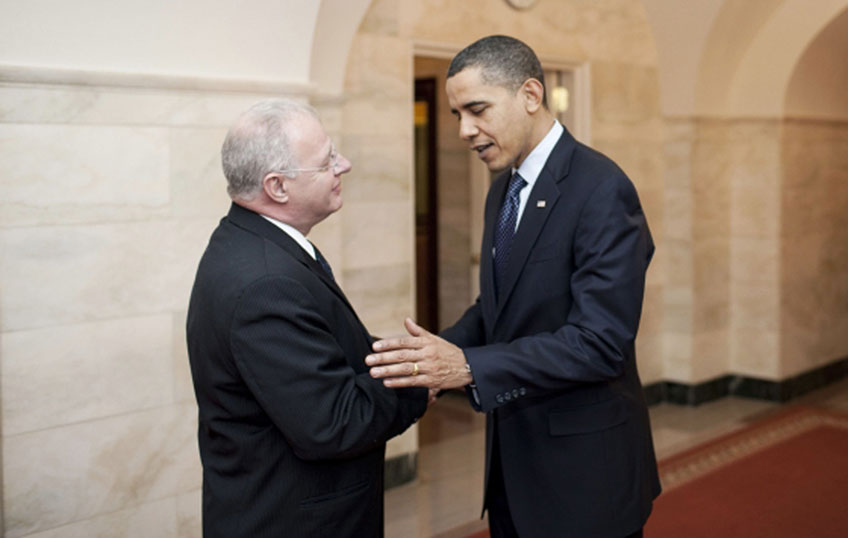 Howard Schmidt with former President of the United States Barack Obama
It's a surprising legacy for a man who wasn't sure he wanted to enter the world of academia.
"More than 10 years ago, I asked him if he would be interested in being a research professor in the Informatics Research Institute," Schou said. "He said he was not an academician, he would not fit in. I persisted, he agreed, the students were overjoyed, and Howard began his legacy, his gift."
Schmidt, who passed away March 2 after a battle of cancer in his Wisconsin home, was nearly as prominent nationally and internationally as he was unknown as an Idaho State University faculty member in the Informatics Research Institute.
Schmidt served as special assistant to two presidents. In 2001, President George W. Bush recruited him from Microsoft after Sept. 11 to serve as the Chair of the Critical Information Protection board. After returning to the private sector, he was invited by President Barack Obama to be his Cybersecurity advisor. From 2009 to 2012 he developed the National Strategy for Trusted Identities in Cyberspace program.
His career spanned decades in information technology and cybersecurity. His last position was as a partner with Ridge-Schmidt Cyber. He served on the boards of Microsoft, eBay, (ISC)² and the Information Security Forum. Schmidt also founded R&H Security Consulting and was president of the Information Systems Security Association.
Schmidt's government service also included time in the Air Force and the Arizona Air National Guard, as a SWAT police officer, head of the FBI's Computer Exploitation Team, and then as a member of the Computer Crime Investigations Unit in the U.S. Army Reserves. He served as chief security strategist for the Department of Homeland Security's US-CERT Partners Program.
Richard Clarke, former special advisor to the U.S. president for cybersecurity, commented on Schmidt at the time of his death.
"Howard gave up a lucrative position at Microsoft at my request to join the government as my deputy in the White House," Clarke wrote. "As a member of the U.S. military, as a police officer, as a corporate official, as an educator, as a White House official, and as a strong voice for cyber security throughout the world, Howard was a selfless patriot. He shall be sorely missed."
Schou said that he met Schmidt more than 20 years ago and they immediately struck up a friendship and a bond. Both Schmidt and Schou were recipients of the prestigious (ISC)² Tipton Lifetime Achievement Award.
"He was on a mission – to make the information world safe for everyone," Schou said of Schmidt. "Every time we would meet, we would eagerly exchange opinions and plans. We came from different worlds but had a common objective – security and safety for future generations."
Endowment to Honor Howard Schmidt
To honor Schmidt, the Idaho State University Foundation has established the Howard A. Schmidt Scholarship and Professorate Endowment. For more information, or to give, call the Foundation at (208) 282-3470.
Construction Begins for Idaho's First Medical School
Construction of a three-story building that will house the Idaho College of Osteopathic Medicine is expected to wrap up next summer with classes starting in August 2018.
Crews broke ground on the $34 million building this spring, 15 months after Gov. C.L. "Butch" Otter announced plans to bring the privately funded medical school to Idaho. ICOM will sit on 2.5 acres of land adjacent to the Idaho State University-Meridian Health Science Center. An affiliation agreement approved by the Idaho State Board of Education allows ICOM to lease the land from ISU.
"This is a diamond day in the Gem State," said ICOM Founding Dean Robert Hasty at the May 17 groundbreaking. Close to 200 people attended, including Gov. Otter, ISU President Arthur Vailas, Meridian Mayor Tammy de Weerd and Dan Burrell, ICOM founder and trustee.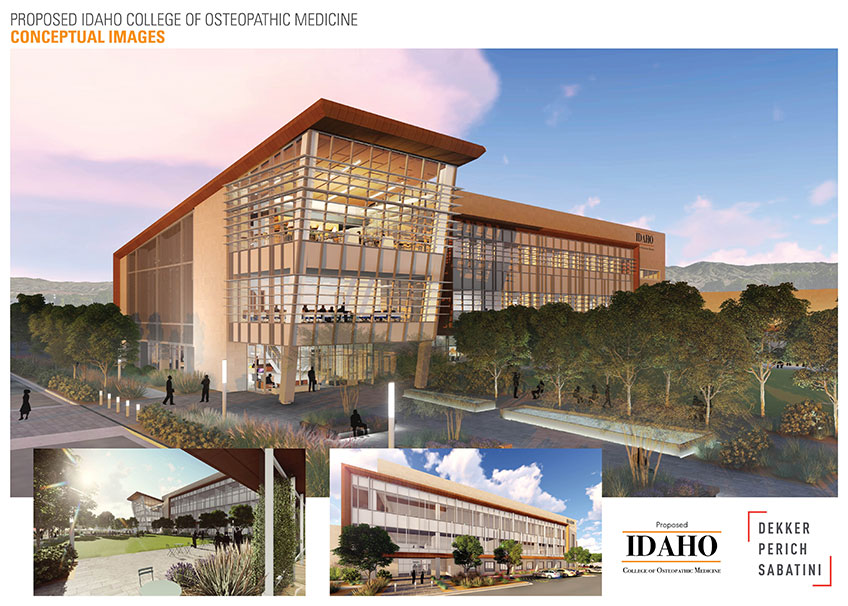 Architectural plans for the 94,000-square-foot building call for a large open courtyard, outdoor seating areas, fountains and signage. Colors will complement Bengal orange and black, say ICOM leaders.
Hasty said Idaho ranks 50th in the nation for the number of primary care physicians per capita.
"ICOM will change that," he added, predicting 50 percent of ICOM graduates will go into primary care with many serving Idaho's rural communities.
ISU President Arthur Vailas told the crowd the creation of ICOM was "truly a great moment in the history of Idaho, a great moment for Idaho education."
Vailas said ISU's partnership with ICOM will enhance research opportunities for students and faculty at both institutions and improve access to medical care for patients in underserved regions of Idaho, Montana, Wyoming and the Dakotas.
The medical school plans to admit up to 150 students a year with preferential admission given to qualified Idaho students.
ICOM leaders say they've secured affiliations with 28 hospitals, medical centers and health care organizations for student rotations which will begin in 2020 and plan to spend $5 million to develop residency programs over the next 10 years.
---
College of Technology's New Home
When William Eames talks about Idaho State University College of Technology students, his enthusiasm is palpable.
"It's exciting," he said. "They're ready to go, and people really want them. They're going to come out and make $50-$60,000 per year. We need these people in Idaho."
Every few months, Eames, a retired pharmacist, tours the College of Technology and talks to students. Stuck in his memory are people like a woman in her mid-30s, who returned to college while raising a family and earned a job with Western Machinery before she even graduated.
"She wanted to work with her hands- she gets to work with her hands," he said.
He has met a man who retired from IBM, and returned to school to learn how to repair airplane engines. He's met welders who graduated from the program, but still return after-hours to hone their skills and learn new techniques.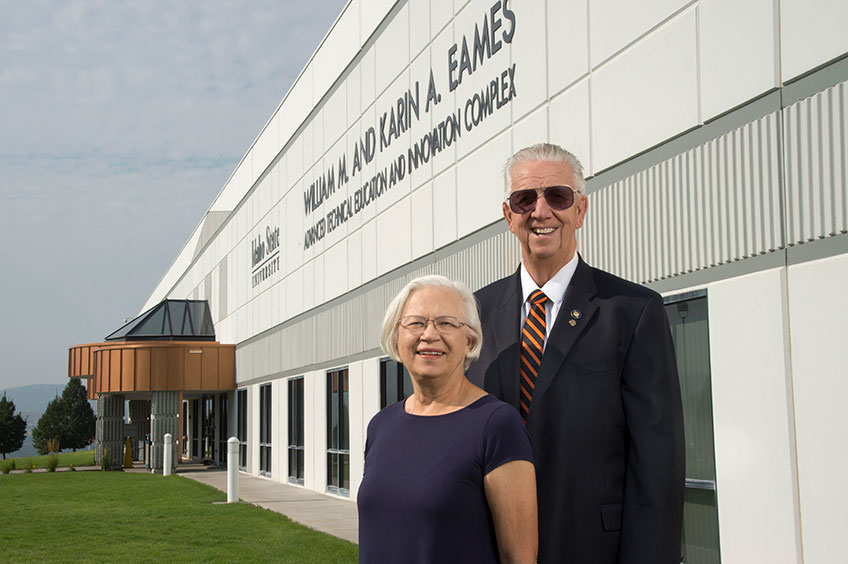 William and Karin Eames
Helping students like these has always been a goal of Eames. When he came to ISU from Chico, California. In 1953, Eames felt like ISU was taking a chance on him. Eames said he chose pharmacy as a career because he wanted a good standard of living, the same reason many College of Technology students choose their careers.
"I just want to give back to the state that gave so much to me," Eames said. "I wanted the opportunity to help others."
Beginning this year, students from the College of Technology will be honing their skills at the newly named William M. and Karin A. Eames Advanced Technical Education and Innovation Complex. A number of College of Technology programs are moving into the former RISE facility. The move will allow the College space needed to expand programs, while providing opportunities for research.
Eames, who has supported student scholarships for more than 25 years, pledged a $2.5 million gift to support enhancements at the facility, and has helped secure an additional commitment of $250,000 for the university's $5 million campaign.
"We are honored to have Bill and Karin's name on our building. The Eames family has been longtime benefactors and friends to the College of Technology, and they truly believe in Career and Technical Education. Bill has also been very instrumental in helping our college raise funds to enhance student opportunities. He has spent many long hours traveling with our team to meet with donors and business and industry partners, which has resulted in a number of significant gifts to the College of Technology. We are delighted to have the Eames family name be identified with this wonderful facility," said Scott Rasmussen, dean of the ISU College of Technology.
Eames said he is thrilled to be able to make a difference.
"It is an honor," he said. "It's satisfying to know I can help someone on their journey through life."
---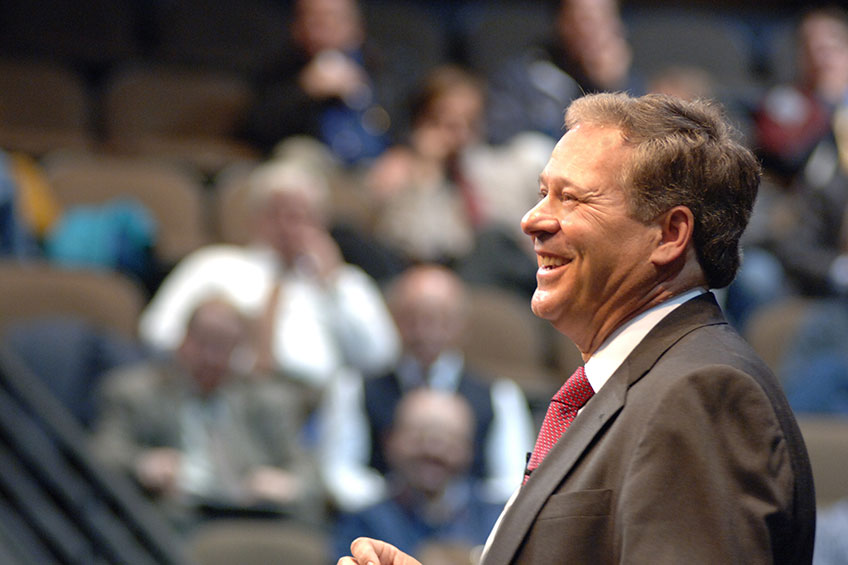 A lot has changed at Idaho State University since I arrived on campus more than a decade ago.
Thanks to the tremendous generosity of the Wheatley family, our campus in Pocatello has transformed, with new trees, flowers, landscaping and beautiful areas for sitting or studying. Students in Meridian now study at the ISU–Meridian Health Science Center, with a state-of-the-art Anatomy and Physiology Laboratory. Today, more than 1,000 students study in 25 different programs in the Treasure Valley. Our Idaho Falls campus has expanded, and will soon be home to a polytechnic institute.
We have worked to enhance services for our veterans, and we've opened Benny's Pantry, a service focused on ensuring students do not go hungry. Our Career Path Internship program, which offers paid work experience in a student's field of interest, has grown greatly, today serving more than 900 students.
Some things, however, will always remain the same at ISU. Laura and I have had the pleasure of meeting hundreds of wonderful, hard-working students who have come to the University with big dreams. We've also been fortunate to rub shoulders with scores of alumni Bengals who are out making a difference in the world. I've had the pleasure of working with great researchers, faculty and staff, individuals spending their days in the pursuit of new knowledge and teaching and advising the next generation of leaders.
In June, I will retire, but I know ISU's legacy of learning and excellence will continue, as it has for more than 115 years. I'm grateful for the time I've spent with all of you, and I look forward to seeing our University's exciting future. Thank you for continuing to support our great Bengal community.
Go Bengals!
Arthur C. Vailas, Ph.D.
President, Idaho State University