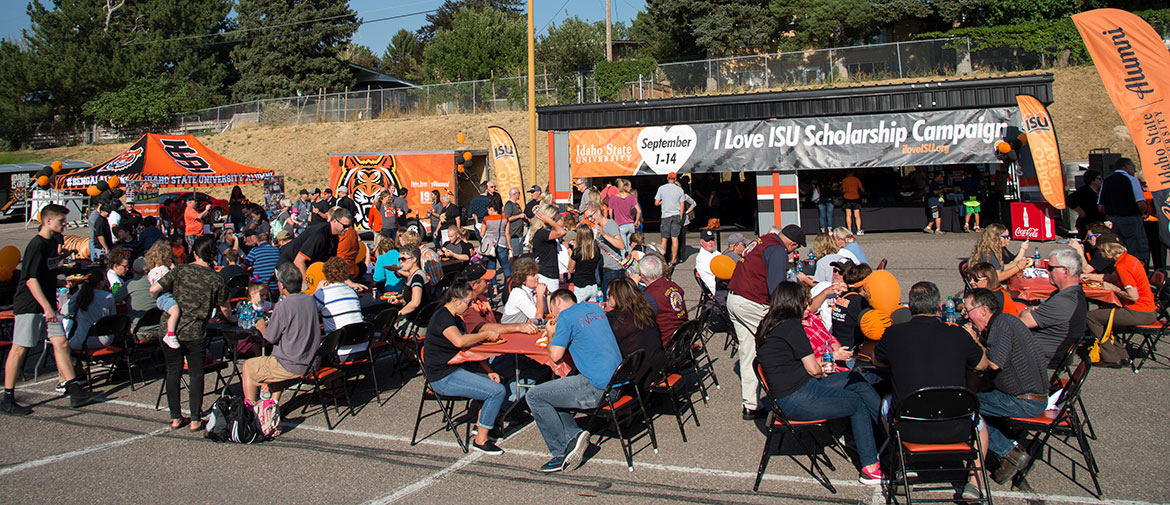 Anybody for some tasty BBQ to go along with your Bengal tailgate?
Idaho State University football, volleyball and soccer tailgates, and other alumni and student events are becoming a lot more fun due to the ISU Alumni Associations' new Bengal trailer.
The Bengal-decorated trailer is filled with a smoker, barbeque grills, tables, chairs, audio speakers and other equipment that can be set up quickly. It has been well received so far this fall.
"It's a party machine, all right," said Ryan Sargent, associate director of the ISU Alumni Association. "I think it has elevated our ability to put on a really good event. We took it down to Utah State and have taken it over to Boise State. It has gone all over the place already."
The trailer came about through a project by the 1901 Student Alumni Association, which annually devotes itself to an ISU project. Two years ago, the 1901 Student Alumni Association donated the giant pair of Bengal eyes that decorate the Rendezvous Complex that look at the traffic on Martin Luther King, Jr. Way. Last year, the 1901 club spearheaded the effort to get the Bengal trailer.
"The 1901 Student Alumni Association worked to raise money for this trailer and we worked with them," Sargent said. "The trailer was donated pretty close to cost from Bear Lake Trailer Supplies, and Connections Credit Union paid for the wrap and trailer."
"We are super excited because I think it is foundation for creating student atmosphere around tailgates," said Blake Benson, 1901 club president. "If you look at larger universities they have an awesome tailgating environment and that is what the priority is for the trailer, but is a functional gift as well. It can be used to promote the 1901 club, promote ISU and get a sense of pride going around."
"The trailer design is innovative and it is a good design for us," Sargent said. "We were stopped in Twin Falls filling it up with gas and a couple of guys came over and told us how much they liked the design and said they'd wished they gone to ISU after seeing it. Other people said they wished their schools had a trailer like this."
Potentially, the trailer may feature more bells and whistles.
"We are in the idea phase about what we can add to it," Benson said. "We might get surround-sound speakers or some kind of projector that we could broadcast games on, but haven't decided anything else, yet."
Besides the fun it is bringing to ISU events, Sargent said he loves the trailer and its equipment for another reason.
"I love smoking meat. It is just a hobby of mine," said Ryan, who has been custom smoking meats – such as pulled pork, tri-tip and brats – for some of the trailers' events. "I could do it all day long every day. It has been fun."
Keep your eyes and noses on the look out for the Bengal trailer and the fun it helps provide.