Shortly after the first American universities were established, graduates from these schools began a rich tradition of giving back to their Alma Maters. Alumni associations exist to ensure academic success continues and campus traditions are preserved. Bengal alumni are passionate about supporting our University and creating future opportunities for students.
Idaho State University's faculty and students continue to solve increasingly complex issues facing the world. Our scholarships provide financial support for the next generation of students seeking to continue the Bengal tradition of greatness. Graduates leave campus well prepared for life's challenges.
This past summer, I've had the opportunity to meet hundreds of Bengal alumni at dozens of ISU Alumni Association gatherings. I'm reminded that Idaho State doesn't just have a large alumni base in terms of sheer numbers (we have over 85,000 living alumni), but that Bengals are deeply loyal to ISU. I've heard the same sentiment repeated often: "I'm proud of the degree I earned from Idaho State University;" "Everyone in my family bleeds Bengal orange and black;" "The education I received at ISU is second to none."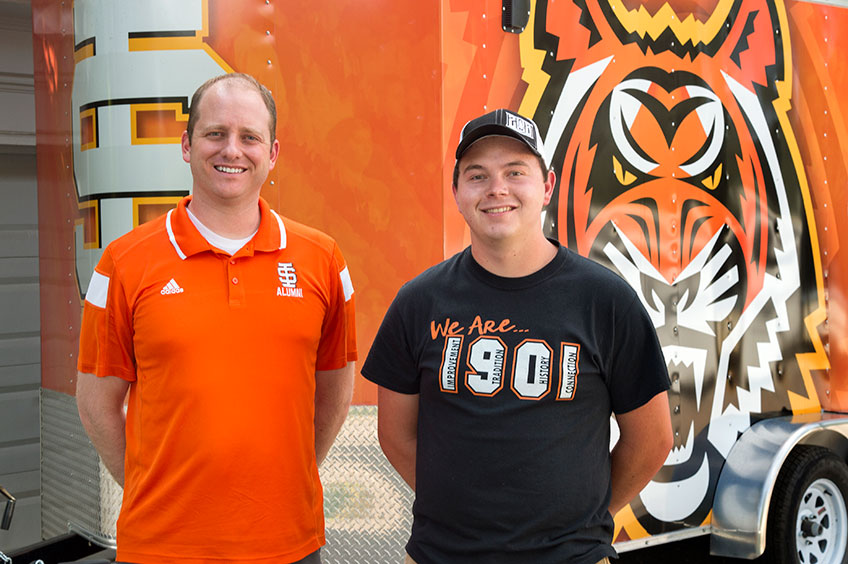 Ryan Sargent and Blake Benson, president of the 1901 Student Alumni Association, in front of the new Bengal Trailer
This fierce commitment to Idaho State is why the Alumni Association is growing and making an increasingly larger impact. If you are already a card-carrying member of the Alumni Association, we are grateful for your support and welcome your feedback. If you haven't yet renewed your membership, we hope you will.
Our Alumni Association membership benefits are discussed online at isu.edu/alumni. However, one of the greatest membership rewards is difficult to express in writing. Our community shares in the experience of curiosity and goodwill. We collectively benefit from wide ranging backgrounds and perspectives, but we transcend our differences with a unified experience. We are grateful for our time spent at ISU, and as Bengals, we feel the companionship and camaraderie of this priceless treasure. We can continue to share our love for Idaho State by meaningfully connecting through the Alumni Association.
Having this passion manifests itself in other ways, too. For example, our support helps the University gain prestige. Committed and enthusiastic alumni help to guarantee Idaho State's long-term success. This support improves our reputation as industry leaders recognize the quality of the Bengal experience. No matter where you are, we hope you will become involved in the Alumni Association. On behalf of the thousands of alumni I represent, thank you for your support of our Alma Mater.
As always, Bengals –
Veritas Vos Liberabit,
Ryan Sargent, '09