After five years of playing professional baseball, Mitch Gueller stepped onto the football field as a wide receiver for the Idaho State football team in 2016. The freshman made an immediate impact, catching 36 passes for 509 yards and three touchdowns.
A big reason for his early success can be attributed to the coaching of Head Coach Rob Phenicie.
"I tried to be a student of his and listen to everything and absorb as much as I could," Gueller said. "I was pretty fresh in knowing anything about football. Anything that was a coaching point was something I was trying to take in and soak it up as much as possible."
Phenicie was named head coach of the Bengal football program on March 30, and Gueller and the rest of the ISU football players have taken to his leadership and management of the team.
"Coach Phen has made the effort to put a lot more faith into the guys on the team and believe that we can do it," Gueller said. "With us being the competitors that we all are nobody wants to lose and let each other down. By putting it on us to take care of business and entrusting us to do it, he is getting more out of us."
Gueller added, "Guys are more willing to work to do what it takes to get where we need to go instead of just expecting us to do it without following up. He trusts what we are doing and believes we can win."
Gueller said Phenicie's attention to detail has been big for the players.
"Everything he does has a purpose," Gueller said. "I want to do more every time he tells me to do something because I know it's going to help me win on Saturdays."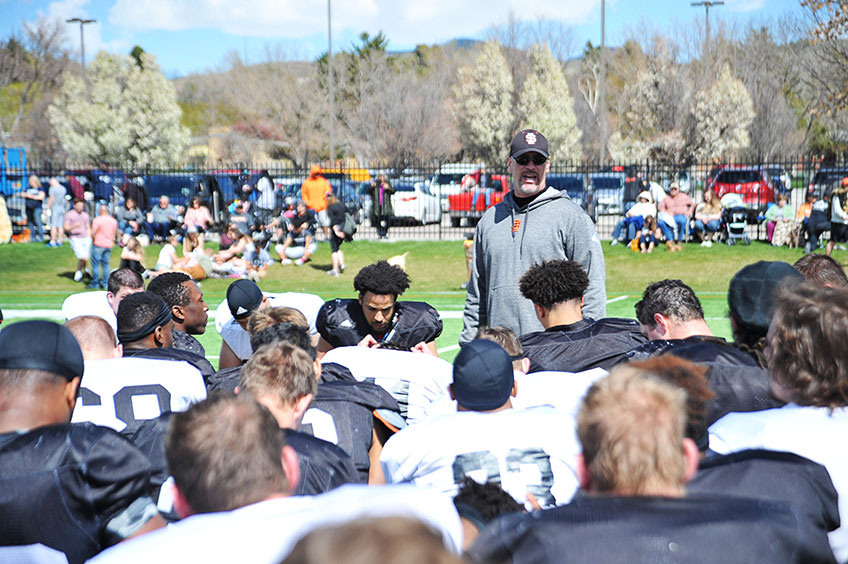 That purpose Phenicie has instilled in his players didn't happen overnight. The Bengal head coach has had 26 years of being mentored by nationally-renowned coaches to prepare him for his current post.
Phenicie credits his high school coach, Bill Workman, for teaching him how to be competitive.
"We were so competitive," Phenicie said. "We tried to win summer passing leagues and dominate whatever phase we were in."
During Phenicie's first job as a graduate assistant at Memphis State he learned the importance of a valuable work ethic from Chuck Stobart.
"I learned the hours it takes to do this job," he said.
Phenicie then spent time at UCLA as a graduate assistant under Terry Donahue and offensive coordinator Homer Smith learning offenses and how to attack defenses.
"I thought I was going to learn all this amazing offense from UCLA and the first day I get there Homer hands me a packet of defenses and said, 'Here learn these.' I learned defense in addition to the offense. I learned about technique and how to treat people from Rick Neuheisel. Neuheisel was on the cutting edge of all the fun stuff people do now. He was doing it back in the '90s."
When it comes to learning how to handle all the duties a head coach carries, Phenicie credits former Montana and UNLV coach Bobby Hauck. Phenicie spent 12 years with Hauck in Missoula and Las Vegas.
"I learned toughness and detail," he said. "He has shaped me as a head coach now more than anybody in terms of that. I retained a lot more than I thought."
"Everything Matters is the theme for this year. This is going to be who we are and what we are," Phenicie said. "Everything you do from school, study hall and behavior in public. You could get into the finite details of steps on a play. Everything you do matters in terms of moving our program forward. This a real detailed statement that I like."
The Everything Matters slogan was evident with the players from day one. In the first team meeting Phenicie detailed the team's schedule for the next several months and set expectations. Instead of just sending the team out for its first spring practice they had a walkthrough of what practice was going to be like.
"We practiced a practice before we ever went out there so on the first day people weren't running around crazy," Phenicie said. "I think the team appreciated that. Showing the kids that you have a plan is important. That is what I did."
As Phenicie takes his program into his first fall as head coach he wants to see his team continue to establish a level of toughness, not flinch on things and be competitive.
"The kids have bought into it," he said. "Competiveness isn't something you turn on just on Saturday. You have to be ready to go all week. As long as we compete we are going to put ourselves in a position to win games."
Phenicie has also made sure his program has made a difference in the community. He and his players have been seen at libraries, schools and other local events.
"The people appreciate seeing that you are a normal person," he said.
After an elementary school visit in Idaho Falls in May, wide receiver Scooby Reynolds sent his coach a text saying, "Wow, those kids really look up to us don't they?" Phenicie responded with a text of, "That is why I preach to you about doing things right because they do look up to you."
Reynolds response was, "That fires me up for the season even more."
Everything Matters Campaign
In the trenches to raise Funds for Idaho State University Football
When you make a gift designated to ISU Football, you are pledging your support to our coaches and their visions for how to successfully elevate Idaho State Football to a new level of excellence. Whether it is invested in team travel throughout the season, training equipment upgrades, nutrition or recruiting enhancements, your gift will go directly to supporting your team.
Our team depends on your gift and we are truly grateful for your continued support. Invest in our team today, because Everything Matters!