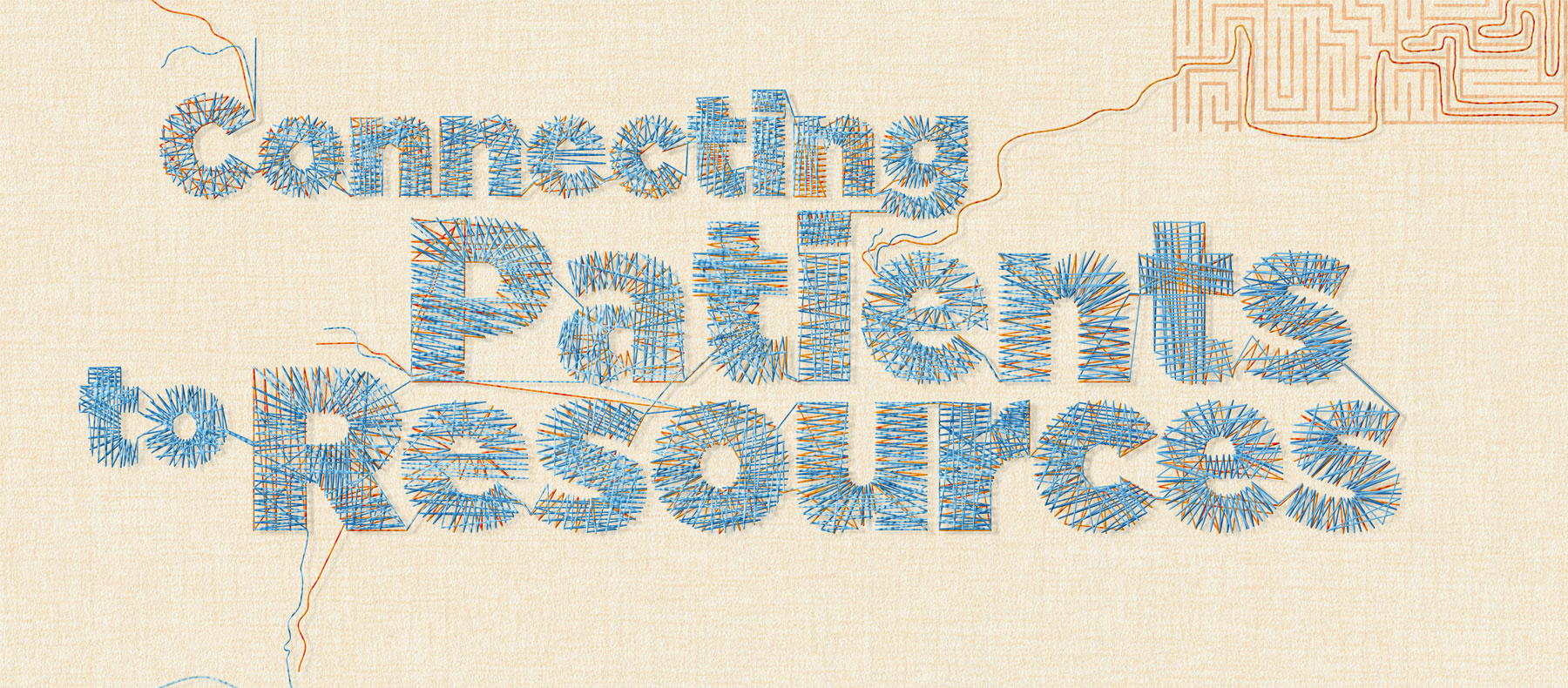 In an examination room at the Genesis Community Clinic in Garden City, Johnny Farrell reviews notes on a clipboard as he talks to patient Pamela Berner.
He wants to know how she's faring since her last visit. Is there anything going on in her life she'd like to talk about?
Farrell is a community health worker. He may not possess the advanced medical skills of a doctor or nurse, but he's an equally valued member of the Genesis health-care team. After medical issues are addressed, Farrell meets with patients privately, screening them for socioeconomic factors that impact their lives.
"Community health workers address the social determinants that affect a patient's health and well-being," says Josh Campbell, Genesis programs director and a 2012 graduate of Idaho State University's Master of Public Health program.
Those determinants include factors, such as access to nutritious food, transportation, adequate housing, employment and healthy relationships. "They can impact how long you live and how well you live," he says.
ISU and CHWs
Since fall 2016, Idaho State University's Institute of Emergency Management, based in Meridian, has provided training for community health workers through a grant from the Idaho Department of Health and Welfare's Bureau of Rural Health and Primary Care.
The goal of the community health worker program is to "improve access (to health care) in our rural and underserved areas," says Bureau Chief Mary Sheridan, noting that much of Idaho falls into that category.
The 16-week, online class is free to students participating in Idaho's State Healthcare Innovation Plan—a $40 million, federally-funded initiative to improve health outcomes and patient care statewide while lowering health care costs for all Idahoans.
ISU was selected to do the training—a curriculum developed by the Massachusetts Department of Public Health and tweaked to fit Idaho's needs—because of the university's expertise in delivering online and health care education, says Sheridan.
ISU and Sheridan's team would like to train 200 community health workers before SHIP's federal funding ends in January 2019. As of this spring, 36 students had gone through the training, representing most every region of the state. They're schooled in how to communicate effectively, build community trust, the importance of early intervention, and how to link people to resources that can improve health.
"Resources can include transportation to the doctor's office, linking a person to a primary-care doctor, or helping a person make an appointment for a health screening or test," says Mike Mikitish, director of ISU's Emergency Management Institute.
The medical and public health communities see community health workers as an effective way to link people to preventive care before becoming so ill they're forced to seek treatment in hospital emergency rooms, driving up the cost of health care.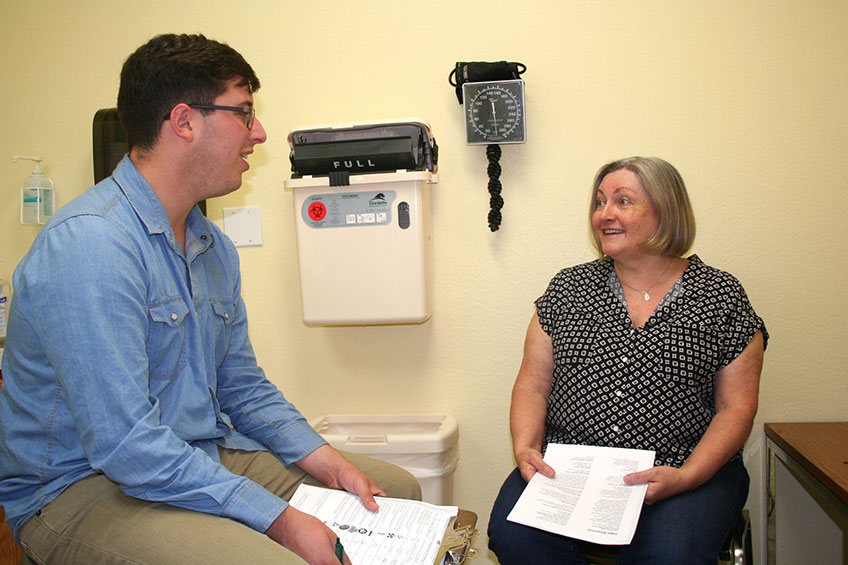 Genesis Community Health Worker Coordinator Johnny Farrell meets with patient Pamela Berner.
Idaho has yet to determine the impact of the community health worker program on health care costs, but advocates point to global research that shows communities using community health workers report increases in screening rates for diseases or disabilities—which, coupled with early intervention, can improve health outcomes.
"It's been shown that community health workers are very effective in cultivating trust"—a key factor in successful community outreach, says Ryan Lindsay, an ISU assistant professor of public health and an instructor in the community health worker program.
Farrell, who took the ISU course a year ago, appreciated the insight and public health expertise—from both instructors and students.
"It was very collaborative. There were people doing similar things, but coming at it from different perspectives," says Farrell, who coordinates the community health worker program at Genesis.
Genesis Sees Success
Over a recent 11-month period, Genesis community health workers had interactions with 913 patients and made 1,829 successful referrals, says programs director Campbell.
And 64-year-old Pamela Berner is one of them. Back in the examination room, she and Farrell are wrapping up their discussion.
She tells him she's doing well—walking more than two miles a day and watching her diet. Berner then shares a situation that's causing her great concern. A contractor owes her thousands of dollars for home repair work he has failed to complete and she doesn't know what to do.
"I've run out of resources," says Berner, a customer service contract worker for a Boise company.
Farrell gives her the address and phone number of Idaho Legal Aid, a non-profit law firm that provides free civil legal assistance to low-income citizens.
It's connections like this that make community health workers a valuable member of a health care team, thanks to their ability to build trust and connect people to community resources than can help them.
Berner is grateful for the impact on her own life. "My health has improved drastically. It's made me a more informed and better member of our community," she says.