Progressive Pharmacy Laws... and Curriculum to Match
Idaho is one of the most progressive states for pharmacy practice. Idaho laws have been rapidly expanding a pharmacist's scope of practice, making Idaho a great place for pharmacists interested in being at the forefront of innovation.
Recently, Idaho pharmacists have been granted the authority to provide a wide range of services such as:
prescribing for and administering walk-in immunizations
point-of-care diagnostic tests
independent prescribing of medications for common ailments such as:

flu
urinary tract infections
smoking cessation
Idaho's collaborative practice laws for pharmacists have streamlined patient care for more than 20 years. Similarly, the Idaho Board of Pharmacy has also expanded the range of tasks pharmacists may delegate to pharmacy technicians to perform, therefore reducing the workload for the pharmacist. This allows for improved workflow, and for pharmacists to focus on clinical responsibilities and advanced patient care. Idaho is also the first state in the nation to allow for a pharmacy multi-state licensure compact, allowing Idaho licensed pharmacists to seamlessly practice in other states who may participate.
Podcast on Rx Radio
Richard Waithe, PharmD, host of Rx Radio: Pharmacy's Podcast talks to our own Dr. Jen Adams, Associate Dean for Academic Affairs and Laura Westover, Class of 2023, Pocatello about ISU, pharmacy practice and all things pharmacy.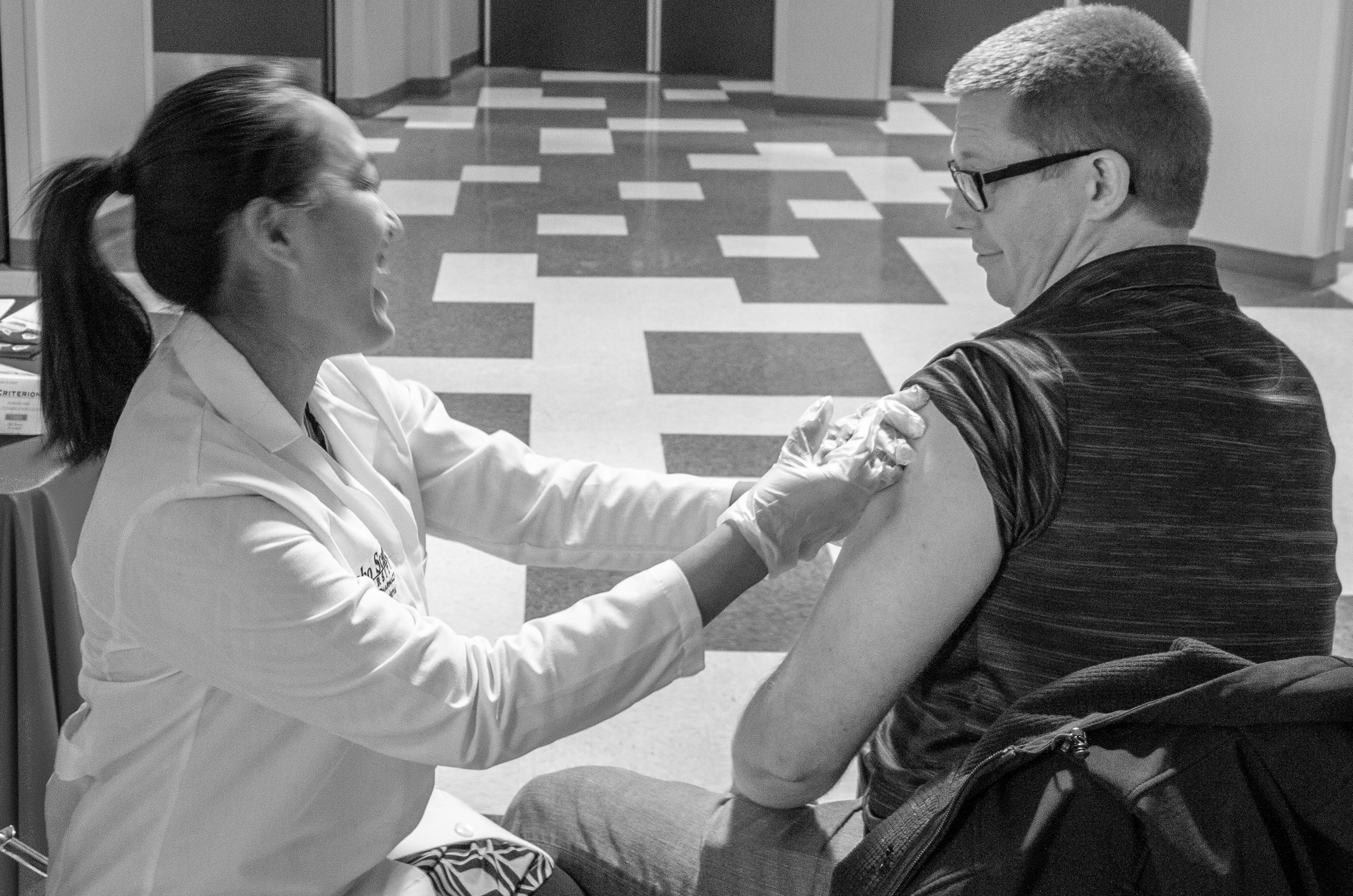 POCATELLO - October 12, 2019
Idaho boasts some of the most progressive pharmacy practice laws in the country. With recent changes that significantly expand prescriptive authority, pharmacists in Idaho can now test for and prescribe medications for a number of common ailments, such as influenza and strep throat. The College of Pharmacy enjoys active support and collaboration with the Idaho legislature, with lawmakers who are committed to the successful future of the industry and its research efforts. In 2017 through 2019, major changes were made to pharmacy practice laws in Idaho. Multiple laws were modified and updated in order to protect and better help patients access therapies.
These new regulations include therapeutic substitution within the same therapeutic class in any practice setting, adaptation of a prescription without verbal authority of the prescriber to fix common prescribing mistakes, allowance for prescribers to indicate the diagnosis and authorize the pharmacist to treat the condition, and also updates and modernizes provisions of the Idaho Pharmacy Practice Act related to licensure and registration.
Additionally, a bill was passed that requires all controlled substances and opioid antagonists (including naloxone) to be reported to the Idaho Prescription Monitoring Program. It also includes legislation allowing all licensed and registered healthcare providers (including pharmacy technicians) in the state to prescribe and dispense opioid antagonists. Possibly the most exciting bill passed (House Bill 182 in 2019) allows pharmacists to independently prescribe medications for conditions that do not require a new diagnosis, conditions that are minor and self-limiting, conditions that can be diagnosed with a CLIAwaived test, and for situations that the pharmacist, using their professional judgment, determines to be an emergency. Prior to this bill, the Board of Pharmacy was required to develop lists of conditions and medications in each category and pharmacist prescriptive authority was limited based on those lists. The recent legislation now allows broad independent prescriptive authority in the previously mentioned categories and removes the requirement for the Board of Pharmacy to list conditions and medications.
In just a short time, we have already seen positive results from the changes made. Alex Adams, administrator for the Idaho Division of Financial Management and former executive director for the Idaho State Board of Pharmacy states, "The Board of Pharmacy has taken an evidence-based approach to updating and modernizing its regulations. The end product is a more permissive regulatory structure that enables enhanced patient care while protecting public health and safety. We have already heard positive necdotes from patients who have benefited from the new regulations."
Overall, the changes greatly improve access to care and over time will allow pharmacists to build better relationships with patients. The College of Pharmacy at ISU is taking the lead on implementing and researching these new practice changes and implementing the needed curricular changes to best prepare our students for the future as independent practitioners.