2022 Professional Achievement Award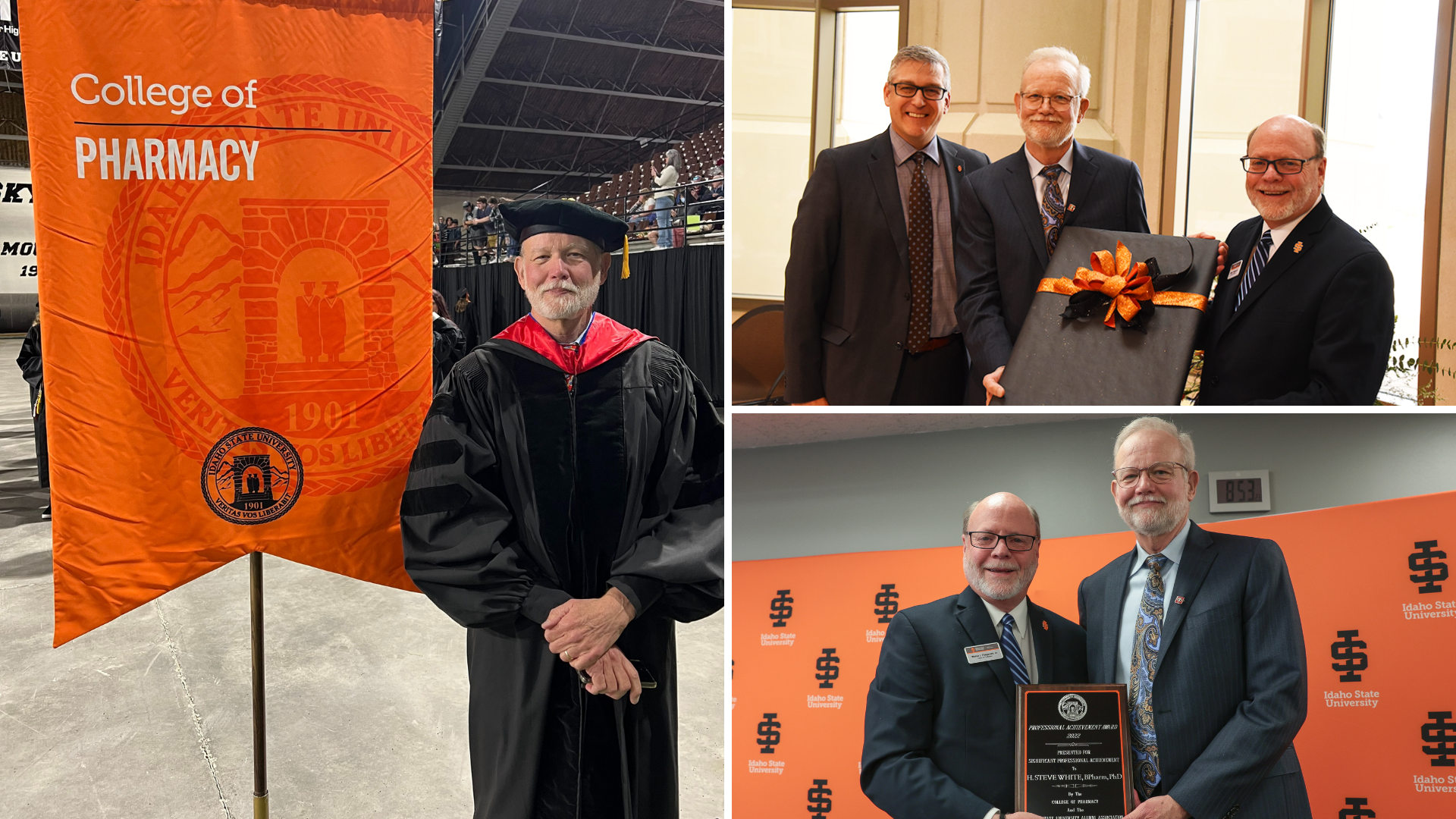 College of Pharmacy
The College of Pharmacy 2022 Professional Achievement Award Recipient is Dr. H. Steve White.
The Professional Achievement Award is the most prestigious award that Idaho State University bestows upon a member of its alumni. To be selected, the individual chosen must have been out of school for at least 10 years, and must have excelled in their chosen field through the attainment of significant success and notable accomplishments. By making important contributions to their profession, they must have demonstrated community and civic involvement above and beyond their association with ISU.
Dr. White earned his bachelor's degree in Pharmacy at Idaho State in 1977. Upon graduation he worked as a community pharmacist in Salmon, ID. Steve then returned to ISU where he graduated with a master's degree in Pharmacology in 1979. Steve earned his PhD in Pharmacology at the University of Utah where he rose through the academic ranks after joining the College of Pharmacy faculty in 1986. In 2016, Steve joined the University of Washington School of Pharmacy as Chair of the Department of Pharmacy.
Steve's research is focused on understanding the factors that contribute to the initiation, propagation, and amelioration of seizure activity. Steve has been the recipient of significant research funding from the National Institute of Neurological Disorders and Stroke (NINDS), National Institutes of Health (NIH), and he and his collaborators have published over 170 original papers pertaining to the mechanism of action and the pharmacology of antiepileptic drugs.
Steve has been actively engaged as a mentor for the next generation of neuroscientists and epilepsy educators, and he is frequently invited to speak at national and international congresses.
In 2011, Steve received an Honorary Doctor of Science degree from The University of Copenhagen Faculty of Pharmaceutical Sciences in Copenhagen, Denmark. In 2014, he was named the recipient of the Epilepsy Foundation's Lifetime Accelerator Award, in recognition of his commitment and pioneering contributions to the field of epilepsy and seizures.
Steve received the Extraordinary Contribution to the Field of Epilepsy Award from the American Epilepsy Society in 2020. He received this award for his many "pioneering contributions to the field of epilepsy and seizures, through seminal research on understanding factors which contribute to initiation, propagation and amelioration of seizure activity, for the worldwide impact of his mentorship of the next generation of neuroscientist network educators, dedication to his trainees and staff, and major contributions to the epilepsy research community."
During our Centennial Celebration last September, Steve was our guest lecturer for the Chu Lectureship. Congratulations! It is truly our honor to recognize Dr. White as our 2022 Professional Achievement Award Recipient for the Idaho State University College of Pharmacy.