Graduate Studies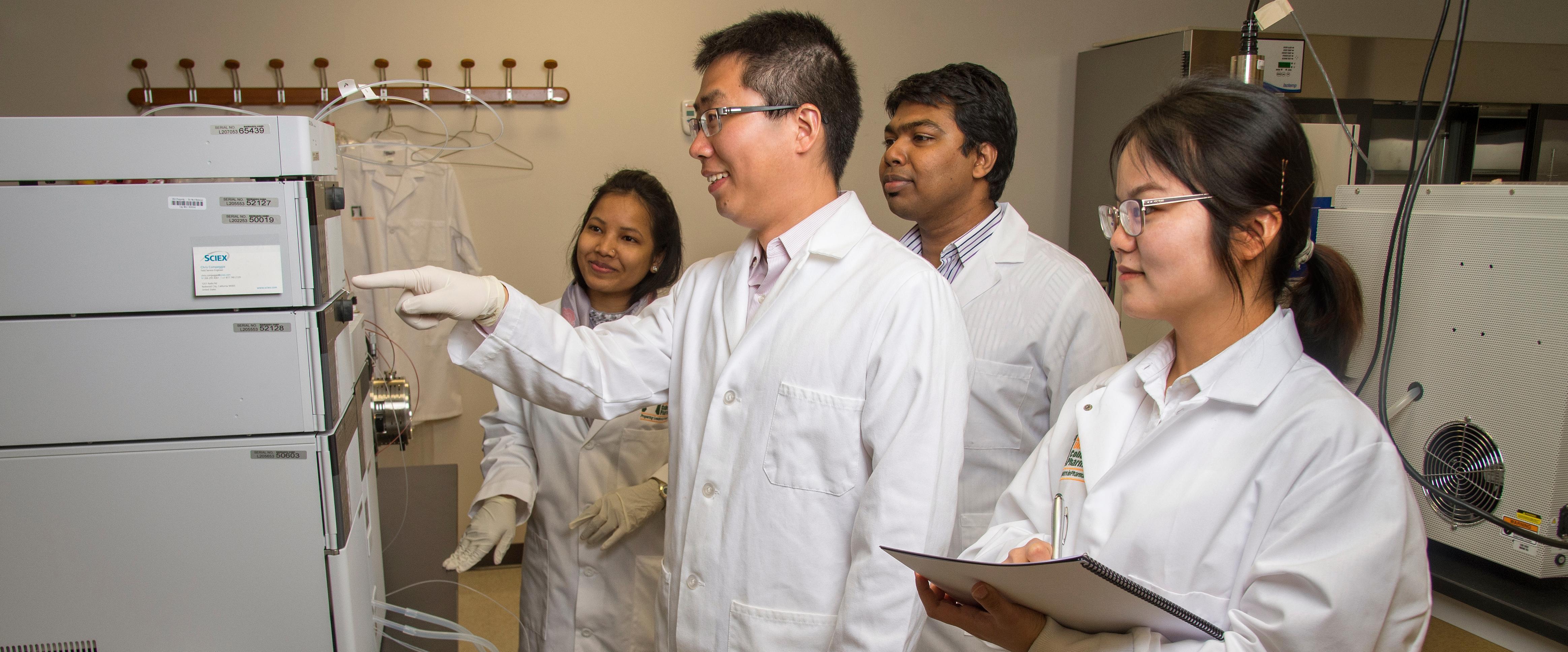 The Department of Biomedical and Pharmaceutical Sciences (BPSCI) is a multidisciplinary unit in the L. S. Skaggs College of Pharmacy at Idaho State University (ISU). BPSCI is the sole state program for post-graduate education in the biomedical and pharmaceutical sciences. The mission of the BPSCI graduate program is to train and prepare students to succeed in one of the biomedical and pharmaceutical science disciplines: Drug Discovery and Development, Pharmaceutics, Pharmacometrics, and Pharmacology/Toxicology. BPSCI currently has 9 full-time faculty and multiple allied faculty from the Boise Veterans Affairs Medical Center and Boise State University. BPSCI operates in the Sam and Aline Skaggs Health Science Center of ISU Boise-Meridian campus, in Leonard Hall of ISU Pocatello campus and in the Physical Studies Building at University of Alaska-Anchorage.
Two graduate degrees, the Doctor of Philosophy (Ph.D.) and the Master of Science (M.S.) are offered by ISU.
Career opportunities for individuals with a graduate degree in the Pharmaceutical Sciences include positions in academia (both research and teaching), pharmaceutical industry, and government regulatory agencies to name a few. Further education or development may allow an individual to pursue opportunities in business or administration.
Graduate degrees may be obtained in one of the following broad disciplines:
Drug Discovery
Pharmaceutics
Pharmacokinetics
Pharmacology
Health Outcomes & Policy Research
Pharmacoeconomics & Administrative Science
Drug Discovery is the process by which new or existing chemical species are found for the treatment of various diseases and carried through preclinical and clinical studies until they receive FDA approval. This is an inherently cross-disciplinary process involving medicinal chemistry, natural products chemistry, computational chemistry, bioanalytical chemistry, and structural biology. The department's current research strengths in this area include structural biology (x-ray crystallography), bioanalytical chemistry, and computer-aided drug discovery.
Pharmaceutics is the science that deals with the design and evaluation of contemporary pharmaceutical dosage forms and drug delivery systems to ensure their safety, effectiveness and reliability. Pharmaceutics places a strong emphasis on understanding and exploiting the principles underlying drug delivery, whether a drug is a small organic molecule, a higher molecular weight protein, or a peptide derived through the use of biotechnology. Current projects underway in the department include the development of permeability/penetration enhancers for poorly soluble drugs including protein and peptides; and production of polymer nanoparticles that can be used for drug delivery.
Pharmacokinetics is the science that deals with the quantitative analysis of interactions between drugs and patients. It involves measuring drug exposure (pharmacokinetics), drug response (pharmacodynamics), and drug-disease modeling and is based on principles of pharmacology and physiology. This science quantifies drug action, adverse effects, and drug metabolism to aid in efficient drug development and patient pharmacotherapy.
Pharmacology is the study of drug action on biological systems, while toxicology is the study of the adverse effects of chemicals on living organisms. These are basic sciences that may encompass physiology, behavioral sciences, cell biology and molecular genetics. Studies may be directed at the whole animal, isolated organs or cells or DNA. Currently research areas in our department include alcohol addiction and dependence, neuropharmacology, cancer biology and treatment, and signaling mechanisms underlying cell growth and death.
The social and administrative pharmacy sciences include research in health outcomes, health policy, pharmacoeconomics (the study and comparison of the value of drug therapies) and pharmacy administration. These sciences evaluate the economic, clinical, and societal impacts of medical treatment and can involve research in patient outcomes, public health policy, health disparities, and medication management services.
Graduate Studies