South Korean student pharmacist reflects on experience in Idaho
POCATELLO - November 21, 2022
Amid a busy learning and pharmacy rotation schedule, celebrating the 4th of July and trips to the Tetons and Lagoon Amusement Park in Utah top the list of Suyeon Kwon's favorite experiences while spending four weeks in Idaho. Students from ISU's College of Pharmacy, who are part of the global organization International Pharmaceutical Students' Federation, helped to arrange the recent visit. Kwon says as she was applying for the student exchange program, the United States was her first choice of countries to visit, with Canada second and Australia as her third choice.
Kwon says there are both similarities and differences between pharmacy school and the pharmacy industry in Seoul, South Korea's capital. For example, the process of obtaining a pharmacy degree in Korea takes at least six years, just like in the U.S.
She says in Korea, most retail pharmacies are owned by local owners who run their own businesses, which is different from the changing pharmacy scene in the U.S., where most retail pharmacies are run by larger businesses such as CVS, Walgreens and WalMart.
Other differences include the types of patients, the diseases being treated and the medications used for treatment.. "There are not many HIV patients in Korea, compared to here," says Kwon. "I didn't really know about HIV or about the medications used to treat it, but I've learned more about it here. After seeing the patients in person, and seeing that they can live their lives well, they can get married, have kids, and they can work. Because of the medications available, they can just live a normal life and that changed my view of HIV," she says.
Unlike the U.S., obesity is not a problem in Korea, but hypertension, cancer and diabetes are among the top deadly diseases affecting Koreans.
Kwon is currently in her fifth year in the program and is hoping to work in hospital pharmacy, based on her experience visiting Bingham Memorial Hospital in Blackfoot.
"Looking through the prescriptions and sometimes if there's a medication that's been prescribed, pharmacists look through and sometimes you have to call the doctor and check with them one more time, and all those processes were so amazing. If I work in hospital pharmacy, there are a lot more jobs compared to just local pharmacies. I'd like to learn more about helping severe patients and applying diverse medications also," Kwon explains.
David Hachey, a professor with the Department of Family Medicine and director of HIV services, offered his home for Kwon's visit, and arranged much of her clinical schedule. Hachey says Kwon had the opportunity to spend time in the pharmacies at several local health care facilities, including Health West, Bingham Memorial Hospital, Bengal Pharmacy and St. Luke's Hospital's Twin Falls location.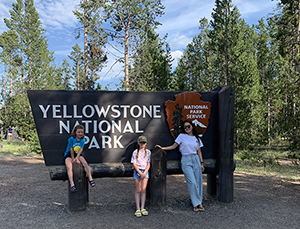 "Because of our partnerships across the state, she was able to work in clinics that support people living with HIV, transgender care, diabetes, and medication assisted therapy (MAT) for patients with opioid use disorder. Suyeon was also able to work interprofessionally with physicians, nurse practitioners and pharmacists in a variety of settings, which is less common in Korea," Hachey explains.
Hachey says Kwon brings a lot of perspective, which is good for providers and patients in Idaho and for ISU as well. "One of the interesting things about the landscape in South Korea is the low rates of injection drug use. There is little to none of this in South Korea, so the concept of syringe exchange programs and drug dependence are rare so it gives us a perspective of where we might be able to get to at some point with better policies, intervention methods and prevention."
Even though they had never met, and she was a little worried at first, Kwon says she and Hachey's family have enjoyed getting to know each other and learn from each other. "At first I was thinking, 'how will I survive,' there are no parents, no friends, only me. But after I took my first flight, those worries were gone. I enjoyed my flight, watched some movies and I was excited to go to another country," says Kwon.
Hachey agrees. "We learn much differently from people who are less like ourselves and come from different cultures. Anytime you can get out of your comfort zone, it's an opportunity to become better humans, and for Suyeon coming here, there's been professional and personal growth and doors that have opened. But for me and my family, having the opportunity to host a student and bring someone like her into our lives, makes us look at things differently and it's been an absolute joy to have her here."