College of Pharmacy
Dr. Nicole Chopski has been selected as the 2020 Idaho State University Professional Achievement Award recipient for the College of Pharmacy.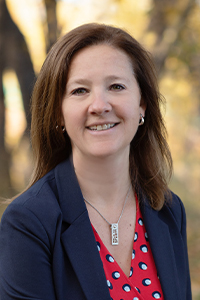 Chopski received her Doctor of Pharmacy degree from ISU in 1997. Upon choosing to attend Idaho State University, Chopski was awarded a Kasiska health scholarship, made possible by generous contributions to ISU from the Kasiska family. The Kasiska Division of Health Sciences now carries that name in honor of the immense support from the family spanning several decades.
Chopski currently serves as the Executive Director of the Idaho State Board of Pharmacy. She is certified as an authorized nuclear pharmacist, recognized by the Nuclear Regulatory Commission for more than a decade, and partnered to open Advanced Isotopes of Idaho, an independent nuclear pharmacy. Prior to her current position, Chopski was a staff pharmacist at Portneuf Medical Center.
Outside of pharmacy, her interests include riding her Harley Davidson motorcycle, traveling and serving the POW*MIA Awareness Association locally and National League of POW/MIA Families nationally.Dr. Chopski is active in several organizations, including the National Association of Boards of Pharmacy (NABP), where she served on many of the Association's committees and as a past voting delegate at the NABP Annual Meetings. She is also a member of the Southeast Idaho Medical Reserve Corps, and the Southeastern Idaho Pharmaceutical Association, and has earned a number of certifications related to pharmacy practice from the American Pharmacists Association. She is also an active member of the ISU College of Pharmacy Dean's Advisory Council.