The Office of the General Counsel Team
Blake Christensen
General Counsel, Chief Compliance Officer, Risk Manager
Administration 321
Phone: 208-282-3234
Fax: 208-282-4821
blakechristensen@isu.edu

As General Counsel and Chief Compliance Officer, Blake oversees all legal and compliance functions for Idaho State University and sits on the President's Administrative Council (Cabinet). Blake counsels on a wide variety of higher education issues, among which are student and academic affairs, employment, governance, athletics, Title IX, contracting, privacy, public records, intellectual property, state and federal regulatory compliance, and university policy. In addition to providing legal advice and representation, Blake has supervisory responsibility over the university's legal, HIPAA, athletics compliance, workers compensation, and risk management offices.
Blake joined ISU in July 2020 after serving as associate general counsel for Montana State University and working for a large law firm in Virginia. Blake graduated cum laude from the William & Mary Law School in Williamsburg, Virginia.
Nick Tranmer
Associate General Counsel
Administration 321
Phone: 208-282-3022
Fax: 208-282-4821
nicholastranmer@isu.edu
As Associate General Counsel, Nick works with the Office of General Counsel on all legal and compliance-related needs of Idaho State University. In addition to overseeing the University contracting process, Nick works on a wide variety of higher education issues, among which are student and academic affairs, athletics, governance, employment, Title IX, constitutional law, contracting, privacy, public records, intellectual property, and university policy.
Nick attended Idaho State University from 2006 to 2011 and graduated ISU with a B.S. in Political Science. Nick then attended the University of Idaho College of Law and obtained his J.D. Nick has a long history of working in Idaho public service as shown by his previous employment as a Canyon County Public Defender and a Bannock County Prosecutor. Nick joined ISU as Associate General Counsel in June of 2021.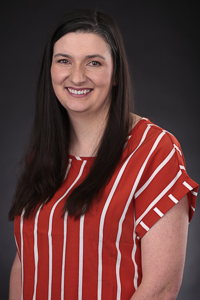 Misty is the HIPAA Compliance Officer for the Office of the General Counsel and serves as the HIPAA Privacy Officer and the HIPAA Security Officer. She works with the Division of Health Sciences, Office of the General Counsel and the Information Technology Services to lead all aspects of the University's HIPAA Compliance program ensuring continued compliance with federal and state regulations concerning privacy and security.
Misty graduated from Idaho State University in 2007 with a B.S. in Zoology and attended Weber State University to obtain her Post Baccalaureate in Health Information Management. She is a Registered Health Information Administrator (RHIA) and has a background working as a Privacy and Healthcare Compliance Officer. She joined ISU as the HIPAA Compliance Officer in September of 2021.
Whitney serves as the Legal Programs Manager for the Office of the General Counsel. Her role is to provide operational and financial support for the Office of the General Counsel and manage a range of programs. She oversees programs including the legal education program, Jaggaer contract management, public records requests, website design and property leasing. In addition to these tasks, Whitney serves on the Cleary Compliance Committee, is a trained Title IX decision maker, and works as a project manager.
Whitney has been with ISU since 2017. She graduated with a BA in History from Idaho State University and a Masters in Public Administration. Prior to working in the Office of the General Counsel Whitney worked as the Regulatory Affairs Specialist for eISU and has worked in Idaho public service for over eight years. She is highly involved in community affairs and is a proud member of the Pocatello/Chubbuck Chamber of Commerce and serves on the Pocatello Planning and Zoning commission.
Jason Russell
Legal and Compliance Manager
Administration 321
jasonrussell@isu.edu
As Legal Compliance Manager for the Office of General Counsel, Jason is responsible for reviewing, drafting, and negotiating affiliation agreement contracts for ISU's various healthcare programs within the Kasiska Division of Health Sciences, College of Arts and Letters, and College of Technology Health Occupations. Affiliation agreements enable programs to place their students and Residents in clinical rotations at hospitals, clinics, pharmacies, and schools around the country. Part of the affiliation agreement process includes student malpractice insurance, certificates of insurance, and
student background checks.
Jason graduated from Idaho State University in 2019 with a Bachelor of Business Administration- Marketing, and in 2022 with a Master of Public Administration. Prior to working in the Office of the General Counsel, Jason worked with many wonderful professors as a teaching assistant in ISU's Political Science Department. He also worked for the Bureau of Land Management as a firefighter.
Aubrie oversees the Risk Management Program and the Worker's Compensation Program. Her role is to provide a safe environment for the campus community, as well as protect and preserve the University's assets from adverse effects of physical and financial loss. Aubrie handles the insurance needs for claims and accidents for the University. Aubrie also oversees the Protection of Minors program for the University.
Aubrie has a Bachelor of Science Degree in Psychology and graduated with her Master of Public Administration Degree in 2021. Aubrie is a proud alumnus of Idaho State University. She has extensively studied Disaster Policy, Public Policy Analysis, Public Workplace Issues, and has completed research regarding the COVID-19 Pandemic as well as the Narrative Policy Framework in Disaster films. Aubrie currently serves on the board of a nonprofit scholarship program and is committed to public service.
Athletics Compliance
Cody Sparrow
Assistant Athletic Director for Compliance
Holt Arena 125-l
Phone: 208-282-2486
sparcody@isu.edu
Cody serves as the Assistant Athletic Director for Compliance for the Office of the General Counsel and Athletics. He works with student-athletes, coaches, university personnel, and the community. Cody oversees rules education and interpretations, violations, waivers, recruiting, certification, and annual reports for NCAA, Big Sky Conference, and ISU. He is also an adjunct instructor for the Human Performance and Sport Science Department and serves as the Title IX Investigator and representative for several committees at ISU and in the Big Sky Conference.
Joining ISU in 2014, Cody served as a Graduation Specialist in the Office of the Registrar. Before this he was an Athletics Academic Advisor and Coordinator at Utah Valley University. He graduated from ISU with a BA in Physical Education with an emphasis in Sports Management. He continued his education receiving both a Masters of Physical Education in Athletic Administration in August of 2011, and A Master's of Business Administration in 2017.
Blaise Burns
Assistant Athletics Compliance Officer
Holt Arena 125
Phone: 208-282-3332
burnblai@isu.edu
As the Assistant Athletic Compliance Officer, Blaise oversees many aspects of recruiting and playing seasons with all 15 of Idaho States Division 1 teams. He works with coaches and staff to understand and effectively use the FrontRush software to track recruiting contacts to playing logs and pass lists. He takes an active part in monthly Rules Education meetings to help the Athletic Department stay up to date on Big Sky Conference and NCAA legislation. Furthermore, he assists incoming Student-Athletes receive their certifications through the NCAA Eligibility Center.
Blaise started with ISU as a Compliance Office intern in 2016, then a Career Path Intern in the Sports Information Department in 2017. He has been in his current position since June of 2018.
Sponsored Programs
Pati Spotts
Director of Research Contracts, Office of Research
Business & Technology Center 115E
Phone: 208-282-3478
spotpatr@isu.edu
Pati serves as the Director of Research Contracts for the Office of Research and works in close coordination with the Office of General Counsel. In this role, she provides legal oversight and management for the legal agreements and contracts with private and public entities that provide grants and other sponsored project funding. She also handles research subcontracts, MTAs, NDAs and similar instruments.
Pati has been at ISU since 2015. Before moving to Pocatello, she worked at the University of South Carolina as the Associate Director of Patent Management in the Office of Technology Commercialization working closely with Sponsored Awards Administration. Her other professional experience includes working as a Research Associate and Psychometrist at Vanderbilt University, and as a Biology Instructor at Purdue University.
Office of the President
Libby Howe
University Policy Manager, Office of the President
Administration 321
Phone: 208-282-2930
libbyhowe@isu.edu
Libby serves as the University Policy Manager for the Office of the President and works in close coordination with the Office of General Counsel. She is responsible for the management and maintenance of the University's official policies and procedures. She is tasked with representing competing points of view on policies to the Administrative Council on behalf of all university constituency groups. She brings a transparent, open and empathetic approach to the policy process and focuses on mission in all policy development efforts.
Since 2001, Libby has served in a variety of positions in Idaho State University's Office of Marketing and Communications. Her experience as the Director of University Relations brings valuable insight to the policy-making process, providing historical context for the operational processes and decisions that have been made at the University over the last two decades. Prior to her time at ISU, Libby held positions as a television news journalist in Idaho Falls and Pocatello.