News
AHEC Grant to Improve Primary Care Services in Rural Communities
Idaho State University has been awarded a $386,250 grant to establish an area health education center or AHEC to improve access to primary care in southeast Idaho's underserved and rural communities.
The Southeast Idaho AHEC will be housed in the university's Institute of Rural Health and provide interdisciplinary training for ISU health professions students, including those enrolled in nursing, pharmacy and physician assistant studies programs, said Elizabeth Fore, IRH interim director and an assistant professor of public health.
The center, which will serve 24 counties in eastern Idaho, will also provide information about continuing education for working health practitioners and serve as a pipeline to recruit high school students to careers in the health professions.
The ISU award, which began Sept. 1, will run through Aug. 31, 2022. Diana Campanella Schow took the helm as center director March 30. One of her priorities this year is to develop and implement the WAMI-AHEC Scholars Program, which will provide additional training in underserved and rural communities for up to 15 students a year.
Other priorities include advancing interprofessional opportunities for students and health professionals, coordinating continuing education activities and establishing field sites for student rotations.
The center's interdisciplinary focus will encourage health professions students and practitioners to work as a team, sharing knowledge, expertise and resources unique to their disciplines—an approach designed to improve access to primary care in rural communities facing a shortage of health care providers, Schow said.
"Our students are going to get a lot of hands-on education, especially in the rural areas. If we can get them used to working in rural communities, they are going to be more likely to work in those communities or similar ones after they graduate," Fore said.
The ISU award is part of a $3 million grant awarded to the University of Washington's WWAMI program by the U.S. Health Resources and Services Administration. WWAMI is a regional medical education partnership established in the 1970s to train primary care physicians in Washington, Wyoming, Alaska, Montana, and Idaho.
The Southeast Idaho AHEC is one of three in the state. Each serves a specific geographic region.
Chris Gabettas
---
Three Named as Distinguished Faculty
Three Idaho State University faculty were honored as Distinguished Faculty at ISU Commencement. The recipients are Glenda Carr, Andy Holland and Michele Brumley.
"These are the highest honors bestowed on faculty at Idaho State and it is a distinction to receive one of these three awards," said Laura Woodworth-Ney, ISU executive vice president and provost for academic affairs. "These are among our accomplished faculty and we are proud to recognize them."
Distinguished Service
Glenda Carr
Carr, a clinical assistant pharmacy professor, has taught at ISU-Meridian since 2002.
She is co-founder and director of ISU's Community Health Screening Program—six free screenings held annually in the Treasure Valley to connect underserved and underinsured adults to medical, dental and mental health services.
Since the program's inception in 2010, the screenings have served more than 1,000 adults, keeping many participants out of hospital emergency rooms and easing the financial burden on Ada County taxpayers. The screenings provide ISU student clinicians with an interdisciplinary educational experience unsurpassed in Idaho. Community partners include Ada County Indigent Services, Family Medicine Residency of Idaho, Terry Reilly Health Services, the Friendship Clinic, the Idaho Foodbank and the Idaho Department of Health and Welfare.
When Carr isn't mentoring or teaching students, she is likely pulling a shift at Terry Reilly Health Services in Nampa, a community health center dedicated to providing affordable, comprehensive and quality care to Treasure Valley residents. Since 2007, Carr has co-advised the ISU chapter of the American Pharmacists Association-Academy of Student Pharmacists. Her duties involve guiding students in community outreach projects such as Operation Immunization, Operation Diabetes and Meth Awareness. In 2017, the APhA named her Outstanding Chapter Advisor of the Year.
Carr holds a pharmacy doctorate from University of Montana.
Distinguished Teaching
Andy Holland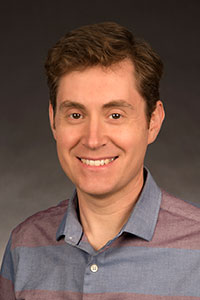 Holland has taught in ISU's Department of Chemistry since 2004, teaching more than a dozen different courses across all levels of the inorganic and organic chemistry curricula.
In addition to his work in the classroom, he coordinates a department-wide summer research program for disadvantaged high school students, helps shape the general education program on both university and statewide committees and contributed to the acquisition and administration of a National Science Foundation scholarship program for future chemists at ISU. He has personally supervised more than 60 high school, undergraduate and graduate students studying transition metal compounds in his research lab.
Even at the freshman and sophomore level, Holland's lecture courses emphasize patient, critical problem solving both as a target skill and as a means by which to deepen students understanding of chemical concepts. This approach is supported by a program of in-class collaboration among students, long office hours and even longer tests. His lab sections aim to provide safe opportunities for students to indulge their own curiosity and ingenuity in addition to following directions. All of Holland's classes are founded on his conviction that given a structured, supportive framework for learning, ISU students will far exceed their own academic expectations if they are encouraged to do so.
Distinguished Research
Michele Brumley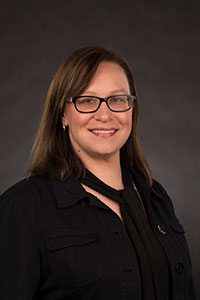 Brumley is an associate professor and chair of the Department of Psychology. She joined ISU in 2007 after earning a bachelor's degree in psychology from DePaul University, a Ph.D. in behavioral and cognitive neuroscience from the University of Iowa, and completing postdoctoral research at the Miami Project to Cure Paralysis at the University of Miami Miller School of Medicine.
Brumley's long-term research goal is to increase understanding of neural and behavioral development by identifying important processes that contribute to the production of. developmental outcomes. She has published work on the effect of neural systems, sensory feedback and experience-expectant processes on early motor development. Results of that research have demonstrated that spontaneous limb activity and coordinated action patterns are responsive to sensory feedback, postnatal experience and stimulation from a caregiver during the newborn period in rats. These empirical findings have been important in reconsidering early neurobehavioral activity as open to experience rather than prescribed and innate, no matter how simplistic and rigid the behavior may appear.
Current research efforts in the Brumley Developmental Behavioral Neuroscience Laboratory are focused on: 1) behavioral epigenetics in the developing spinal cord, 2) the relation between neurobehavioral function and the musculoskeletal system during development and 3) maternal-infant reciprocity influences on developing psychological domains in human infants.
Brumley's work has been funded by grants from the National Institutes of Health (NIH), National Science Foundation (NSF), NIH IDeA Network of Biomedical Research Excellence program, ISU and the Burroughs Welcome Fund. Brumley is currently the editor-in-chief for the journal Developmental Psychobiology. Brumley received ISU's Distinguished Teaching award in 2016.
New Deans Named in Two ISU Colleges
College of Science and Engineering
Idaho State University has named Scott Snyder as the new dean for the College of Science and Engineering. Snyder, who is currently the associate vice chancellor for research and creative activity for the University of Nebraska Omaha, will begin his duties on June 29.
"I couldn't be more excited," Snyder said. "The College of Science and Engineering is already doing great things and has unlimited potential. We need to set a course, and we will work together to set a course, to make these great things even better."
Snyder also serves as the interim executive director of the University of Nebraska's Peter Kiewit Institute and is a professor in the University's Department of Biology. An accomplished researcher, Snyder's vitae lists 35 publications. He has been an assistant, associate or full professor since 1998 and was a National Science Foundation Alfred P. Sloan Postdoctoral Research Fellow in Molecular Evolution at the University of New Mexico from 1996 to1998.
His administrative background is varied and includes former service as the president of both the Nebraska Applied Research Institute and the University of Nebraska's Peter Kiewit Institute Technology Development Corporation. He was also a program director at the National Science Foundation's Division of Environmental Biology. Snyder also has diverse international and philanthropic experience.
Snyder earned a Doctor of Philosophy degree in parasitology and a Bachelor of Science degree in biological sciences from the University of Nebraska-Lincoln, and earned a Master of Science degree in parasitology from Wake Forest University, Winston-Salem, North Carolina.
Snyder is familiar with Idaho and looks forward to working here. He has hiked in various places in Idaho, including three long backpack trips in different wilderness areas.
"I absolutely fell in love with the place, which is why I keep coming back," Snyder said. "So, when I saw that this position was available and I found out about the strengths of Idaho State University and the College of Science and Engineering, and the great beauty and outdoor opportunities all around it, it was an unbeatable combination."
College of Education Dean
Kathryn M. Hildebrand has been named Dean of the College of Education at Idaho State University.
Hildebrand, having served as the dean of the College of Education at Troy University, was chosen in part because of her unique background in both teacher education and sports science, two of the programs housed in the College of Education.
Hildebrand said she is looking forward to continuing and strengthening the College of Education's relationships with state and area schools and community organizations, and that she hopes to develop ways of increasing access to opportunities the College has to offer. Increasing the number of teacher education graduates is a high priority.
"I'm looking forward to exploring new possibilities," she said.
Prior to her time at Troy University, Hildebrand was assistant vice provost at Northern Arizona University, where she also served as assistant dean for the College of Education and the assistant chair for the Department of Health Sciences. She previously served as a faculty member and department chair at Fresno Pacific College.
Hildebrand earned an undergraduate degree in psychology and a masters degree in education from Stanford University, and competed in track and field. She earned a doctorate in physical education and curriculum and instruction from Florida State University.
---
ISU Partners to Open Bengal Pharmacy in Kendrick
After living without pharmacy services for three years, residents in the rural towns of Kendrick and Juliaetta now have reason to celebrate. A local pharmacy has now returned to the area, through a partnership with Idaho State University's Bengal Pharmacy, College of Pharmacy and Gritman Medical Center in Moscow.
After ISU representatives worked for several years to change the Pharmacy Practice Act in Idaho, allowing a pharmacist to dispense medications remotely via video conferencing and telecommunications, a fourth telepharmacy location operated by Bengal Pharmacy staff opened in Kendrick in January. Citizens will no longer have to make the nearly 30-mile drive to Lewiston or Moscow to pick up their prescription medication. The rural Idaho towns of Challis, Council and Arco celebrated similar openings of Bengal Telepharmacy locations in the last five years.
Telepharmacy is the delivery of pharmaceutical care using telecommunications and other information technologies to patients in locations who do not have direct contact with a pharmacist. Misty Lynam, a pharmacy technician in Kendrick, works in conjunction with a pharmacist or student pharmacy intern at Bengal Pharmacy in Pocatello, using still and video cameras, telephone and email to verify a patient's medication.
The prescriptions, pill bottles, medication labels and even the tablets themselves, are placed below a camera by Lynam, and viewed by pharmacists in Pocatello for accuracy before being dispensed to the patient. Each time a new patient, or an existing patient taking a new medication, fills a prescription there, they are offered a consultation with that pharmacist. The consultation takes place in a private room, via video conferencing.
Both Shanna O'Connor, director of clinical services and Brett Jacobson, pharmacist in charge at Bengal Pharmacy in Pocatello say patient counseling is not only a requirement under state law, but it's something they love to do. O'Connor offers prescription counseling to nearly every patient she sees, just to ensure there aren't going to be any unwanted side effects or complications. O'Connor said she enjoys providing the counseling because it helps make sure her patients are getting the best regimen of medications for them.
"Some of my highly complex patients who are dealing with chronic conditions such as heart disease are taking anywhere between seven and 30 medications at a time," O'Connor said. "Many people think pharmacists are trying to push drugs to their patients, but that isn't the case. I'm an advocate for controlling chronic disease with as few medications as possible, even zero if possible. Drugs are the answer for some things, but not everything."
---
Health Science Center in Meridian Named
From left-ISU Provost Laura Woodworth-Ney, Lt. Gov. Brad Little, state Board of Education President Linda Clark, ISU President Arthur Vailas, ISU Vice President for Health Sciences Rex Force, Susie Balukoff, daughter of Sam and Aline Skaggs, with husband A.J. Balukoff, and Ronny Cutshall, president of The ALSAM Foundation
The Idaho State University-Meridian Health Science Center is now the Sam and Aline Skaggs Health Science Center at ISU–Meridian.
ISU announced the name change during a celebration Jan. 23, honoring the late drugstore magnate, his wife Aline and The ALSAM Foundation, the charitable trust the couple established in 1984 in support of education, medical research and human services.
"We are honored to have the names of Sam and Aline Skaggs on our building. Because of their generous financial support, we are able to provide the highest level of health professions education while improving access to quality health care for underserved Idahoans," said ISU President Arthur C. Vailas.
Vailas thanked the foundation, state lawmakers, ISU administrators and the state Board of Education for sharing a vision that, within 11 years, transformed a shuttered electronics plant into a state-of-the-art health science complex that graduates several hundred students a year.
A legacy of giving
Since 2007, The ALSAM Foundation has donated more than $10 million to ISU. The university used an initial gift of $5.25 million to buy property from the West Ada School District to construct the health science center and fund student pharmacy scholarships. A recent gift of $3.85 million will allow ISU to add a second floor to the complex for additional classroom and research space.
"Educating health care professionals was always a priority for my father," said Sam Skaggs' daughter Susie Balukoff, a member of The ALSAM Foundation's Grants Committee. "I can't help but think how proud and grateful he would be to see the progress at ISU-Meridian."
"This has been a dream that has mushroomed into a physical building. We have all had a part in this. This is your day to celebrate and be excited about the role of health care education in the state of Idaho," Balukoff said.
ALSAM gifts have also funded anatomy, physiology, bioskills and research labs at ISU-Meridian—resources that strengthened Idaho's bid for the state's first medical school. The privately owned Idaho College of Osteopathic Medicine will open this fall next to the Sam and Aline Skaggs Health Science Center.
Other speakers included Idaho Lt. Gov. Brad Little, ISU's Vice President for Health Sciences Rex Force, Meridian Associate Vice President Patricia Marincic and students.
Citing a number of labor department statistics, Little told the audience Idaho has 20,000 jobs that have yet to be filled—with a significant number in the health professions. "This facility is absolutely the key to filling many of those jobs," he said.
Students—representing disciplines from counseling, physician assistant studies and audiology to nursing, pharmacy and sign-language studies—thanked The ALSAM Foundation for supporting ISU-Meridian programs.
"Without this wonderful facility, the wonderful faculty, the top-notch education and my clinical experiences, I would not be who or where I am today, and for that I am forever grateful," said Idaho native Kalley Ellis, who is pursuing a doctorate in audiology.
ISU-Meridian offers more than 30 programs and online degrees in the health sciences and houses numerous clinics, including counseling, speech and language, and a full-service dental clinic.
---
New VP for Student Affairs Named
Lyn Redington has been named Idaho State University's vice president for student affairs.
Redington currently serves as assistant vice president and dean of students at The University of Iowa. Redington spent more than 20 years at University of Northern Iowa, primarily as director of residence life, as well as interim dean of students, associate director of residence life and an adjunct faculty member. She holds a Ph.D. in educational leadership and policy studies, a Master of Science degree in professional studies in higher education and a bachelor's degree in sociology, all from Iowa State University.
Redington said she is planning to spend her first few months getting to know the student affairs team and listening to the needs of students.
Redington said ISU is a good fit for her, personally and professionally. Redington and her husband, Mike, have two college-aged daughters, Amme and Emma.
"From the first interactions I had with members of Idaho State University, I felt like I had come home," she said. "ISU is an institution with excellent faculty, staff and students. I am very excited about being part of the Bengal family."
Redington will begin her duties at ISU on July 1.
---
Studying Folk Music in Sweden
Growing up, Caitlin Vitale-Sullivan always had an interest in music, as she was classically trained in violin for 12 years. It wasn't until Vitale-Sullivan went to Norway as a Rotary Exchange student that she became interested in the varying types of folk music around the world.
Vitale-Sullivan, who was born and raised in Pocatello, will be graduating from ISU with a degree in biology with an emphasis in ecology and conservation. Though Vitale-Sullivan loves biology, she wanted to take a year to study music. Her desire to study folk music prompted her to apply for the Fulbright Grant, which is a U.S. student program that offers research, study and teaching opportunities in over 140 countries around the world.
"The Fulbright Program aims to foster global connection between countries," Vitale-Sullivan said. "Global communication and friendship are emphasized, as well as a high education level."
The application process was rigorous and required a unique project that can only be done in a specific country.
"For my project, I will be studying a music called Kulning," Vitale-Sullivan said. "In very broad terms, it is Swedish cow calling music."
Kulning is used in communicating over long distances to other animal tenders. It is also used to call animals in or ward off predators. Each call is specific to different herds.
"This music is really integrated into the landscape," Vitale-Sullivan said.
Vitale-Sullivan will look at what sounds and pitches should be used to carry the sound the furthest distance, to better understand the development of this type of music.
"My project will really look at the interaction between folk music and landscape in Sweden," Vitale-Sullivan said. "I am excited to see how these things are integrated into the folk music there."
Vitale-Sullivan will start school in Sweden in September and will be conducting research for two semesters.
After Vitale-Sullivan returns from Sweden, she plans to work for a year, and then apply for a graduate program in agroecology in Norway. She hopes to use the research she gathers in Sweden to help her graduate studies in the interaction of sound with architecture and design.
"I want to be able to have the greatest impact that I can in the communities that need it most," said Vitale-Sullivan.
---
Chemistry and Cosmetology
Camie Parsons, a current, nontraditional Idaho State University chemistry master's student, never imagined that being a cosmetologist would prompt her to go back to college to study chemistry. She's now a single mother to four kids, completing graduate school and starting a business based off her cosmetology and chemistry background.
As a cosmetologist, Parsons frequently dealt with clients who had damaged and broken hair due to over coloring and perming. But, Parsons didn't get her idea to color and wave hair in a better way until she was visited by a client who came in who had tried to perm her own hair and had severely damaged it. Parsons tried to fix the client's hair, but it was beyond repair. This experience was traumatic for Parsons and the client, and Parsons started thinking about better ways to color hair that were less damaging.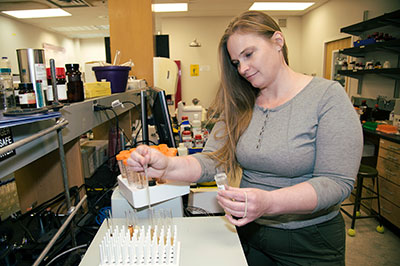 "I was originally a stylist," said Parsons, who was born and raised in Pocatello. "I went to school to be a chemist because I thought there had to be a better and healthier way to color and perm hair."
Chemistry students are required to design and present a senior project that demonstrates the skills and research done over the course of the program.
"For my senior project, I decided to see if I could create a way to wave and color hair that causes no damage," Parsons said.
After weeks spent in the lab under the supervision of Caryn Evilia, an associate professor of chemistry and biology, Parsons finally accomplished her goal. She found a way to wave and color hair that not only prevents previously-unavoidable damage, but actually helps repair hair.
"Parsons wants to help others by designing better cosmetics," Evilia said. "She uses improved, safer chemistry to do this."
Parsons has done extensive testing to ensure that her product truly is safer and healthier than others.
"I've done the process on hair samples 15 times before you start to see damage," Parsons said.
After presenting her findings at her senior seminar, Parsons was advised to turn her project into a business, which was a daunting task for a cosmetologist turned chemistry major.
"The teachers in the chemistry department are amazing and incredibly supportive," Parsons said. "The support of the faculty in the chemistry department has been essential to the growth of this project."
Upon the advice of her professors, Parsons entered the Idaho Entrepreneur Challenge where she pitched her idea to a panel of judges. She received second place in the competition. After the presentation, multiple judges wanted to invest in her company, which was the win she wanted.
Parsons has now created a company IUVENI, which means youth in Latin, and is marketing a product called Duality that can be used to wave and color hair. IUVENI Duality hopes to recapture the beautiful and resilient hair that youth have. IUVENI Duality is safe and sustainable to use compared to traditional products, because the primary source for a significant ingredient is a natural product derived from sunflowers.
Testing has been done at salons in Pocatello with "mind-blowing" results, Parsons said. Duality works with any existing color brand to color and wave hair with no damage. The whole process takes about an hour and a half.
Parsons has received calls from salons all over the United States asking about Duality. She hopes to take IUVENI and Duality international as soon as she can
"Asia spends the most money annually on hair coloring and perming," Parsons said. "We hope to get Duality over there soon."
Parsons is still shocked at the success of IUVENI, and she hopes that her product Duality, along with other products she is developing, can continue to help people keep their hair healthy and repair damaged hair.
"People are never going to stop coloring their hair," Parsons said. "Finding ways to make it a healthier process is crucial."
Parsons is looking forward to the launch of Duality later this year. She is currently working on other hair care products as part of her graduate research.
Tori Parks,
Marketing Career Path Intern
---
College of Arts and Letters Increasing Recruitment Through Three New Programs
In Spring 2016, College of Arts and Letters Dean Kandi Turley-Ames recognized an immediate need for recruiting local Southeast Idaho high school students and decided to start three recruiting initiatives to establish stronger relationships between the College, local high school teachers and most importantly, local high school students.
The first program was the Liberal Arts High program, designed to send professors to area high schools to give presentations on their areas of expertise and to share information about ISU. The goal for these visits is for high school students to establish a personal connection with a college faculty member and, in turn, to become excited about the idea of attending ISU where they could take classes with their Liberal Arts High professor.
During the 2017-2018 school year, the College reached more than 6,600 students and visited 37 schools in 25 Idaho cities. This was an increase from the 2016-2017 school year, where the College reached more than 5,500 students in 28 schools in 17 Idaho cities. The three counties most visited by Liberal Arts High saw substantial increases in enrollment: Bannock County, 44.3 percent; Bingham County, 90 percent; Bonneville County, 122.6 percent, resulting in an overall increase of 64.8 percent.
The College also recognized a need for scholarships for rural Idaho students, and the Road Scholarship program was started to provide additional funding and establish relationships with more area students. Principals and teachers at Southeast Idaho high schools nominated deserving students with need, who then submitted a short essay outlining their goals and dreams.
Turley-Ames traveled to each high school and awarded the student scholarships during an assembly, class session or small student meeting.
In the program's first year, 14 Southeast Idaho students received scholarships totaling $28,000, and the yield rate for these scholarship recipients was 87 percent. Many of the students who received scholarships had no plans to attend college, let alone ISU. In 2018, the second year of the program, 28 students received Road Scholarships, and that number is still growing. The program also expanded to include students interested in different disciplines, and other ISU colleges have awarded student Road Scholarships.
"Coming from a farming family, a degree didn't always seem possible," said Jacob Harris, the College's first Road Scholarship recipient. "I am grateful for the opportunity to receive scholarships because without them I wouldn't be at ISU today."
The last program started by the College to help with recruitment and enrollment was the On-Campus Dual-Enrollment Pilot Program. The program offers local high school students an opportunity to take college courses not always available at their local high schools. The courses are taught by ISU professors, and credits are transferrable across the country. During its first semester, the program had 10 students from four Southeast Idaho high schools enrolled. In Spring 2018, the program nearly tripled with 29 students and nearly doubled from four participating high schools to eight.
"Our goal is for our programs is to continue to grow in size so we can create more opportunities for our local high school students," said Holly Kartchner, Director of Outreach and Retention. "We want to be able to help as many students in Southeast Idaho be prepared for College, and we believe these programs are the best ways to do so."
All three programs have proved successful as the overall College of Arts and Letters enrollment continues to increase. For the Fall 2017, semester enrollment was up 11.7 percent. Also, new in-state student enrollment for those declaring in the Arts and Letters increased from 215 in Fall 2016 to 378 in Fall 2017, a 75.8 percent increase. There was also a notable 171 percent increase in undecided Arts and Letters majors, students not yet ready to decide on a specific major but who decided to declare interest in the College.
Melissa Lee, '14
---
ISU Chemists Develop Crime-Solving Technology
When criminals file off serial numbers from a stolen vehicle or firearm, why couldn't you use thermal images to recover them?
That idea was hatched by late Dennis Strommen, Idaho State University chemistry professor emeritus and former chemistry department chair, who died in 2014. ISU researchers have now taken that idea and made it work, using thermal imaging to recover serial numbers scraped or filed off of stolen items.
Strommen and current ISU Department of Chemistry Chair Rene Rodriguez were driving back from a meeting in Portland when Strommen shared his idea.
"He said there was something he had always wanted to do, to try this forensic work where you try to thermally image a surface by passing heat through it and he thought you should able to recover the serial numbers," Rodriguez said. "And so I said that sounds reasonable to me."
The pair wrote a grant proposal to explore idea. Their first proposal was rejected, but their second one with John Kalivas was accepted by the Office of Justice Programs of the National Institute of Justice, which initially provided about $316,000 in 2013 and then has provided an additional $200,000 this year for two more years of exploration.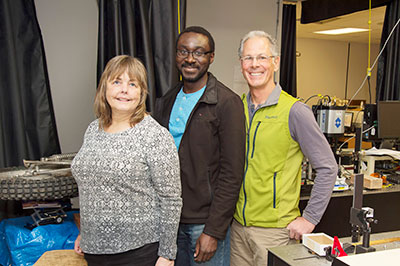 Sadly, Strommen, at age 75, passed away before he could work on the grant. However, his idea has worked out, but not quite like he imagined.
"Dennis and I thought you use the thermal imaging and you should pretty much just be able to see the numbers with your naked eye," Rodriguez said. "For the most part you have to use mathematical imaging methods to see the image and pull the numbers out. That was surprising to me and I think it would have been to Dr. Strommen, too."
Rodriguez, a physical chemist, brought in John Kalivas, an ISU chemistry professor and analytic chemist, who specializes in multivariate data analysis.
"We couldn't have done this without John," Rodriguez said.
Inside a lab in the ISU Physical Sciences Building, ISU researchers shoot laser beams through an array of mirrors and lenses that shine on a sample and a high-speed, infrared camera takes multiple images of this process. This data is then collected and analyzed so the researchers can "read" the mathematically produced images that have been scratched away. When a number is stamped in metal it "strains the atomic crystalline structure and deforms it."
"So when you file off the number and you can't see it anymore, a residual strain remains in the atomic crystalline structure so we run a heat wave through the metal and the thermal propagation is still altered due to the residual strain," Kalivas said. "In a homogenous crystalline structure it is going to propagate in certain way, but as soon as you strain it, the thermal propagation changes in the area of the strain and we're going to see that in infrared camera imaging but it is a very, very small signal."
"With the human eye you can't see the number," Kalivas continued, "so we have to do the mathematical data analysis to tear the data apart to find that residual strain because it is buried in the measured thermal image."
The ISU research team includes Lisa Lau, a research associate, and Ikwulono David Unobe, a doctoral chemistry student who have competed most of the lab measurements and analysis. Andrew Sorensen, now civil engineering faculty at Utah State University, was brought in to help fill Strommen's role. They've also received help from undergraduate chemistry students, Ben Poulter, Kenji Brock and now Kali Castle.
The researchers have successfully used this method to retrieve numbers from test samples and from one real sample, a stolen motorcycle. With the new grant funding, the ISU researchers will work with law enforcement agencies in Idaho and Utah to get more real samples to work on.
"The next two years is verification of the process and fine-tuning it and comparing our results to chemical etching," Kalivas said.
Chemical etching is the destructive form of recovering serial numbers that is currently in use. Perhaps the greatest value of this new method is that it is non-destructive. Other chemical methods destroy the surface and are a "one-and-done" process. ISU's new process could be employed first, and then if it was unsuccessful, other methods could be used.
The researchers are excited about their work's potential.
"It is satisfying to work on a project like this because you think, 'wow, it really could help people, by helping law enforcement officials track down criminals or restore stolen items to owners,'" Lau said. "It is a useful technique that might become commonplace in labs sometime. It is really satisfying for me to work on a project that might have immediate use."
Andrew Taylor
---