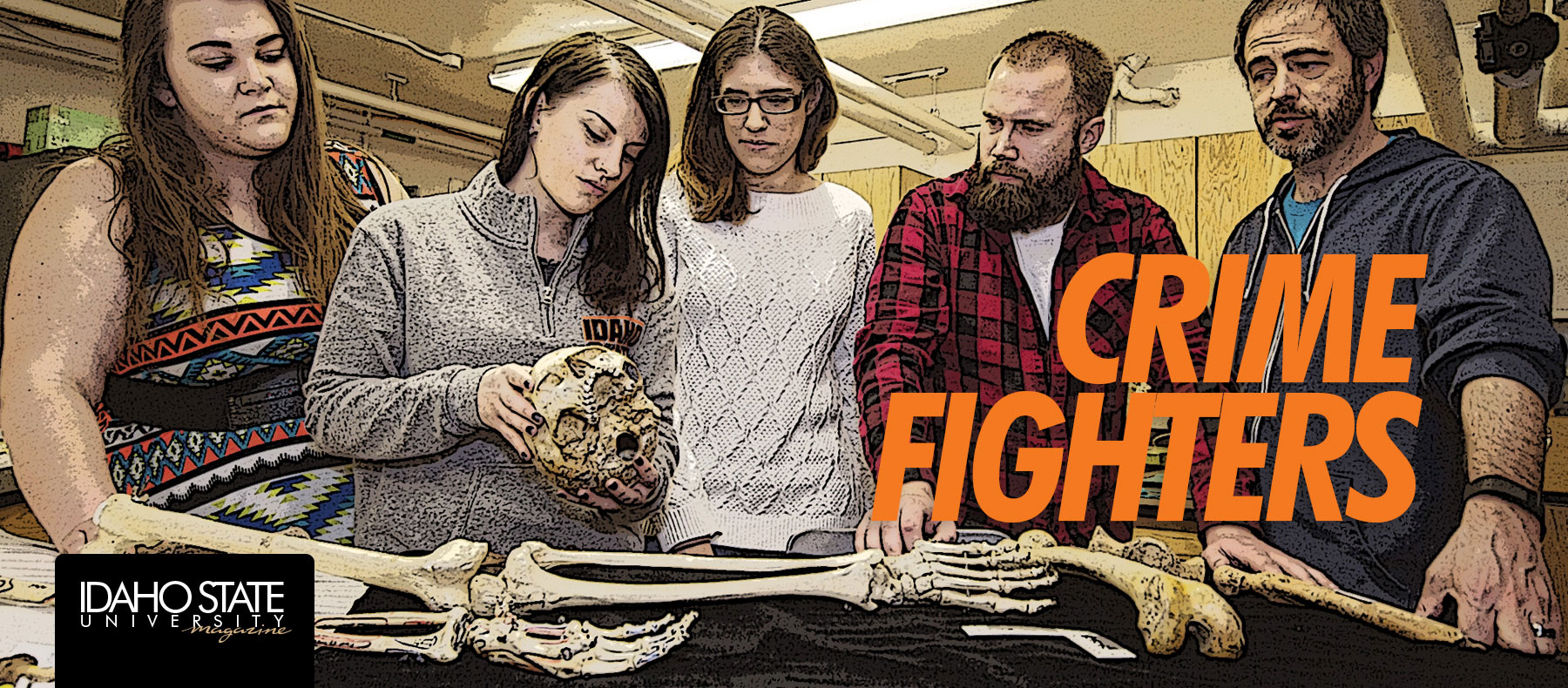 I know a Guy
One man in particular has been an integral part of Anthropology Professor Christian Peterson's career for more than 20 years, but he still does not know his name.
Over the decades, Peterson and his students have learned that the man was middle-aged, quite large, a hard-worker, and that his job required repetitive manual labor. He also knows that sometime before 1979, the man was murdered, dismembered and left in a cave near Dubois, Idaho. His torso was found in a burlap bag in 1979— in 1991, his limbs were discovered in the same cave. His head has never been found, making it very difficult for him to be identified. Researchers have studied his clothing searching for clues based on the types of snaps used on the shirt, for example, but have come up with very little information. Using an extensive database of bones from around the world, graduate student Hannah Dawson was able to discern a likely ancestry, age, stature and sex using measurements of his femur, pelvis, tibia, ulna and scapula.
For many years, Peterson, his colleague Amy Michael, and countless students have tried to learn more information about the man, in hopes of providing closure to his family.
"He's been helping us teach generations of students," Peterson said, "but he didn't sign up for this."
Since arriving at Idaho State University, Michael has worked with law enforcement and the clues found through decades of research, trying to end the case. She hopes that, through anonymous reporting, someone will someday come forward with information.
"Somebody knows what happened to him," she said. "Our first duty is to the deceased individual."
The bones are only some of many that have graced Peterson and Michael's teaching and research laboratory. Another set of bones came to the University in 1998, when Peterson assisted law enforcement in identifying a deceased man whose body was not claimed by his family. Peterson said cases like that one are sad, but that through the bones, his students have been able to learn not only the basics of forensic anthropology and osteology, but about how lifestyle issues, like alcohol and opiod abuse, can affect bone structure and change the way the body ages.
"He has done a lot of good," Peterson said.
During her career, Michael has worked with law enforcement many times, helping to solve cases, or working as an expert witness. Forensic anthropologists are different than law enforcement officials in that they can look at cases from an academic perspective. Locally, the researchers have trainings planned with law enforcement to share what kind of knowledge they can bring to cases, and so law enforcement and the University can work together to provide more opportunities for students. Forensic anthropologists can study the soil or bug life surrounding a crime scene, for example, and determine Forensic anthropologists can be especially helpful in cold cases, like the man found near Dubois.
"We care about culture and people," she said. "We have the ability to sit here and think, and to try new methods."
Michael didn't plan on becoming a forensic anthropologist. Originally, she was a women's studies major. It only took one osteology course for her to change her career path.
"It blew me away that you could know so much with just looking at bones," she said. "It is incredibly satisfying."
Amy Michael and Christian Peterson study remains with a group of graduate students.