Giving Back
An iconic Idaho family donates $100,000 in brother's honor to educate next generation of health professionals
Bill Smylie discovered life by facing death too early, according to his family.
Diagnosed with advanced colorectal cancer in 2009, Bill was a fighter. Despite a grim prognosis, the U.S. Army veteran lived eight years before his death Feb. 17, 2017 at age 68.
"A fighting attitude is a darn good thing to have and he had one," said his brother Steve Smylie, a former Idaho lawmaker and longtime Treasure Valley educator.
What's remarkable about Bill's battle is that he lived some of the best years of his life as time was running out, says Steve. Bill was able to experience new adventures and spend quality time with friends and family. He took a cruise to Alaska to see Mount Denali, sailed through the Panama Canal, flew over the Grand Canyon and touched the waters of the Colorado River.
"Bill got such compassionate and amazing health care. I'm absolutely certain that's why we got six bonus years that he may not have had otherwise," said Steve, who served seven years in the Idaho Legislature and sits on the West Ada School District Board of Trustees.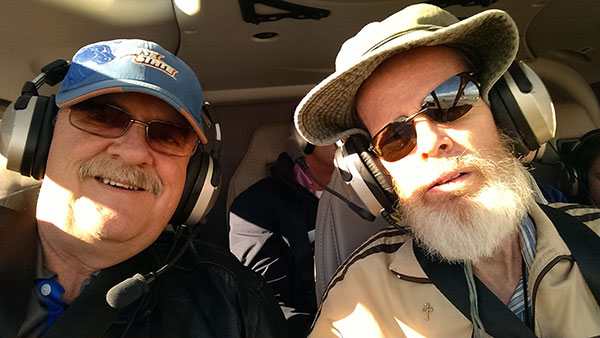 Steve and Bill Smylie (right) in a helicopter cockpit on one of their adventures in recent years
Photo courtesy of Steve Smylie
Bill and Steve are the sons of Lucille and Robert E. Smylie, Idaho's 24th governor who, in 1965, created the state's park system and pushed for the adoption of a state sales tax to fund education. The parents also taught the boys the value of community service and the importance of giving back, said Steve, who administers the Smylie Family Legacy Fund, the family's charitable trust.
As Bill underwent chemotherapy treatment at the Boise Veterans Affairs Medical Center, he was grateful to the medical team—the doctors, nurses, physician assistants and lab technicians—who not only "brought the healing arts to life," but bought him the luxury of time, said Steve.
To thank them and support the next generation of health care professionals, Bill and the Smylie family donated $100,000 to Idaho State University last summer to advance health science education at the Sam and Aline Skaggs Health Science Center at ISU-Meridian.
ISU's Kasiska Division of Health Sciences will purchase equipment and supplies to enhance training and education opportunities on the Meridian campus. Many of the health care professionals who treated Bill graduated from ISU-Meridian programs.
"We are so incredibly indebted to the Smylie family for their generosity and thoughtfulness. Gifts like theirs will allow the Sam and Aline Skaggs Health Science Center the flexibility and timeliness to continue the excellent teaching, learning and community-building that happen there," said Collette Wixom-Call, the Division's development director.
ISU-Meridian offers more than 30 graduate and undergraduate programs, including online degrees, and serves approximately 1,000 students and working professionals in the Treasure Valley.