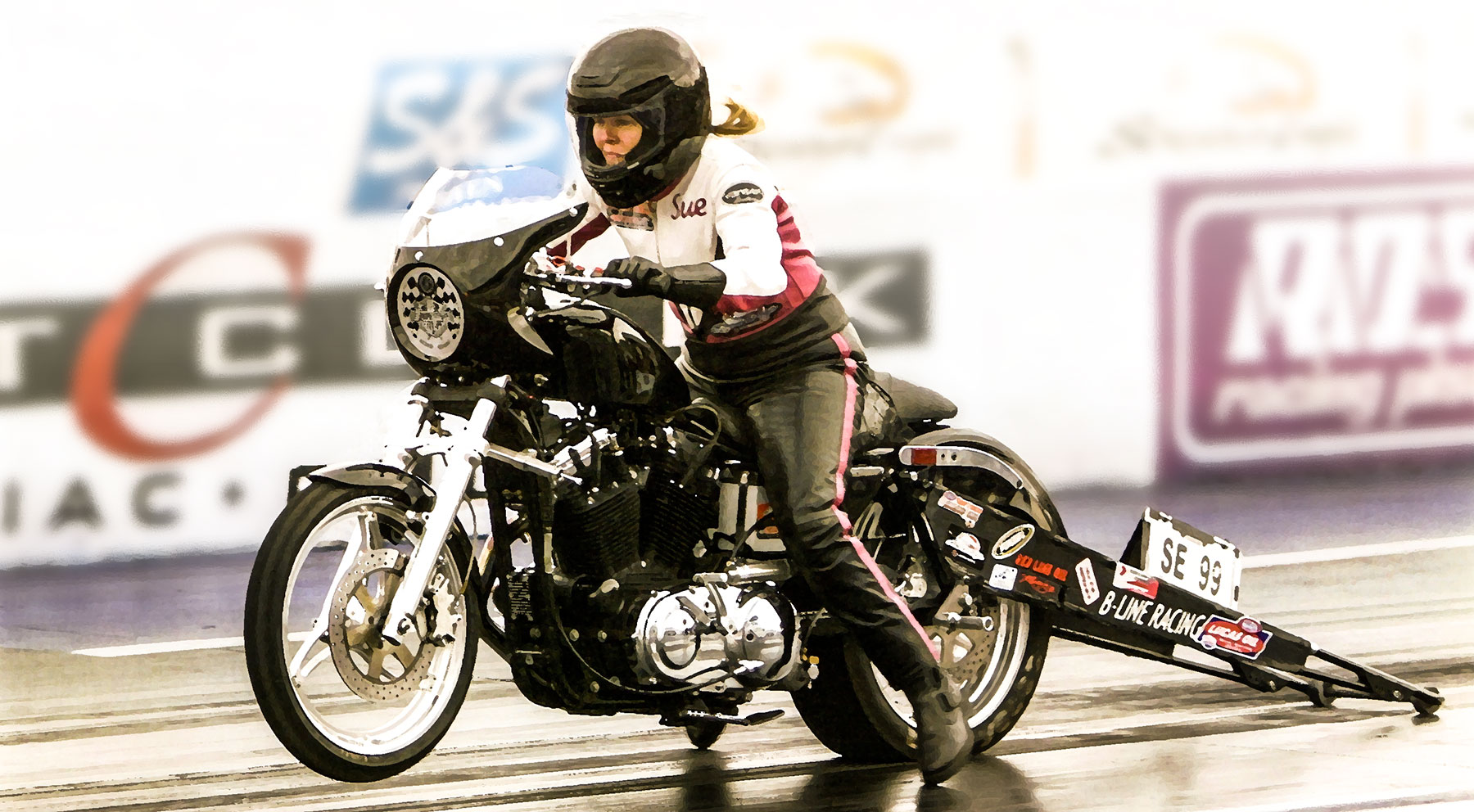 When late spring comes to the Treasure Valley, Susan Bistline packs her custom-made leathers, loads her Harley-Davidson Sportster into a 16-foot trailer and hits the road with husband Bruce.
They head to racetracks throughout the west in their 40-foot motor home—places like Salt Lake City, Las Vegas, Phoenix and Woodburn, Oregon—where Bistline races her 1993 Sportster at speeds of 120 per hour down a quarter-mile course.
"I've always loved speed. It's exhilarating," says Bistline who graduated from Idaho State University in 1980 with a degree in dental hygiene. A dental hygienist for 25 years before retiring, Bistline was the first hygienist to serve on the Idaho Board of Dentistry and is a 2016 recipient of an ISU Professional Achievement Award for her contributions to the state's dental hygiene community.
Susan Bistline at Las Vegas Motor Speedway
Photo courtesy of Susan Bistline by Eagle Star Photography/Edited by Joey Gifford
Bistline, who lives in Boise, is in her eighteenth year of motorcycle drag racing, a sport that requires nerve, skill and an understanding of the physics that move the two-wheeled machines down the strip. Competitors don't merely line up and floor their bikes; they learn to appreciate the nuances of riding, such as how to manage the clutch and throttle to guarantee a perfect launch at the starting line.
Bistline admits folks raise an eyebrow when she tells them she races motorcycles for fun. She recalls her husband's reaction years ago when she told him she wanted a Harley. "I thought he was going to pass out. The color went from his face and his jaw dropped," she recalls with a laugh.
He soon warmed to the idea and even bought a street bike for himself. The couple road together until Bistline's passion took her to the race track. "You never forget your very first face. It was early in the season at the (the former) Firebird International Raceway in Phoenix. I still fill the excitement when I talk about it now," she says.
Drag races are a quarter-mile long. Riders line up next to each other, two at a time in designated lanes. For Bistline, operating her Sportster is the easy part; the challenge is maintaining a laser-like focus on the so-called Christmas tree, a column of multicolored staging lights and beams that bring riders to the starting line. Jump the green light and you're disqualified. React too slowly and you're left in the dust.
"You can win or lose a race on the lights," says Bistline. Milliseconds can separate one racer's time from another.
Bistline, who races in white, pink and black leathers with "Sue" emblazoned on the front left side, is seldom nervous before she races. "I'm never scared, but I do get an adrenaline rush," she says.
There have been a few close calls over the years, including the time she flipped her bike at the conclusion of a race in Las Vegas and injured her shoulder. But that's the risk of doing something you love, and Bistline, who turned 63 in April, has no plans to hang up her leathers.
"I am going to do this as long as I can," she says.