Sam Dowd remembers the feeling he used to get when he watched the better-off eat steak on the other sides of street-side windows.
He remembers the homeless nights he slept outside, too.
Dowd grew up longing for what most kids his age never have to go without: a loving family, a home, a bed, three square meals each day — a normal life by most standards. Dowd's standard was packing garbage bags around western Washington as he sought out each night's shelter.
Most of the time, he found it at a friend's house, sometimes at a coach's. Some nights, he slept outside his middle school and awoke to the sounds of his classmates being dropped off and hurrying inside the next morning.
Dowd would grab his backpack, head into the school and try to blend into the normalcy around him.
"It was just like, damn," Dowd said. "I don't know where else to go."
Even when he had a home, he was fighting for a place to sleep.
"Some nights, you sleep on the floor," Dowd said. "Some nights, you have a bed."
Though Dowd's past is mired in misfortune, you'd never know at first glance. At 5-foot-7 with boundless energy and a smile that never fades, Dowd always provided a spark for the Idaho State men's basketball team this season. Whether he was zipping around the court in a blur or proudly cheering on his teammates from his toes on the sidelines, Dowd's persistent positivity glowed.
"People feed off of it," Dowd said. "I just go with it, live life, smile. … That's all you can do."
Dowd calls his life in western Washington the "dark days."
In search for stability, Dowd turned to another teammate, Reed Hopkins. Hopkins and his family lived in Spokane — nearly 300 miles across the state from Seattle — and offered Dowd a fresh start.
Dowd moved to Spokane, enrolled at Gonzaga Preparatory School and lived with the Hopkins family for the duration of his freshman year. Once the Hopkins could no longer comfortably care for Dowd, which Dowd said was because of family health issues, Dowd found his home sweet home.
Rather, it found him.
One of Dowd's teammates on the Gonzaga Prep football team was Matt Miller. Miller was a senior, about to graduate, when he heard Dowd needed a place to live.
Miller's parents, Jill and Ron Miller, knew Dowd. Jill Miller remembered Dowd as "vivacious" and "friendly" and that he "always seemed so happy."
So when Matt told his parents Dowd needed a home, they weren't sure what to do. Had he gotten in trouble? Was he shopping for shelter until he graduated?
"Matthew said, 'He wants a family,'" Jill Miller said. "It did not take long to tell that's what he was looking for. He was missing someone to care, someone to be there after a game to wait for him. That was really what he was longing for."
Dowd embraced the Millers as family right away. He'd look for them in the stands at his football games, and wave and smile once he spotted them. The Millers waited outside Dowd's locker room after basketball games.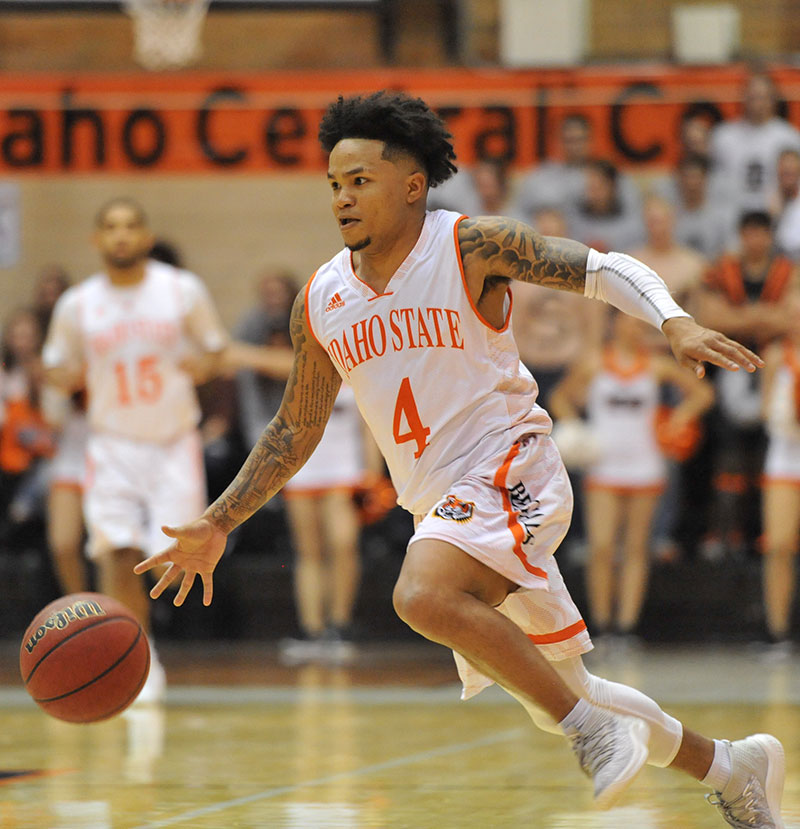 "He just worked his way into our hearts," Jill Miller said.
After about five months, the Millers took legal guardianship over Dowd following a lengthy legal process. The once homeless, desperate kid who window-shopped for the perfect life finally had it.
"Every situation he'd been in for the last several years had just been temporary," Jill Miller said. "We decided that we wanted to send the message to him that this is not temporary. This is forever. We will be your family if you so desire, and he did."
Dowd's basketball career has had its own share of challenges. From Gonzaga Prep, Dowd went to Carroll College in Helena, Montana, but did not play in his lone season. Next was North Idaho College in Coeur d'Alene. His second and final season at NIC, Dowd led the Northwest Athletic Conference with 7.1 assists per game, adding 17.8 points per game as the Cardinals went 25-5.
Still, he had trouble finding a spot on a Division I roster. Being 5-foot-7 didn't help.
Idaho State was the only Division-I program to offer Dowd a full scholarship. He took it.
"My goal was just to earn a scholarship," Dowd said. "(The Millers) gave me this house and love and support and comfort, and so that was my gift to them and my gift to myself — just to work hard so I can get that scholarship so they don't have to pay anything."
Dowd's playing time wavered during the 2017-18 season, but he started eight games, including seven against Big Sky Conference opponents. He also logged 13 minutes in the Bengals' end-of-season conference tournament game. His final stats: 9.3 minutes per game, 1.9 ppg in 29 appearances.
Dowd's story made its way around various media outlets, ultimately reaching the Associated Press, which pushed it to national publications. The U.S. Basketball Writers Association picked Dowd to receive the annual Most Courageous Award, which recognizes a player, coach, official or administrator who has demonstrated extraordinary courage reflecting honor on the sport of amateur basketball, according to the award's info page on the USBWA web site. Dowd will receive the award and $1,000 to the charity or scholarship fund of his choice at this year's NCAA Tournament Final Four in San Antonio.
"He is one of the most positive people I've ever met," Idaho State coach Bill Evans told the Associated Press. "It's amazing that he still is so positive after everything he's been through."
Dowd has reconnected with his biological parents, but calls the Millers mom and dad. He's at peace with his past and excited for his future. He's in the process of applying for dual citizenship in the Philippines, where his birth mother is from. He hopes his story inspires others in similar predicaments, encouraging them to lean on a lifeline. Basketball was his. Then the Millers came along.
"We have not looked back since," Jill Miller said. "I think it was the best thing we ever did, for all of us."
Now, Dowd doesn't have to worry about what used to be everyday obstacles. No more playing make-believe with a juicy steak.
"I'm worried about being picky and not letting my food touch," Dowd said. "They hate when I do."