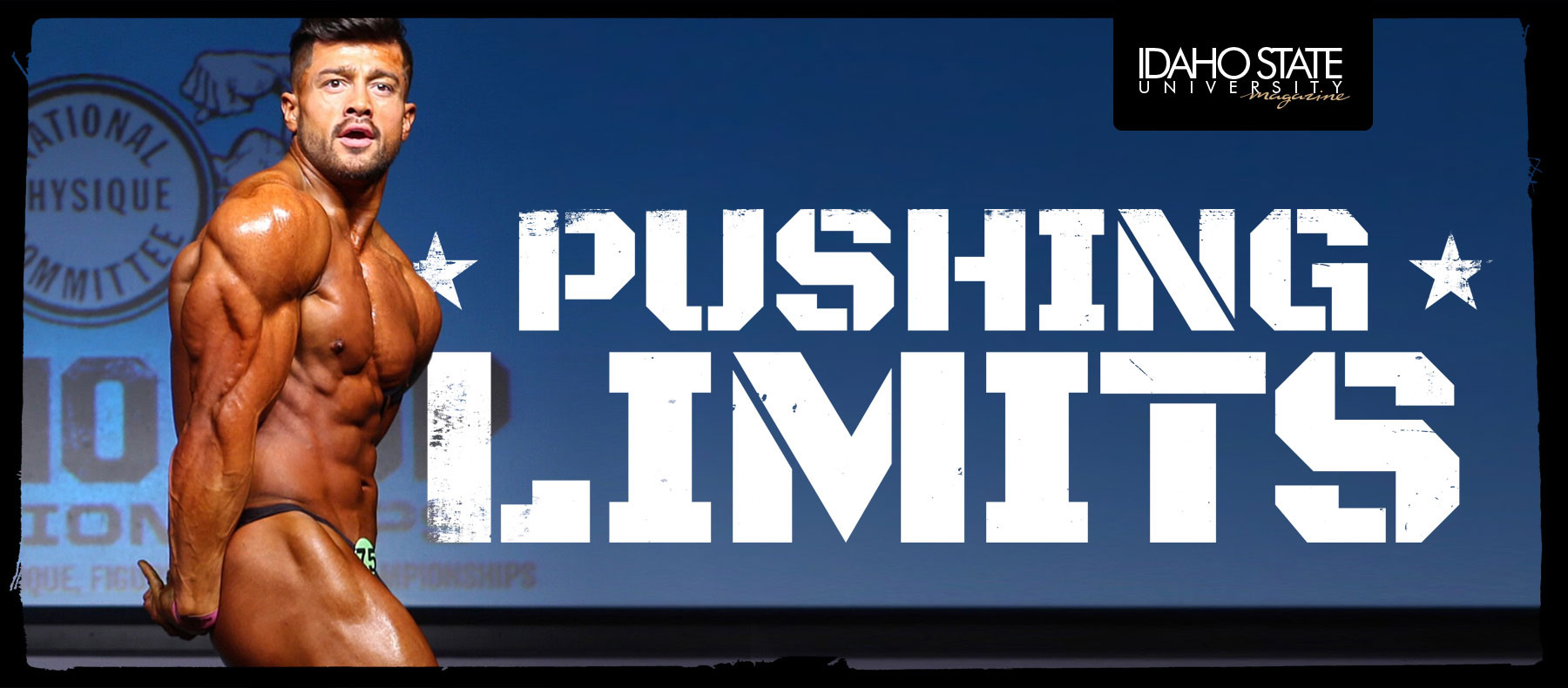 Bobby Serna is an Aberdeen farm kid who is used to getting things done.
Eight years ago when he tore ligaments in his left knee while playing soccer, he handled the physical therapy on his own. When he worked for Verizon Wireless, he was in the top 10 nationally in sales. And when he competed in the 2017 NPC Idaho Cup bodybuilding championships in November, he came home the overall winner.
"I couldn't believe it. I was so happy," says the 26-year-old Idaho State University student who has been aggressively training since 2013. The NPC or National Physique Committee is the country's amateur extension of the IFBB Professional League, the world's premier organization for professional bodybuilders.
Bobby Serna at 2017 NPC Idaho Cup on Nov. 4 in Garden City
Photo by Mark Mason and provided by Bobby Serna
The November win in Garden City was a remarkable accomplishment for the 6-foot Serna, who competed in the light-heavyweight class. Overall titles often go to athletes in the heavyweight and super-heavyweight divisions.
But Serna is a Bengal who loves a good challenge. When he graduated from Aberdeen High School in 2009, he weighed about 130 pounds. When he competed in the 2017 NPC Idaho Cup, he tipped the scales at 196 pounds. The years in between were spent sculpting his body and adapting the lifestyle of a competitive bodybuilder.
More than pumping iron
Serna trains a minimum of two hours a day, six or seven days a week. When he's preparing for a competition, he bumps his regimen to 30 hours a week, including weight training, cardio exercise and posing routines to showcase his muscularity, symmetry and conditioning.
"It's not just about the gym. It's about building a daily lifestyle," says Serna, who follows a disciplined diet of lean meats, nutrient-dense foods and watches his sodium and sugar intake.
Serna is creating a buzz in the amateur bodybuilding world—he's already landed a sponsorship with the Utah-based company Feast Mode which manufactures and sells low-sodium food seasonings. Sponsorships are important because they help cover training costs, entrance fees and help build an athlete's fan base. Serna has set up social media accounts and created his own You Tube channel called Serna Physique where fans can follow his workouts and keep tabs on his competitions.
Building the body is good for the mind, says Serna. "It's about bringing good energy to your body. It relieves my stress. It makes me happy to do what I love. I am in control," he adds.
But his journey hasn't been without physical pain. Remember the knee he blew out eight years ago? He injured three major ligaments in that same knee in 2013 while teaching tumbling moves to ISU cheerleaders.
"I landed incorrectly and tore my ACL, MCL and LCL and had to get a meniscus transplant," says Serna. Knee surgery to repair the damage came just four days after the first bodybuilding contest of his career in which he took first place in his weight class.
Striving to be better
Serna is the first child in his family to attend college, thanks to a scholarship from the Hispanic Youth Symposium which helped cover his first year's tuition. In December, he'll complete his ISU bachelor's degree in general studies, a credential he hopes will advance his career at Pocatello's Advantage Plus credit union where he works full time as a loan officer.
As for bodybuilding, Serna has barely scratched the surface of his potential. He's currently working on increasing his strength and size and plans to compete in a powerlifting competition this year. In 2019, he hopes to compete in the heavyweight division of a national bodybuilding contest sanctioned by the IFBB or International Federation of Bodybuilding and Fitness.
"I'm trying to be the best I can be. That's true in all aspects of my life. My goal is to build the best future I can for me and my family," Serna said. He and his wife, Deena, are parents of an 8-month-old son named Beckham.