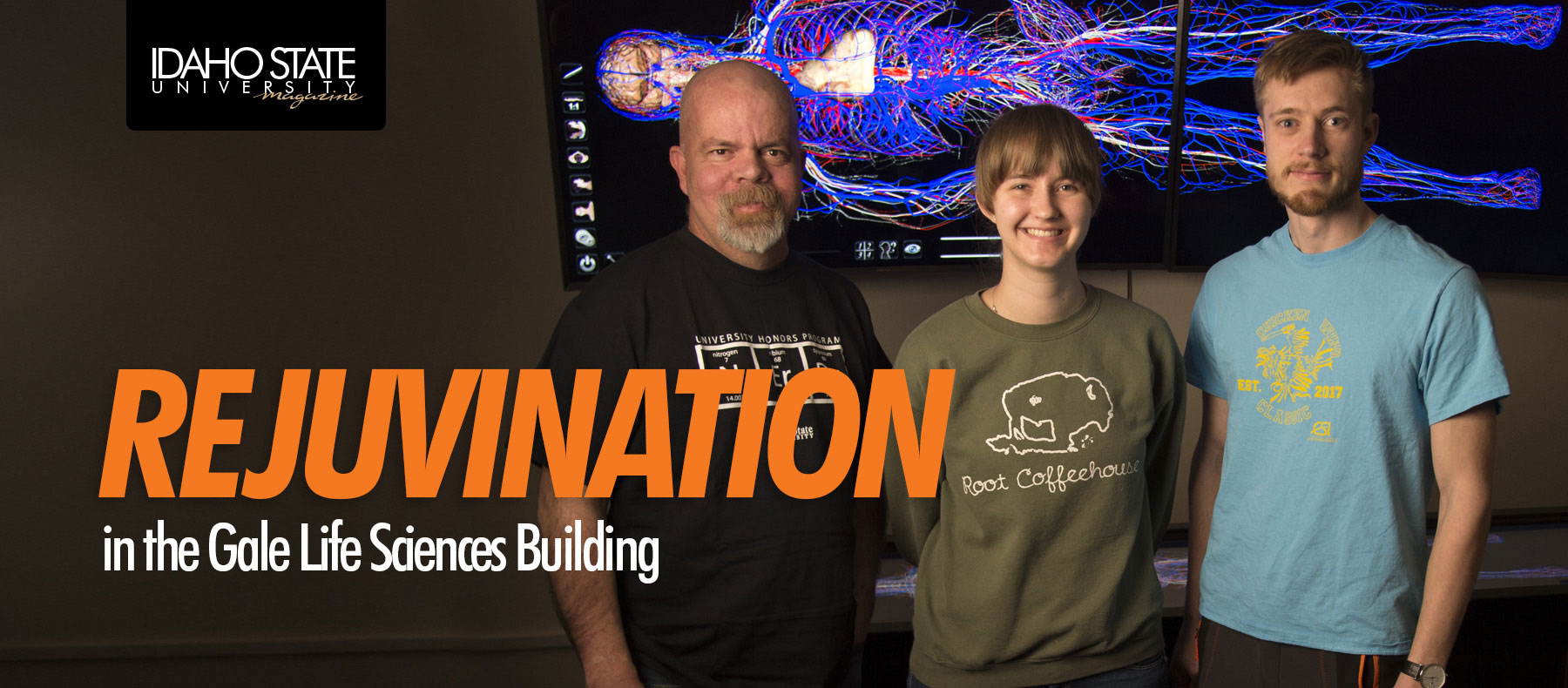 Revitalizing
Laboratory Remodels Rejuvenate Gale Life Sciences Building and Gives A Taste of What's to Come
Michael Thomas, Idaho State University biological sciences chair, is excited, to put it mildly, about the $1.8-million remodel of five laboratory spaces in the Gale Life Sciences Building
"They are gorgeous, just awesome," Thomas said. "They're beautiful. They are really, really sweet."
The remodels were done last summer and the students began using them fall 2017. The remodeled labs, including anatomy and physiology, general ecology, cell biology and neurobiology facilities, serve more than 1,200 students per year. The labs serve at least 13 different ISU programs, including a variety of biological sciences programs and Kasiska Division of Health Sciences programs including the nursing, physician assistant, physical therapy/occupational therapy, pharmacy, medical laboratory science and the Idaho Dental Education Program.
"Top to bottom, the remodels have made the facilities so much nicer," Thomas said. "It helps teaching because it is much more of a cleaner, organized space designed for a specific use. The new facilities have also been huge for recruiting."
The remodels were from floor to ceiling, wall to wall, with pretty much everything ripped out and replaced.
"In the basement, that included digging up the concrete floor and moving around plumbing," Thomas said. "In all spaces, ceilings came down and HVAC was replaced. It was four rooms totally rebuilt."
The laboratory remodels also serve as a preview of the $12 million remodel of the Gale Life Sciences Building that will occur over the next five or six years.
"These laboratories will be used as a design template for the remodel of the rest of the building," Thomas said. "Most of what will be remodeled is research space, not so much teaching space, but these remodels will be a template for what is to come."
Jason Adams, ISU director of design and construction for ISU Facilities Services, said he was also pleased with the remodels.
"The project was an absolute success," Adams said. "The spaces were beautifully designed by the architects and make a big visual improvement to the interior of the building."
Planners were concerned with the project's construction timeframe because all the work need to be completed over the summer of 2017, before the fall 2017 semester was supposed to begin.
The project was an absolute success. The spaces were beautifully designed by the architects and make a big visual improvement to the interior of the building.
– Jason Adams,
director of design and construction
ISU Facilities Services
"The contractor, Starr Corporation, did a great job streamlining their work and coordinating with the University to make this happen," Adams said. "In fact, they were able to have the spaces ready for occupancy several weeks early."
Gale Life Sciences Building laboratory remodels included a complete gut and remodel of the labs located in rooms 153, 243, 247 and 261 and asbestos abatement of the floors and within the ceiling space. The labs also were upgraded with new flooring, tables and lab benches, ceilings with LED lighting, new plumbing fixtures, fume hoods and cabinets along the walls. New heating, ventilation and cooling equipment was installed to serve additional rooms.
---
Other Gale Life Sciences Building laboratory remodeling highlights include:
Anatomy and physiology laboratories, including Rooms 247, 250 and 271
Room 247 is used to teach an anatomy physiology lab covering the musculoskeletal and nervous systems for more than 400 students per semester and an A&P lab covering cardiovascular, respiratory, renal and digestive systems for more than 350 students per semester.
"This is an excellent facility," Thomas said. "Our new lecturer Shannon Curran, and another lecturer Katrina Rhett, who have been gross anatomy teachers at other universities, say this really is a world-class facility. We're lucky to have it."
The remodel included knocking out a wall and increasing the number of cadaver or donor stations from eight to 10, adding a new lighting setup and air diffuser, for better ventilation, at each station. Large screens in the room allow teachers in the Pocatello A&P labs to talk to 30 students in Pocatello and at the Sam and Aline Skaggs Health Science Center at Idaho State University-Meridian simultaneously, and images can be broadcast the opposite direction, too. Eventually, a camera system will be set up in this lab to allow instructors to broadcast images on screen from a donor, so students don't have to crowd around one station to have the instructor point something out.
Room 250, which houses the existing cadaver lab was expanded by 250 square feet to provide two additional teaching stations.
Room 271, which houses an Anatomage Table and is across the hall from the anatomy suite, can be used for virtual dissections and has had high-resolution, "4k" screens installed so images from the Anatomage Table or from other sources can be displayed to students.
"Students go back and forth from the anatomy donor suite and may be working on an actual donor (cadaver) and then they can look on the screen to find out what they're supposed to be looking for," Thomas said. "It provides a nice resource for the students."
The Anatomage Table has proved helpful in recruiting students.
Gale Life Sciences Building, Room 261, Ecology, Physiology and Comparative Anatomy Laboratory.
This laboratory was outfitted with new tables that are tall and broad and new cabinetry. It also has new LED lighting and a new hidden screen for a projector. The lab is used for general ecology, human physiology, exercise physiology and comparative anatomy classes.
"This is kind of a catch-all room were a lot of different things can happen," Thomas said.
Its cabinets are "filled with bones from different critters" and a variety of exercise machines can be wheeled out from side rooms that students use to get readings from.
Gale Life Sciences Building, Room 243, Neurobiology Laboratory
Human neurobiology and foundations in neuroscience classes are taught in this laboratory that allows students to look at slides under microscopes at pieces of the neurosystem such as a cross-section of a spinal cord or pieces of the human brain. This laboratory was updated with new air diffusers for ventilation, lighting and desk/table space, among other improvements.
"We have a human brain collection, but they don't get to dissect and of that collection because the brains are so valuable," Thomas said. "But the can look at human brains, either whole or in pieces or slices, and then they get sheep brains they can dissect themselves."
This space may also be used in the future to teach another anatomy and physiology class section.
"There could be another couple of hundred students taking classes in this building," Thomas said. "We fill these classes."
Gale Life Sciences Building, Room 153
This laboratory is used by a wide number of classes, including cell biology, microbial diversity, experimental biochemistry, cell and molecular biology, food microbiology and fermentation fundamentals. This lab was redone and includes fume hoods, new refrigerators, LED lighting and other improvements.