Earth Science Division
The Earth Science Division explores and documents the evolution of the physical and biological components of the Earth, and facilitates the understanding and protection of our planet and its record of the past. The specimens we collect and conserve document the occurrence of individual organisms in space and time. Taken together they form a vast (and growing) permanent record, which scientists can examine again and again, applying new analytical techniques and testing new hypotheses.
It consists of 4 main collections and 2 smaller collections. The Vertebrate Paleontology collection includes over 100,000 specimens from Idaho and surrounding states. A major portion of the collection are specimens from federally managed lands that are held in the John A. White Paleontology Repository (JAW). The Paleobotany collection includes over 1400 fossil specimens spanning the time period from the Precambrian Period to the Pleistocene Epoch. The Invertebrate Paleontology collection includes 1200 catalogued specimens from the state of Idaho and the Intermountain West. The Marie Hopkins Comparative Osteology collection includes 2500 bird, mammal, reptile, amphibian, and fish skeletal specimens. The Division also has a substantial geology collection and a teaching/cast collection.
RESEARCH VISITS TO COLLECTIONS
Permission to visit the collections is granted by the Curator and logistics will be handled by the Earth Sciences Collections Manager. You may contact them via phone, e-mail, or letter, although e-mail is probably the most reliable.
IDENTIFICATION REQUESTS
The Earth Science Division welcomes object identification requests from the general public. If you have a question about an object in your care, please consult the instructions for Specimen Identification Requests & Donation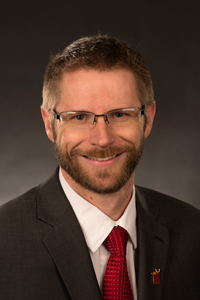 Dr. Leif Tapanila
Director, Research Curator, Division Head Earth Sciences
(208) 282-5417
Dr. Brandon Peecook
Assistant Curator of Vertebrate Paleontology, Assistant Professor
Office: Office: Museum Building 113 921 S 8th Ave Stop 8096 Pocatello, ID 83209
(208) 282-4151