Going back to college after 20 years as a non-traditional student I was nervous. My very first class was fabulous! I took courses in literature, creative writing, and got my bachelor's degree in Professional Writing. If I could have, I would have majored in all three. The faculty truly put students first. After graduation, I got a job as Marketing and Communications Coordinator, and it draws on all the skills I learned in English. I love the English department and ISU!
Elisabeth Curtis | BA English, Professional Writing | Class of '22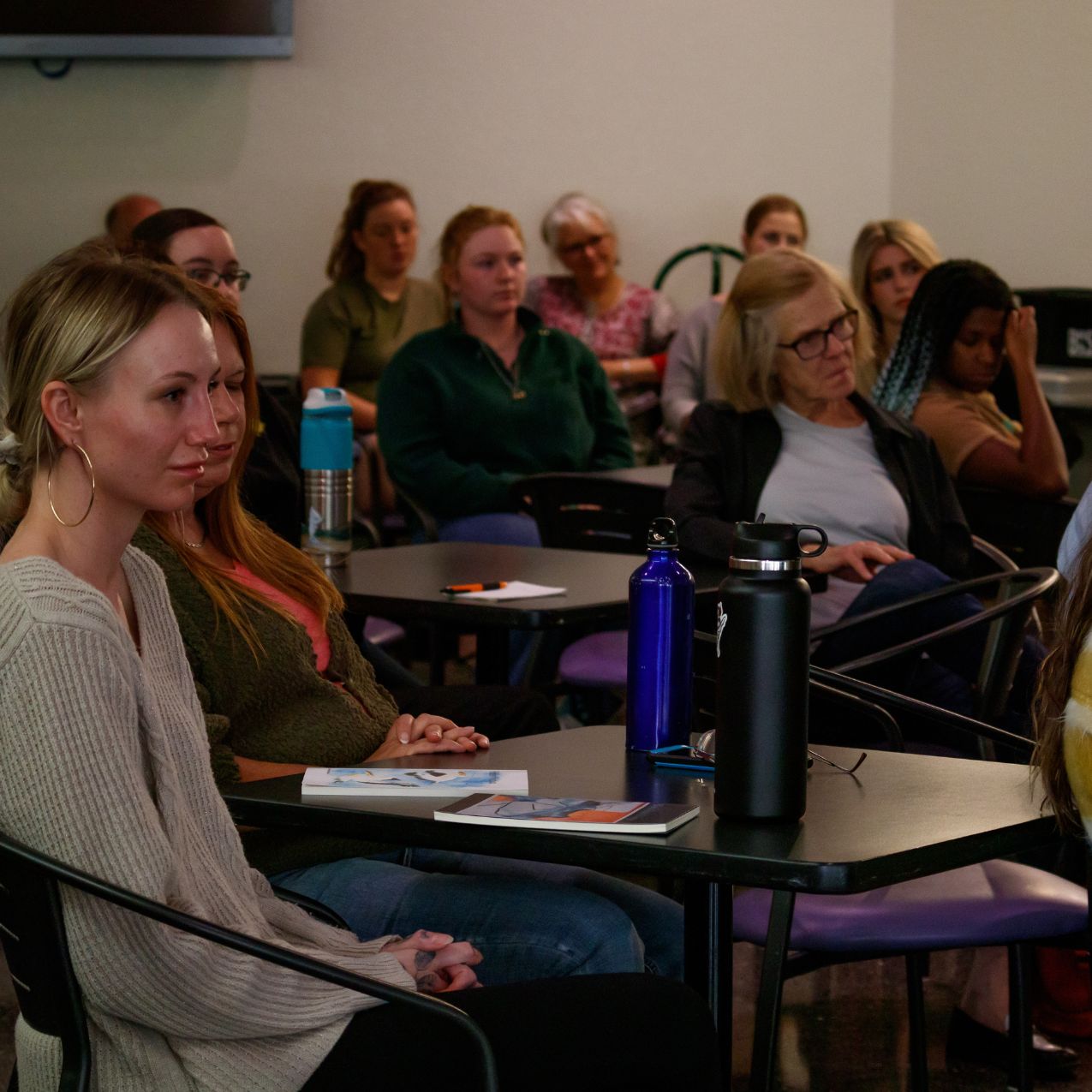 Explore Our Programs
At Idaho State University, we offer programs and courses in English literature, creative writing, professional writing, linguistics, and film studies. Our graduate programs include MA and PhD degrees, as well as the Certificate in TESOL, offering comprehensive training in English studies and pedagogical theory.
Explore Undergraduate English Programs
Explore Graduate English Programs
Meet Our Faculty
As a member of our English Department, you will be part of a lively intellectual community. We encourage close collaboration between students and faculty mentors, fostering a supportive learning environment. Our faculty, with their expertise in British, American, and world literature, are committed to fostering a dynamic and engaging learning environment that prepares you for the demands of the professional world.

English Career Opportunities
Advertising

Audiobook

Narrator

Banking

Business

College Advising

Editing

Gaming

Grant writer

Insurance

Law

Marketing and Communications

Medical writer

Publishing

Public Relations

Staff support positions

Teaching

Technical writer

Usability (UX) consultants and writers
Note: According to the US Bureau of Labor Statistics (BLS) in 2019, the median annual wage for people with English degrees in the US was $51,000, higher than the median wage across all occupations.
Skills Employers Want
An education in English develops the top skills that today's employers seek.
Analytical skills: Enable independent problem-solving and decision-making within modern teams.

Research skills: Vital for informed decision-making and staying relevant in a rapidly changing business landscape.

Strong communication skills: Essential for effective communication in various channels, including remote work environments.
Benefits of Majoring in English
Acquire tools that never lose value: skills applicable in any classroom, office, or creative venture.

Develop writing skills for various contexts and purposes.

Explore the impact of language on politics, religion, philosophy, and social discourse.

Explain your world: Analyze texts to gain insights into the significance of life.

Gain understanding and empathy by reading stories from diverse perspectives.

Immerse yourself in reading and writing.

Understand the effect of changing media: Analyze the dynamics of written communication in the digital age.

Write intelligently, beautifully, persuasively.
Events
Events for the 2023-2024 academic year will be put up as information becomes available. Please check back frequently for department events.

Fridays Fall 2023 semester 12-1 in LA 244- Department Reading Room Pages- an informal English club where students can meet for lunch and informal conversation about all things English. Informal (it's OK to come late or leave early) No reading required. Bring your lunch. Bring a friend. Non-majors welcome.
Tuesday, Sept. 26th 5:00-6:00 pm in the Bengal Cafe of the PSUB. Dolsen Visiting Writer Lisa Bickmore Reading. Join us for a poetry reading by our 2023 Dolsen Visiting Writer- Lisa Bickmore. Professor Bickmore is the Utah Poet Laureate and Emeritus at Salt Lake Community College.
October 11-14th- WLA Conference 2023: Home on the Rez: Sovereignty and Sustainability at the Shoshone-Bannock Caisno Hotel. Conference starts Wed. at 1:00 pm and finishes Sat. at 12:30 pm. For more information- https://www.westernlit.org/wla-conference-2023/
Thursday, Oct. 19th 12:15- 1:15 in LA 244 Fall Meet and Greet. Come and get a sneak preview of Spring 2024 English and Philosophy course offerings and meet Benny the Bengal!
Friday, Nov. 3rd 2:30-3:30 pm in LA 256. Susan Goslee's Sabbatical Presentation.
Find us on Social Media
Instagram: @isuenglishandphilosophy
Facebook: @isu.english.and.philosophy
Twitter: @ISUEngPhil
YouTube: @isuenglish
You can follow the department on our established accounts on Instagram, Twitter, and Facebook any time. Look out for our latest! Please like, subscribe, follow, and join in the conversation!
Find your ROAR with English at ISU
At Idaho State University, our Department of English is dedicated to providing a diverse range of programs and courses in English literature, creative writing, professional writing, linguistics, and film studies. With our dedicated faculty and small, personal classes, you will have the opportunity to explore the rich traditions of literature and gain a deep understanding of language and its cultural impact.
An English degree equips you with strong communication skills, critical thinking abilities, and a profound understanding of how language shapes culture, making you highly valued by employers in various fields. Whether your aspirations lie in teaching, writing, editing, journalism, business, law, or public relations, an English degree from Idaho State University prepares you for success.
As part of our lively intellectual community, you will experience close collaboration with faculty mentors and fellow students in a supportive learning environment. We also offer distinctive graduate programs, including MA and PhD degrees, as well as the Certificate in TESOL, combining comprehensive training in English studies with practical pedagogical theory.
Come and join us at Idaho State University to explore the joy and rewards of studying English, preparing yourself for a fulfilling career and a lifelong appreciation of language and literature.