Certificate Program in Animal Assisted Interventions
Program Overview
The Idaho State University Department of Counseling offers a graduate certificate in Animal Assisted Interventions in Counseling (AAI-C).
Idaho State University is a public research-based institution that advances scholarly and creative endeavors through academic instruction, and the creation of new knowledge, research, and artistic works. Idaho State University provides leadership in the health professions, biomedical, and pharmaceutical sciences, as well as serving the region and the nation through its environmental science and energy programs. The Idaho State University Certificate in Animal Assisted Interventions (AAI) is housed in the Department of Counseling.
The ISU AAI certificate curriculum was thoughtfully and intentionally developed in the spirit of current best practices and in collaboration with international leaders in animal assisted interventions. Each class offers a balance of theoretical knowledge and applied skills, with a heavy emphasis on provider competence, animal welfare/advocacy, and practical efficacy. Although the curriculum's main focus is on Animal Assisted Therapy (AAT) and Animal Assisted Education (AAE) as professionalized approaches, we also attend to issues relevant to the delivery and direction of Animal Assisted Activities (AAA) within healthcare and educational contexts. Within the three-course sequence, students gain in-depth theoretical knowledge of AAI history and literature, industry standards and culture, professional issues, and live practice opportunities under supervision.
Each course in this series was thoroughly reviewed and subsequently endorsed by several international leaders in the AAI industry, and your program director continuously engages in updating course content to reflect current standards and continuously invites peer consultation and feedback on all aspects of the curriculum. Guest experts are a regular presence during class meetings so that students are exposed to a variety of expert perspectives and introduced to industry leaders beyond your program director.
The curriculum is applicable to a wide variety of animal species, and students are provided with structured opportunities to gain in-depth, species-specific knowledge about the species of animal that he/she wishes to work with in the future. During their time in our program, students may enjoy potential opportunities to interact with dogs, horses, rabbits, and reptiles.
COUN 6684: Introduction to Animal Assisted Interventions in Counseling, Idaho State University (3 credits). Students will understand and demonstrate knowledge of the history, philosophy, and theoretical foundations of Animal Assisted Interventions in Counseling (AAI-C). Format: Asynchronous online, intensive 2-week seminar.
COUN 6685: Best Practices in Animal Assisted Therapy in Counseling, Idaho State University (3 credits). Students will understand and demonstrate knowledge of best practices in Animal Assisted Interventions in Counseling (AAI-C), with particular emphasis on professional ethics, provider competence, and animal advocacy. Format: Synchronous, available in person OR via Zoom teleconference technology, intensive 2-week seminar.
COUN 6686: Applied Practice in Animal Assisted Interventions in Counseling, Idaho State University (3 credits). This experiential skills development course is designed to train students to be knowledgeable and competent to begin applied practice in AAI-C under supervision. The course will facilitate integration of essential AAI-C with students' existing counseling skills so that students may safely, ethically, and effectively incorporate AAI-C into the counseling process. Format: In-person, intensive 10-day seminar.
The Idaho State University Department of Counseling's Certificate in Animal Assisted Interventions is a proud member of the inaugural Education Institution Members of Animal Assisted Interventions International.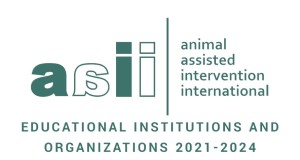 Program Endorsements
"The field of AAI has been growing over the past few decades. Graduate level coursework for counselors and other mental health professionals is critical to support the training of these individuals in bridging research to best practice. Idaho State University's triad of courses provides a strong overview of the major tenets facing the field. It is highly recommended for any professionals interested in incorporating AAI in their regime of practice."
- Aubrey H. Fine, Professor/Licensed Psychologist, CA Poly State University, Pomona
"Pet Partners is excited to see a certificate option with a strong focus on therapy animal welfare, particularly with an intensive supervised applied practice component with a registered therapy animal. Dr. Stewart's work as the primary author for Animal Assisted Therapy Competencies in counseling has done much to articulate the need for knowledge and skills in this burgeoning field. This certificate is a great opportunity for practitioners/counselors to develop those knowledge and skills to bring the power of the human-animal bond to those who may benefit."
- Annie Peters, President & CEO of Pet Partners
"I'm delighted to see that Idaho State University's Animal-Assisted Interventions in Counseling program focuses on all three points of the triangle: the needs of the client, the skills of the practitioner, and—of vital importance to me—the comfort and well-being of the animal involved. The curriculum keeps professionalism and animal advocacy front and center, and it aligns with the Pet Partners and ACA Competencies, which all skillful practitioners must master."
- Colleen Pelar, Certified Compassion Fatigue Professional (CCFP), Certified Professional Dog Trainer (CPDT-KA) and Certified Dog Behavior Consultant (CDBC)
"Idaho State University offers an exceptional opportunity for students and professionals alike to advance their skills and knowledge in the area of animal-assisted interventions used in a counseling setting. Quality educational programs such as this are vital to promote the safe and ethical application of this fast-growing specialty area of practice. I am honored to endorse Dr. Leslie Stewart's courses, and would recommend them for any professional interested in animal-assisted interventions."
- Leif Hallberg, M.A., LPC, LCPC, author of "The Clinical Practice of Equine-Assisted Therapy", "The Equine-Assisted Therapy Workbook", and "Walking the Way of the Horse"
Program Director - Leslie A. Stewart, Ph.D., LCPC, C-AAIS
Dr. Stewart, a Certified Animal Assisted Intervention Specialist (C-AAIS) and Associate Professor in the ISU Department of Counseling, holds a Ph.D. in Counselor Education & Practice since 2014 with a cognate in experiential and expressive modalities in counseling and dissertation title, "Provider Competencies in Animal Assisted Therapy in Counseling: A Grounded Theory Investigation". She is currently licensed in the state of Idaho as a Licensed Clinical Professional Counselor (LCPC) and in the state of Georgia as a Licensed Professional Counselor (LPC). Her research agenda includes animal assisted interventions in counseling and supervision, trauma-informed counseling and counselor preparation, crisis and disaster response and animal-assisted crisis response (AACR), and counselor training with experiential and expressive modalities.
Dr. Stewart is an internationally established scholar, practitioner, teacher, and consultant in the realm of Animal Assisted Interventions, with over 20 years of experience in facilitating Human-Animal Interactions and has been incorporating AAIs in professional counseling since 2008 and in counselor education and supervision since 2012. She has experience working with both minors and adults with equines, dogs, rabbits, and reptile species. Before beginning her career in counseling and counselor education, Dr. Stewart facilitated therapeutic horsemanship as a Professional Association for Therapeutic Horsemanship (PATH, Intl.) certified therapeutic riding instructor. Since then, Dr. Stewart has incorporated animal assisted interventions (AAI) with dogs and rabbits in college counseling and juvenile detention settings.
Dr. Stewart currently facilitates AAIs in counseling, supervision, and counselor education in addition to fulfilling multiple national and international AAI service and organizational leadership roles. She has published empirical and conceptual works related to AAIs within the ACA family of journals and interdisciplinary journals since 2013, and delivered numerous professional presentations relevant to AAIs. Dr. Stewart is the primary author of the American Counseling Association's Competencies for Animal Assisted Therapy, Pet Partners Tiered Model of Provider Competencies, and a contributor to the Animal Assisted Interventions International (AAII) Standards of Practice. Dr. Stewart currently serves as the chair of Ethics and Standards for the Human-Animal Interest Network of the American Counseling Association, a member of the Pet Partners Human-Animal Bond Advisory Board (HABAB), and a subject matter expert consultant of the American Psychological Association's Human Animal Interaction Division. Dr. Stewart proudly serves in a volunteer role serving the Association for Animal Assisted Interventions Professionals (AAAIP).
Dr. Stewart shares her life with several species of animal family members including dogs, rabbits, mice, a cat, and a ball python. In her free time, Dr. Stewart volunteers at a local zoo that houses injured or unreleasable native wildlife species and enjoys hiking, camping, kayaking, and wildlife viewing in the beautiful Rocky Mountain wilderness.
Frequently Asked Questions
Course Scheduling
ISU AAI Certificate courses are offered only in the summer, typically between mid-May and late June. All coursework is finished by the beginning of July. Exact course dates are determined on a year-by-year basis. Each course is taught as an intensive seminar. Meeting times are determined on a year-by-year basis so that Dr. Stewart can make every effort to accommodate the unique scheduling needs of each cohort. Students may elect to take all three courses in the same summer, or choose to span the courses over two or more summers.
Student Eligibility – Professional Diversity
We welcome students and professionals from a variety of healthcare and human service professions, as well as from education professions. While some aspects of AAIs are specific to the professional discipline, core foundational concepts are applicable to most healthcare, human service, and education professions. For example, in past cohorts, we welcomed students from psychology, social work, speech-language pathology, nursing, rehabilitation sciences, occupational therapy, professional educators, among others. If you have specific questions, please contact Dr. Stewart directly.
Student Eligibility – External to ISU
The ISU AAI Certificate program welcomes professionals and graduate-level students external to ISU. To apply go to Graduate School applications.
Tuition and Fees
The tuition for these courses is determined by the university. For the 2020-2021 academic year, graduate tuition is approximately $505 per credit hour. The scholarship office is a great resource for potential sources of financial support.
Distance-learning Options
We understand that students and professionals from a variety of locations in the U.S. and abroad are interested in Animal Assisted Interventions and wish to acquire quality education and training. We are happy to accommodate national/international audiences to the best of our ability. The first two courses in this curriculum are designed to offer distance-friendly formats so that students may choose to attend remotely. For out-of-town students in the Applied Practice in AAI course, we often work on an individual basis with each student to secure travel and find affordable accommodations
Student Animal Partners
Throughout the curriculum, students will learn how to select, prepare, and seek appropriate evaluation/registration with their future therapy animal partner(s). However, assessing the suitability of individual students' animals is outside the scope of this curricular experience. As such, students will not be permitted to bring their own animal to in-person class meetings. Instead, students will be invited to practice under live supervision with an experienced therapy animal. The experienced therapy animal's handler will remain present during the experience. Students will apply the knowledge and skills learned in this experience towards future work with their own appropriately evaluated/registered animal partner.
What is (and is not) a Therapy Animal?
The ISU AAI Certificate program prepares professionals and future professionals in healthcare, human services, and education to partner with therapy animals. The term therapy animal is not interchangeable with the term emotional support animal or the term service/assistance animal. A therapy animal is a companion animal that is specially trained, evaluated, and registered through a recognized therapy animal organization, such as Pet Partners. The animal itself is considered to represent half of the therapeutic team, with a specially trained and evaluated human handler constituting the other half. Together, the therapy animal and handler team engage others in therapeutic human-animal interactions and interventions (Chandler, 2017; Pet Partners, 2018; Stewart et al., 2013). Thus, the human handler also requires specialized training and evaluation for his/her ability to facilitate safe, effective, and mutually beneficial human-animal interactions (Chandler, 2017; Stewart, Chang, Parker, & Grubbs, 2016). A key distinguishing aspect of a therapy animal, as opposed to a service animal, or emotional support animal, is the animal's role of engaging others outside of the handler. Although empirical literature on animal-assisted interventions is still in development, support exists for the efficacy of competently implemented animal-assisted interventions in addressing a variety of treatment goals among diverse client populations (Fine, 2015; Chandler, 2017; Stewart et al., 2016). Unlike service animals, therapy animals do not have any special rights of public access and are not protected under the Americans with Disabilities Act. For more information about service animals, please visit FAQ About Service Animals and/or ADA Revised Requirements: Service Animals. For more information about differentiating among service animals, therapy animals, and emotional support animals, please visit the American Veterinary Medical Association's dedicated webpage.
Additional Notes & Disclosures
Professional Competencies and Standards of Practice
The ISU AAI Certificate program endorses and supports the Animal Assisted Interventions International (AAII) Standards of Practice and the American Counseling Association's Competencies for Animal Assisted Therapy as foundational to the ethical and effective practice of animal assisted interventions. While both documents will be discussed thoroughly throughout the curriculum, Dr. Stewart encourages potential students to review them in advance.
Language Considerations
Although it may seem a trivial matter of semantics, the language chosen by human providers of AAIs to describe their work and their relationships with the animals involved is influential to professional and public perceptions. Animal advocacy is more than a moral consideration fo
r animal lovers, it is also directly linked to client safety in AAIs, and the success of AAIs, especially considering the strongly relational focus of AAI approaches.
There is consensus among leaders in AAIs across professional disciplines (and throughout the international community) that avoiding the term "Use" in reference to therapy animals (or AAI techniques) is highly preferred and considered best practices. In our commitment to this language consideration, we demonstrate that animals involved in AAIs are sentient beings who represent 1/3 of the AAI therapeutic triad.
Professional Values & Ethics Disclosure
While the unique and highly nuanced ethical considerations associated with animal assisted interventions will be thoroughly discussed throughout the curriculum, potential students are encouraged to be aware of certain professional values and ethical expectations in the ISU AAI Certificate Program. At a minimum, students are expected to respect Brambell's 5 Freedoms and the instructor's instructions when interacting with any animal partners during classes. Intentional harm or abusive behavior towards animals in or outside of classes will result in immediate dismissal and may be fully prosecuted in accordance with local animal cruelty laws. Further, during the application process, students will be expected to sign an agreement to uphold the following ethical best practices both during and after participation in the program:
Promote the professionalism of AAIs among institutions, other professionals, and the general public
Maintain and document competence and professional development as a provider of AAIs while keeping abreast of current AAI literature, trends, and professional issues
Participate in ongoing professional consultation and supervision
Demonstrate constant vigilance towards animal advocacy and welfare and avoid intentional and unintentional exploitation of an animal involved in AAIs
Take clear, identifiable steps to address the risks and ethical considerations relevant to human-animal interactions
Avoid misrepresenting qualifications and/or experience in AAIs and never misrepresent therapy animals or emotional support animals as service animals
Abide by local, state, and federal laws regarding human-animal interaction
Any student who demonstrates unwillingness or refusal to uphold the aforementioned principles may be required to undergo remediation and possible dismissal from the certificate program course(s).
ISU Department of Counseling Animal Partners
ISU Department of Counseling Animal Partners
Students enrolled in the AAI-C certificate program as well as students enrolled in general masters and doctoral level counseling courses will have the opportunity to interact with and learn from several highly socialized animal members of the ISU Counseling Department. Each animal member of the ISU Counseling Department offers a unique perspective and learning opportunity for counselors and counselor educators in training. Although students are never required to interact with animals, these animals are frequently incorporated as partners into everyday operations in the counseling department. The animals described above were specially prepared (and continuously supported) to thrive in an interactive academic environment and possess generally suitable temperaments for counselor education settings.
Current Animal Partners
Star Sapphire
(YOB 2015), English Shepherd Dog
Saki
(YOB 2018), Chinchilla Rabbit
Xena
(YOB 2018), Ball Python
Winslow
(YOB 2014) Labradoodle Dog
In Memoria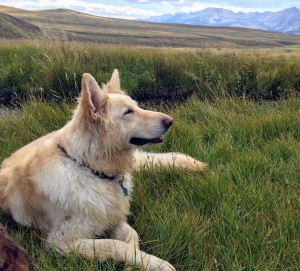 Sophie May
(YOB 2009-2021), Old-Fashioned German Shepherd Dog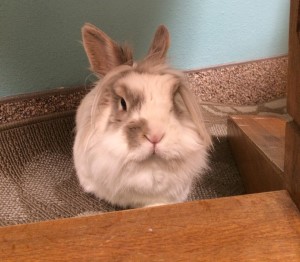 Killer T. Bunny
(2006-2020), Lionhead Rabbit