Graduate students in the Instructional Design and Technology, MEd Program learn how to design, develop, and implement learning solutions for K-12 schools, higher education institutions, and in government or corporate settings with the goal of supporting and increasing individual success. Candidates take courses emphasizing learning theories, design principles, technology integration, multimedia design and development, as well as delivering instruction in online, in-person, and blended environments.
Affordable and Practical

- Idaho State University

is one of the most affordable accredited universities in the country

.

All instructional design and technology students are invited to learn more about qualifying for in-state tuition!
Anywhere and at Anytime - The fully online, asynchronous program enrolls students nationwide and is tailored to the working professional.
Flexible and Accessible -

Students can be enrolled part-time or full-time and can start in the fall, spring, or summer semesters.
Innovative and Experiential

- Students will learn from national leaders in instructional design and technology with the chance to network and be involved with professional organizations in the field such as AECT or ISTE.
Presentation and Publication

- Students will have the opportunity to publish and present their own research or participate with program faculty research on the regional, national, or international levels.
In 2023, the ISU Instructional Design and Technology program was ranked as one of the nation's top online master's degrees by OnlineMastersDegrees.org! Just 6% of regionally accredited postsecondary institutions earned a ranking position. We were recognized for overall quality, affordability and commitment to student success. View all rankings.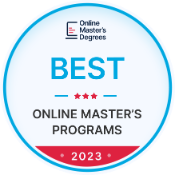 The application for admissions is available online.

Applicants applying as degree-seeking students must request that each institution at which they have taken any post-secondary work submit one official transcript directly to the Graduate School. Idaho State University undergraduate transcripts are available to the Graduate School and need not be forwarded by the applicant. Non-degree seeking applicants must provide a transcript (official or copy) showing proof of degree.

Applicants must include a $60 nonrefundable processing fee with each application form. The files of students who do not pay the required application fee will not be processed for admission. REQUEST AN APPLICATION FEE WAIVER CODE to apply for free!

Some programs require additional information (e.g., letters of recommendation); please contact the specific department and review individual departmental sections of this catalog for additional requirements.

Applicants must clearly indicate the desired graduate program on the application form, or if a non-degree-seeking student, the college and department in which the student intends to take courses.

GRE/GMAT/MAT may be required for degree-seeking applicants at the discretion of the department.

Additional requirements for degree-seeking last semester seniors, and international students are described under those headings on the following pages.
Career Opportunities
Graduates with a master's degree in instructional design and technology could be qualified for the following types of positions:
Instruction Development Specialist/Director
Organizational Development professional
Instruction Coordinator
Facility Manager
Software Developer
Curriculum Designer
Consultant
Instruction Technology Specialist
Job Placement and Salaries
As a field of study and career, instructional design and technology has a bright outlook. The current outlook includes:
28% increase in annual job growth over the next decade
38th best job in America according to CNN Money
One of the best jobs in higher education according to Inside Higher ED
Average salaries, according to the government's Occupational Outlook Handbook, for an Instructional Coordinator is $70,560 and the median income Instructional Designers working in the healthcare field is $93,870.