ISU Cares Survey and Recognition Program
ISU Cares Feedback Survey The link is still active and we are following up on each submission.
For the past 10 years, Idaho State University faculty and staff have been commended for their excellent service through the ISU Cares program. This recognition program has recognized close to 1000 employees and awarded thousands of dollars thanking these amazing employees for the way they represent their departments and Idaho State University. We are so proud of our past ISU Cares winners!
An exciting new program will launch in April to recognize our remarkable faculty and staff for more than their excellent customer service. We want to recognize our campus employees for their work ethics, job creativity and innovation, work skills and knowledge, department expertise, and overall efforts to all ISU constituents. Stay tuned for more information.
We thank all of our ISU Cares Award Recipients for their excellent service!
2017 ISU Cares Awards Pictures
Monthly winners
Sheldon Harris is the Systems Administrator for the College of Education and has been working in his current position for around 7 years. He is being acknowledged for helping to provide opportunities to the Athletic Training Education Program. He helps them connect with distance learning to earn continuing education credit. These classed take place early in the morning and he has to come in before hours at 6:30 a.m. to set up and make sure they have the connection they need and that everything is working for them. He never complains and is so easy to work with.
Cindy Stephanishen works at the Meridian campus as a Custodian in the Facilities department, she has worked at ISU for just over 3 years. Cindy always has a smile on her face and can be seen around the Meridian campus working hard all the time. She takes initiative and goes above and beyond, she is courteous and helpful and is a great example of what an employee should be.
Kiel Moser works in the Cashier's office as a Financial Technician. He has worked at ISU for 4 years and started as a Customer Service Representative before moving up to be the Cashier's Office Supervisor in 2016. He has a BS in University Studies and a Masters in General Human Services. Kiel is being commended for this patience and willingness to help difficult customers. Kiel devotes most of his spare time to foster care, he has had over 15 children come into his home and was able to adopt their first child in October! He also facilitates monthly meetings for foster parent support groups and teaches some curriculum on training to become a foster parent. He loves spending time with his family.
Bobby Arteaga is the Assistant Director of the University Housing Department and has been working at ISU for 14 years. He started out as a Resident Director before moving into his current position. He holds a Bachelors in Business Management and a Masters in Human Resources Training and Development. Bobby is being recognized for being an outstanding manager and providing extra support, compassion, and a willingness to help his staff anyway he can. In his spare time he enjoys volleyball and tennis.
Jim Dalley works in the Education Technology Services department as the DL Video Network Manager. Jim is being recognized for being so helpful every semester to make sure that staff members have the access to what they need to make accommodations to students, he troubleshoots and makes sure that he is actively helping those he need it. A staff member said, "He has a calming effect on those around him and he always gets things done. I appreciate all he does behind the scenes to be sure things are taken care of."
Guy Patterson works in the Student Union Maintenance Office as the Maintenance Operations Supervisor since March of 2016. He is also on Staff Council and is currently President Elect of Staff Council. He completed a BA in Business Management and is close to earning his MBA from ISU. Guy is being commended for not only offering great customer service, but for going above and beyond in being present and proactive to make sure that a conference was set up and had every accommodation they needed. His spare time is currently consumed by being on a small group of 6 people chosen to represent ISU in the International Collegiate Business Strategy Competition this spring in Anaheim, California.
---
Idaho State University is committed to providing good service to all our customers, internally and externally. Since January 2009 we have awarded:
9 - $1000 ISU Cares Customer Service Provider of the Year awards
24 - $250 ISU Cares Customer Service Provider of the Year Runner-Up Awards
14 - $1000 ISU Cares Extraordinary Employee Award (formerly ISU Cares Manager Award)
12 - ISU Cares Department of the Year Award earning a Pizza and Pop Party
96 - $100 ISU Cares Division Awards
30 - $100 ISU Cares Semester Awards
651 - $15 ISU Cares monthly "Spot" Awards
6 - Bengal Boss Awards
4 - Bengal Boss Runner Up Awards
---
ISU Cares Customer Service Awards

view a list of all employees who have been recognized for their exemplary service since 2009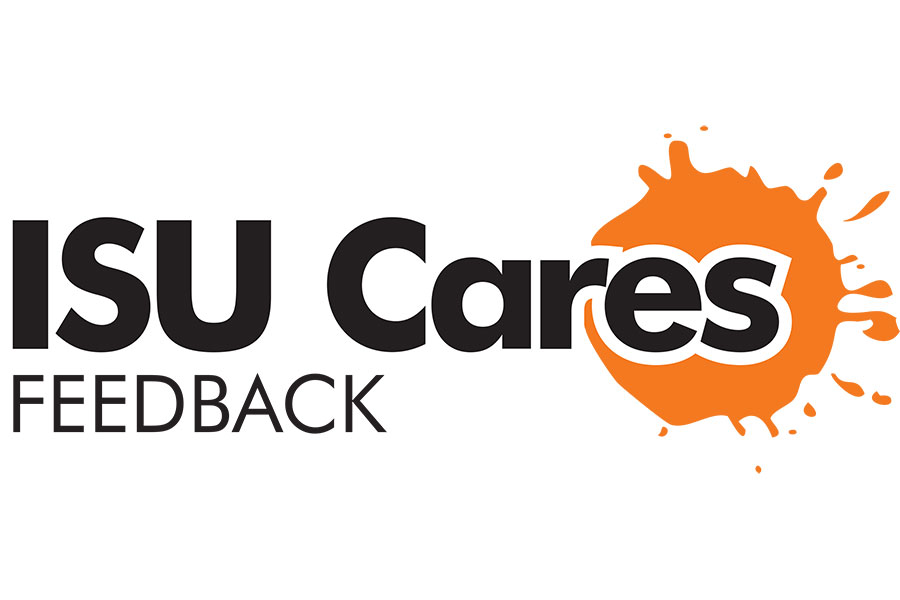 access our ISU Cares online feedback form.
---
We would like to thank ISU Credit Union for their continued support of our ISU Cares Program! They provide us with $15 Visa cards each month to help us thank our monthly ISU Cares "Spot" award winners, support our ISU Cares Department of the Year awards, ISU Cares Division yearly awards, and our Employee of the Year awards!