Dentistry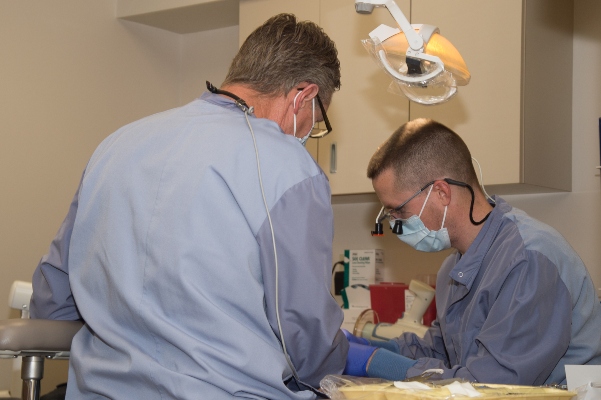 The dental profession is the branch of health care devoted to maintaining the health of the teeth, gums and other tissues in and around the mouth. A dentist is a doctor, scientist and clinician dedicated to the highest standards of health through prevention, diagnosis and treatment of oral diseases and conditions. Dentists play a key role in the early detection of oral cancer and other systemic conditions of the body that manifest themselves in the mouth.
What does a Dentist do?
Evaluates the overall health of their patients while advising them about oral health and disease prevention
Performs clinical procedures, such as exams, fillings, crowns, implants, extractions and corrective surgeries
Identifies, diagnoses and treats oral conditions
Performs general dentistry or practices in one of nine dental specialties (including orthodontics)
Identifies other health conditions, illnesses, and problems that show up in the oral cavity before they are identified in other parts of the body
Please note that Idaho State University does not have a dental program, however Idaho State University is a great institution to attend for preparing to apply to dental schools. Additionally, ISU has partnered with Creighton University with the IDEP Program, as well as the Idaho Advanced General Dentistry Program with a residency program.
Students looking to be admitted into dental school generally complete a bachelor's degree before being admitted to dental school. The following courses are common prerequisites for dental schools, however you should check individual programs for their specific requirements. We also recommend checking with individual programs to see if they accept online, advanced placement, or community college credits. See a Pre-Health Advisor for assistance with course planning.
Prerequisite Courses:
| | | |
| --- | --- | --- |
| Course | Credits | ISU Course |
| General Biology I & II and Labs | 8 credits | BIOL 1101, 1101L, 1102, 1102L |
| General Chemistry I & II and Labs | 9 credits | CHEM 1111, 1111L, 1112, 1112L |
| Organic Chemistry I & II and Labs | 8 credits | CHEM 3301, 3303, 3302, 3304 |
| General Physics I & II and Labs | 8 credits | PHYS 1111, 1113, 1112, 1114 |
| English Composition | 6 credits | ENGL 1101, 1102 |

In addition to the prerequisites listed above it is recommended that the applicant choose electives that will broaden his/her cultural and scientific background.
Additional Suggested Courses
| | | |
| --- | --- | --- |
| Course | Credits | ISU Course |
| Biochemistry | 3-6 credits | BIOL 4432 or BIOL 4445, 4447 |
| Human Anatomy and Physiology I & II | 8 credits | BIOL 2227, 2227L, 2228, 2228L or BIOL 3301, 3301L, 3302, 3302L |
| Microbiology | 4 credits | BIOL 2233, 2233L |
The average GPAs of first-year enrollees in dental schools are:
Science GPA: 3.51
Overall GPA: 3.59
Check individual schools to determine what a competitive GPA is for their program.
We recommend keeping a record of all extracurricular activities. Be sure to track contact information for supervisors and dentists you work with or shadow, and write reflections on each activity. The Pre-Health Extracurricular Tracker can help with this and is found under the resources tab.
Shadowing Dentists
Shadowing helps you understand what the profession is actually like. The more dental experience and shadowing you can get, the more attractive of an applicant you become. However, do not sacrifice quality for quantity. For more information, see the Shadowing Guide.
Community Service
Demonstrating commitment and care for your community shows dedication and compassion, which are attractive traits in the health professions. It is important to have volunteer experiences that are ongoing throughout your college years prior to admission applications. Service activities need not be dental related but should be meaningful to you.
Manual Dexterity
Do what you can to hone this skill with different activities and practices. This skill is tested on the DAT and will most likely be asked about by dental school admissions staff in interviews. You can refine your manual dexterity skills through activities such as drawing, painting, woodcarving, sewing/needlepoint, crocheting, cross-stitching, knitting, learning to tie fish knots, or learning a music instrument that requires extensive hand-eye coordination (e.g., piano, violin).
Research
Research can enhance your application if the institutions you are applying to have a research focus, but it is not required. You should only participate if you are interested, not simply to enhance your application.
Leadership
Leadership in any setting will make you stand out from other applicants by showing you are actively preparing for your future in your career and community as well as showing that you are a strong member of a team. Be creative in pursuing leadership experience. There are many opportunities for leadership on the ISU campus through various organizations and student programming.
Building Relationships
The dental profession is based on relationships with patients, families, and communities. You should be able to connect with people and make them feel at ease. Building relationships with your professors and advisors will be very important and can be helpful in requesting letters of recommendation.
Competencies:
Critical Thinking
Professionalism
Communication and Interpersonal Skills
Health Promotion
Practice Management and Informatics
Patient Care
A personal statement is a written description of your achievements, interests, and motivations as part of an application to a graduate program. Your personal statement for dental school applications must not exceed 4,500 characters. Personal statements should give a clear picture of who you are and answer the questions "Why did I choose dentistry?" and "What motivates me?" You should begin writing your personal statement six months before your application process. For more information see the Personal Statement Guide.
The Pre-Health Advising Office offers to compile a letter packet for students' applications. This is different than a committee letter as our office does not participate in committee letters. For questions regarding our letter packet services, please email hlthprof@isu.edu.
Most schools will require letters of recommendation, and they are an essential part of your application. Research individual programs' requirements early so you know what you'll need. Some recommended letters come from a dentist, a professor, or a work supervisor. Your letters of recommendation will be submitted to AADSAS and then sent to schools you apply to. Schools will request your letters after receiving your primary application, so don't delay submitting your primary application while waiting on your letters. For more information, see the Letters of Recommendation Guide. Consult your pre-health advisor if you have any further questions.
Before applying, ensure that you are researching schools and making sure they fit your needs and wants.
Applying to dental school can be reduced down to these essential steps:
The Dental Admission Test (DAT)
The DAT is the test required for admission into dental schools. The test is administered year round. Take the DAT once you have completed the necessary coursework, ideally the end of spring semester your junior year. If your test scores are not what you would like, you must wait 90 days to re-take the test. The DAT can only be taken up to three times. The average DAT score for first-year enrollees in 2021 was 20.7. Check with individual programs to determine what is a competitive score.
Primary Application
You will submit your primary application through AADSAS. Applications open up in early June and deadlines can range from October to February. The same primary application will be sent to all schools you apply to. Remember early submission is good, but a polished application is better! Your primary application should include your DAT score, your transcripts, extracurricular activities, a personal statement, and letters of recommendation.
Secondary Applications
Once schools receive primary applications, they will send out secondary applications. It is important to look into individual programs, and follow their instructions carefully. They often require one or more additional essays. Some schools send secondary applications to all students, and some send secondary applications only to screened applicants and most secondary applications are sent with a fee attached. This is a good time to prioritize applications. You are not obligated to complete a secondary application.
Interviews
Programs may invite you to interview with them. This often indicates you are an applicant of interest, and they want to get to know you better. See the Interview Guide for more information.
Helpful Links
Downloadable Resources