Physician Assistant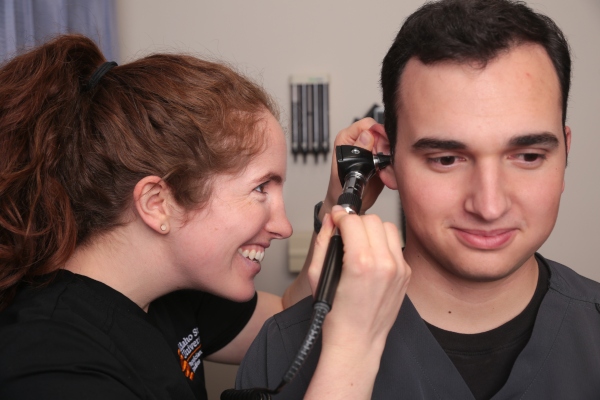 Physician assistants are health care professionals who work with a licensed physician, and often serve as a primary care provider. Physician assistants practice in all medical settings and specialties, which improves access and quality of care. Physician assistants are educated in general medicine, which offers a comprehensive view of all aspects of medicine. PA is a common term used when referring to physician assistants.
What does a Physician Assistant do?
Examines, diagnoses, and treats patients under the supervision of a licensed physician

Develops and manages treatment plans

Prepares casts and splints, sutures small wounds, and interprets medical tests

Prescribes

medication
Can specialize in a particular area of medicine such as pediatrics or geriatrics
Idaho State University does have a Physician Assistant program offered on both the Pocatello and Meridian campuses.
Students looking to be admitted into a physician assistant program need to complete a bachelor's degree before being admitted to physician assistant programs. The following courses are common prerequisites for physician assistant programs, however you should check individual programs for their specific requirements. We also recommend checking with individual programs to see if they accept online, advanced placement, or community college credits. See a Pre-Health Advisor for assistance with course planning.
Prerequisite Courses:
| | | |
| --- | --- | --- |
| Course | Credits | ISU Course |
| General Biology I & II and Labs | 8 credits | BIOL 1101, 1101L, 1102, 1102L |
| Anatomy and Physiology I & II and Labs | 8 credits | BIOL 2227, 2227L, 2228, 2228L or BIOL 3301, 3301L, 3302, 3302L |
| Microbiology and Lab | 4 credits | BIOL 2233, 2233L |
| Genetics | 3 credits | BIOL 3358 |
| Biochemistry | 3 credits | BIOL 4432 |
| General Chemistry I & II and Labs | 9 credits | CHEM 1111, 1111L, 1112, 1112L |
| Organic Chemsitry and Lab | 4 credits | CHEM 3301, 3303 |
| Statistics | 3 credits | MATH 1153 |
| Psychology | 3-6 credits | PSYC 1101, 3301 |
| Medical Terminology | 2 credits | CPH/HCA 2210 or HO 0106 |
Additional Recommended Courses
| | | |
| --- | --- | --- |
| Course | Credits | ISU Course |
| Advanced Anatomy | 2 credits | BIOL 4420, BIOL 4470 |
| Advanced Physiology | 4-5 credits | BIOL 4449, BIOL 4456, BIOL 4464, BIOL 4486 |
| Immunology | 3-4 credits | BIOL 4451, BIOL 4454 |
| Genetics | 3 credits | BIOL 3358, BIOL 4461 |
| Endocrinology | 3 credits | BIOL 4443 |
| Other Social Science Courses | | |
| Foreign Language | | Spanish |
Extracurricular Activities
We recommend keeping a record of all extracurricular activities. Be sure to track contact information for supervisors and physician assistants you work with or shadow, and write reflections on each activity. The Pre-Health Extracurricular Tracker can help with this and is found under the resources tab.
Patient and Healthcare Experience
Many PA programs require prior health care experience with hands-on experience, including patient care. Any experience you can get will make you a more knowledgeable and attractive applicant.
Shadowing in Healthcare Settings
Programs may have a minimum time requirement for shadowing experience. Any experience you can get will make you a more attractive and prepared applicant. Shadowing helps you understand what health care actually looks like. For more information, see the Shadowing Guide.
Research
Research is more important for some programs than others. Consult with your pre-health advisor and research specific programs for recommendations.
Leadership
Leadership in any setting will make you stand out from other applicants by showing you are actively preparing for your future in your career and community as well as showing that you are a strong member of a team.
A personal statement is a written description of your achievements, interests, and motivations as part of an application to a graduate program. Personal statements should answer the questions "Why did I choose to become a Physician Assistant?" and "What motivates me?" You should begin writing your personal statement three to six months before your application process. For more information see the Personal Statement Guide.
Letters of Recommendation
Letters of recommendation are an essential part of your application. Most programs will require letters of recommendation, however the program will determine the type and number, check with the individual programs for letter requirements. Some common recommended letters will come from a science professor, a health professional who directly observed you, and a personal reference. You should avoid asking family members, clergy/bishops, and lab instructors for a letter of recommendation. Your letters will be submitted to CASPA and then distributed to the schools you applied to. Schools will request your letters after receiving your primary application, so don't delay submitting your primary application while waiting on your letters. For more information, see the Letters of Recommendation Guide. Consult your pre-health advisor if you have any further questions.
Before applying, ensure that you are researching schools and making sure they your needs and wants.
Applying to dental school can be reduced down to these essential steps:
The Graduate Record Exam (GRE)
The GRE is the test required for admission into physician assistant programs. The GRE is administered throughout the year. Register to take the GRE and receive test scores 10-15 days after. Check with programs to determine what is a competitive score.
Primary Application
Primary applications are submitted through a central application service, Centralized Application Service for Physician Assistants (CASPA). The same primary application will be sent to all schools you apply to. CASPA is open from mid-April through early March, and deadlines range from July to March. Many schools opt for rolling admissions so it is a good idea to submit early, however don't rush and make a mistake! Take your time, and submit as early as you can. Most students take a few weeks to complete an application. Your application should include your GRE score, transcripts, extracurriculars, personal statement, and letters of recommendation.
Secondary Applications
Most schools will send out secondary applications. These applications should be completed within one month, and often require at least one additional essay. Some schools send out secondary applications to every student, and some schools screen applicants before sending out secondary applications. Secondary applications also typically have a fee attached. This is a good time to prioritize applications. You are not obligated to complete a secondary application.
Interviews
Programs may invite you to interview with them. This often indicates you are an applicant of interest, and they want to get to know you better. Many physician assistant programs hold interview days, where they bring in a group of applicants for the whole day to participate in a variety of activities related to the program and your application. For more information, see the Interview Guide.
Resources & Additional Information
Helpful Links
Downloadable Resources